Kohli: Rayudu, Khaleel's performances stand out
Jadeja grabs 4 as India storm to series victory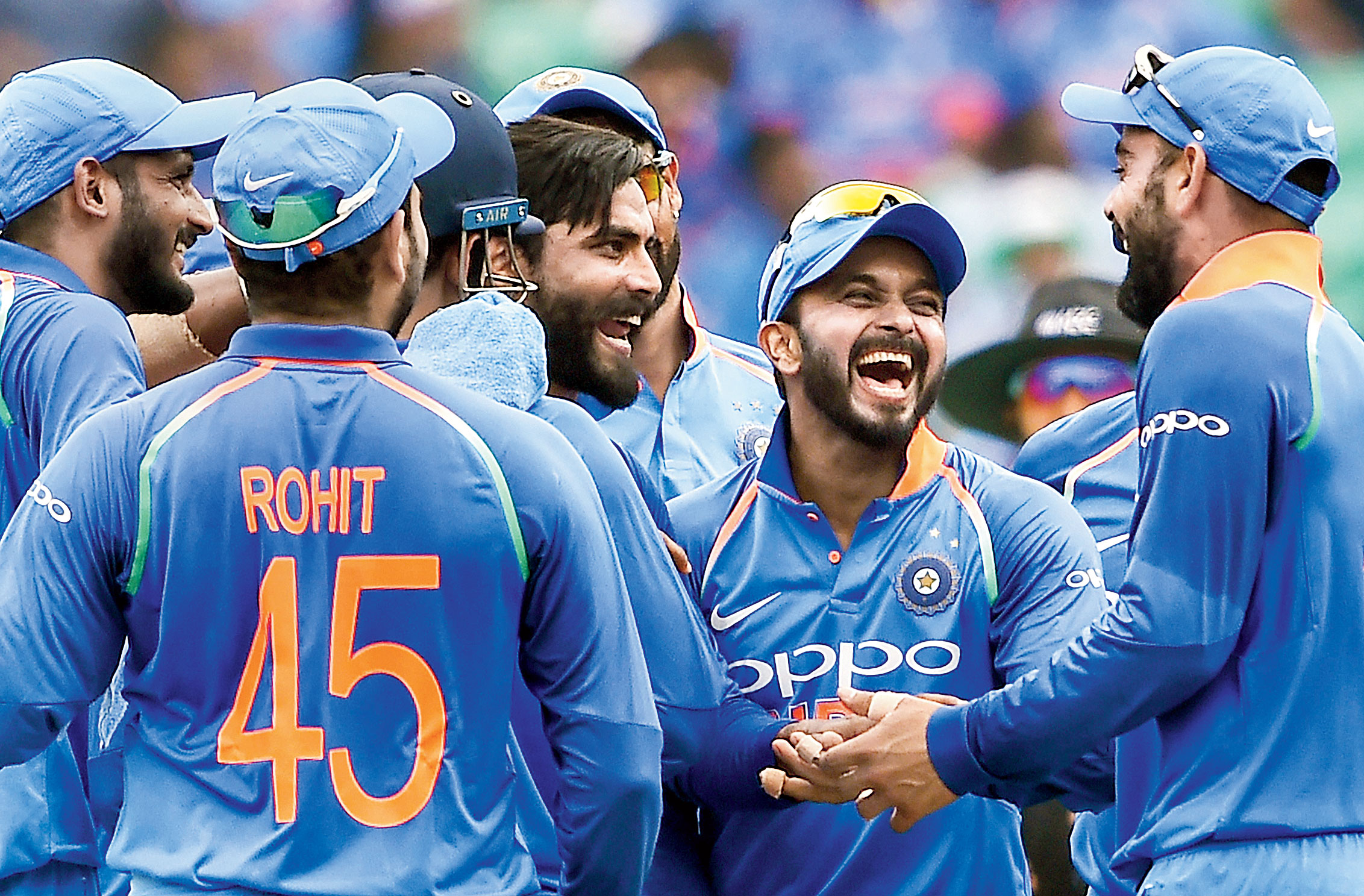 Ravindra Jadeja celebrates with captain Virat Kohli and teammates after dismissing Shimron Hetmyer during the 5th and final ODI against the West Indies in Thiruvananthapuram on Thursday.
PTI
---
Calcutta
|
Published 01.11.18, 10:05 PM
|
---
Virat Kohli emphasised that the performances of Ambati Rayudu and Khaleel Ahmed are major takeaways from India's 3-1 ODI series victory against the West Indies, their sixth series win on the trot at home.
Besides praising Rayudu and young Khaleel, the India captain also appreciated the efforts of Ravindra Jadeja who was the standout bowler for India in Thursday's final ODI in Thiruvananthapuram, taking four wickets.
Kohli lauded not just for his ability, but for also being "smart about what he wants to do with the field" when he's bowling.
Excerpts
On major gains
Two things that come straight to the mind is the way (Ambati) Rayudu played and how Khaleel bowled. Their performances stand out. Those two things are something that we were looking for, for a while; someone to back-up Bhuvi (Bhuvneshwar Kumar) and Bumrah, someone to pick up wickets and bowl in good areas. Having a left-arm seamer gives you variation in the attack. Khaleel was really good and Rayudu, of course, is grabbing his opportunities, batting with maturity and composure. It is always good to plug in the areas that we have been looking into.
On the areas of concern
The only thing I can think of is having a consistent effort on the field with energy and intensity, especially in high-scoring games. If we can be consistent as a fielding side, it can give us more consistency overall in our skills department as well. In the field, we can still improve a lot. We have spoken to the people — in the practice sessions — who need to give the extra effort to sharpen their fielding, and they are putting in that extra effort. That is the only area we feel we can get better at. Fielding is something that's controllable, compared to batting and bowling, and you need that control from all the 11 players in the field. I certainly feel we can improve quite a bit in that department.
On Jadeja's performance
In the Test matches as well, I think Jadeja batted and bowled very well. He understands his game much better. He has obviously gone back and worked quite a bit, especially in white ball to come back and perform in this manner. Obviously, you are going to have a one-off game like the one in Visakhapatnam where people are going to go after you. But barring that, he has been very good. He has been smart about what he wants to do with the field when he is bowling. And in the field, there has been no question about his ability. With the bat and ball, he has matured a lot now and brings balance to any side.
On whether Jadeja could be the preferred first-choice all-rounder
It depends… When Hardik (Pandya) is fit and fine to play, we have to see the combination going into the World Cup. If Hardik is fit, Kedar (Jadhav) becomes a spin option as well. Hardik becoming fit also gives you four seaming options, alongside Kedar and one more spinner. You might need one more spin option, so Jadeja becomes the key there with the team balance.
On whether West Indies read the pitch wrong
I was thinking they're going to bowl first when they won the toss. I was quite surprised that they chose to bat... Might be because the way the last game went, thinking if they put up decent runs on the board, we might find it difficult to chase down total… You know, losing confidence in the last game as a batting group… So I can understand why they chose to bat first, but it completely fell in place for us since we wanted to bowl anyway.
On the conditions
It was tough, to be honest, because the wicket had a bit of dampness and we knew that it might turn considerably in the first innings. Having said that, in order to take out whatever the wicket had to offer, the bowlers had to bowl in the right areas. I think the pitch was really good, challenging for the batsmen and had enough for the bowlers.