BCCI counts losses over IPL no-show
The BCCI has thus been forced to look for an alternate window to host the tournament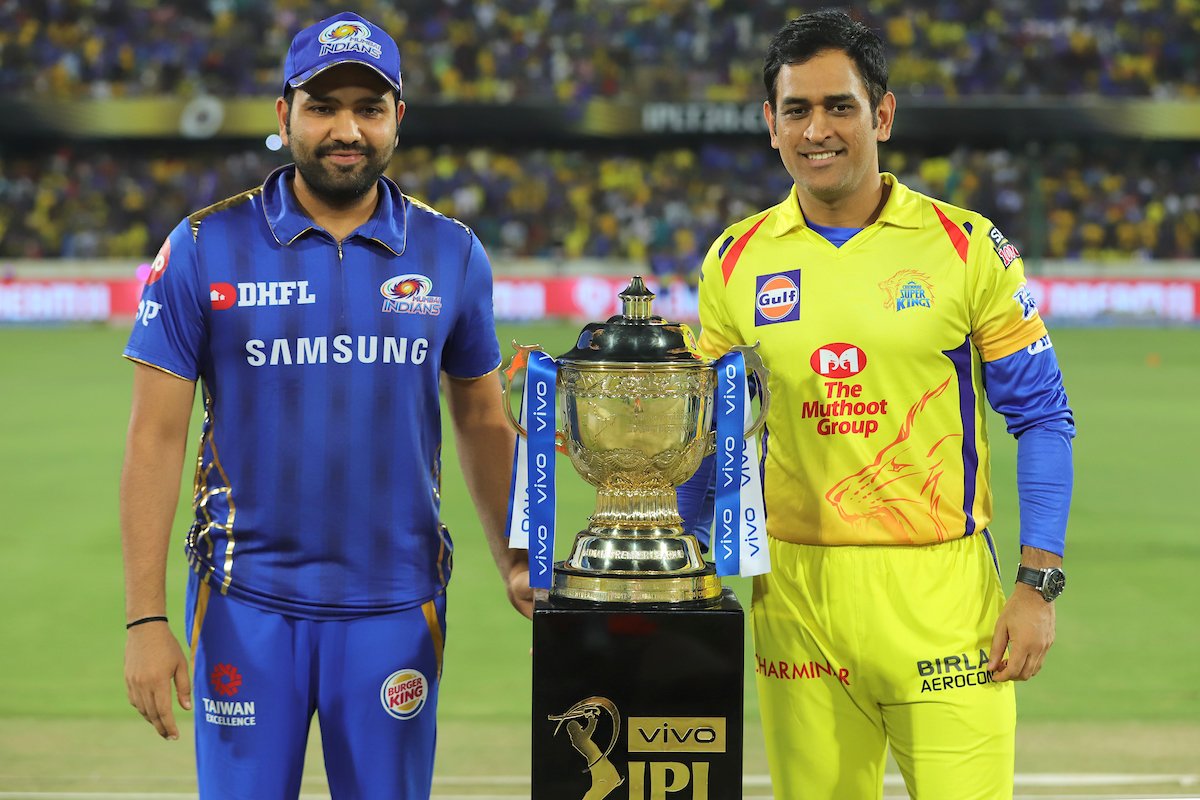 Captains Rohit Sharma of Mumbai Indians and Chennai Super Kings' Mahendra Singh Dhoni's picture of IPL 2019
(Picture: Twitter/@IPL)
---
Calcutta
|
Published 15.04.20, 08:58 PM
|
---
The prospect of a substantial loss, impending pressure from the players and franchises, and of course insurance issues have forced the Board of Control for Cricket in India (BCCI) to indefinitely postpone the 13th edition of the Indian Premier League (IPL).
Till Wednesday night, there was no official announcement from the BCCI but all eight franchises were informed of the decision by IPL's chief operating officer Hemang Amin by noon.
That the BCCI was looking at a postponement and not cancellation of the money-spinning league was reported by The Telegraph on April 10. This follows a teleconference between BCCI president Sourav Ganguly, secretary Jay Shah, IPL chairman Brijesh Patel and treasurer Arun Dhumal on Tuesday evening.
Though it was a given that IPL couldn't be held this summer because of the coronavirus pandemic, the BCCI waited for Prime Minister Narendra Modi to announce an extension of the lockdown till May 3.
It was learnt that in case the IPL isn't held this year, the Star-BCCI deal may have to be extended by another edition beyond the five-season period. Ditto for title sponsor Vivo. That will mean no extra revenue for a year.
The five-edition deal with Star was back-loaded with BCCI having already received around Rs 4,500 crore from the broadcasters. The title sponsor has a commitment of around Rs 440 crore every year.
Sources revealed that the BCCI stands to lose substantially since its insurance policy does not cover pandemic or lockdown clauses though it has provisions for disruptive elements like war, terror attack and water shortage.
However, the terms do have a clause for "forced measures" but whether that includes a pandemic is not clear.
"We don't know if all such clauses will be covered by the insurance policy. It is a very complicated matter and we are not sure," said someone in the know of things.
The BCCI has thus been forced to look for an alternate window to host the tournament. There is also pressure from players and franchises, both of whom will lose considerably if the tournament is put off.
The International Cricket Council has already made it clear that it will wait till August before deciding on the feasibility of hosting the T20 World Cup in October-November. For the BCCI, it's prudent to focus on the September-early October window. The Asia Cup, which is scheduled for September, has already run into rough weather and the venue is yet to be finalised.
According to reports coming out of Australia, there is a growing sense of optimism that cricket is possible during their next summer. It includes the Big Bash League, WBBL and the T20 World Cup.
A report submitted to Cricket Australia and state associations by its chief medical officer Dr John Orchard has indicated as much. There has been a dip in coronavirus cases in Australia since last week.
Australia has closed its border to all foreigners for six months though Prime Minister Scott Morrison is not averse to lifting it in case the situation is under control beforehand.
"The UAE is being looked at a possible venue for the Asia Cup but it's unlikely that its government will allow hosting of such matches in an enclosed arena. The current situation has made the world a different place to live in and none will risk the lives of their citizens. If the event is pushed back to Pakistan since they are the hosts, India will not participate," said a source.
No IPL will also mean former captain Mahendra Singh Dhoni's hopes of making a comeback to the Indian team will further dim.