Call that swung the fortunes
Anurag Thakur's stance was supported by Northeast member associations led by Naba Bhattacharjee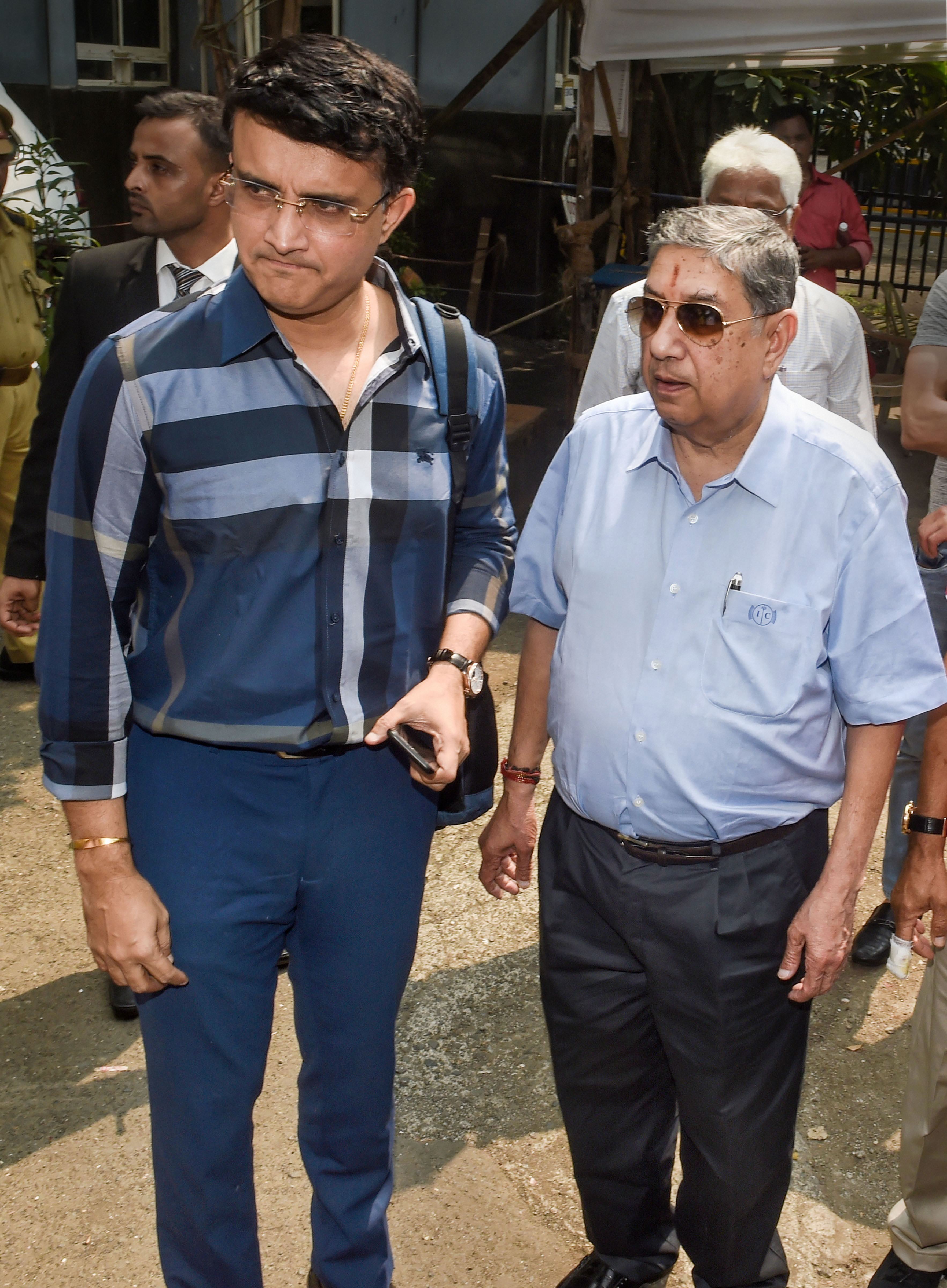 ---
|
Calcutta
|
Published 14.10.19, 10:56 PM
---
At one point during the "informal meeting" in Mumbai on Sunday evening, Sourav Ganguly had almost given up hope for the Board of Control for Cricket in India (BCCI) presidency. Brijesh Patel looked certain to take charge at the annual general meeting in Mumbai on October 23.
Patel, a former India batsman, enjoyed the support of N. Srinivasan, the evening's host at the Trident and widely regarded as a kingmaker in BCCI politics.
Union minister of state Anurag Thakur, himself a former BCCI president, was there to oversee the nomination process which was completed on Monday.
Thakur had been backing Sourav along with Jay Shah, the ex-joint secretary of Gujarat Cricket Association and son of Union home minister Amit Shah.
It was close to 10.30pm and dinner had already been served but there had still been no consensus on the presidential candidate.
Sources told The Telegraph that Thakur had been busy on his cellphone for quite some time but one particular call swung it in the former India captain's favour. It couldn't be confirmed if the call was made or received but various sources have told this newspaper that Thakur set the ball rolling thereafter.
The person at the other end was believed to be an influential Union cabinet minister. Thakur then took Srinivasan aside for a dialogue and the process to elevate Sourav took a dramatic turn.
"Srinivasan was intent on having Brijesh as president. But it took Thakur some time to make Srinivasan relent. He convinced Srinivasan that Sourav was the ideal candidate and he should back him," said a well-placed source.
Thakur's stance was supported by Northeast member associations led by Naba Bhattacharjee, convenor of the BCCI's Northeast Cricket Development Committee. Assam minister Himanta Biswa Sarma came forward to strengthen Sourav's cause.
After much cajoling, Srinivasan relented. Several members, however, feel that the former BCCI chief has been "promised" a berth at the International Cricket Council (ICC) meetings as their representative.
The 74-year-old doesn't qualify to be BCCI's representative but the 70-year age cap doesn't apply to the ICC. That clause may be challenged in the Supreme Court.
Srinivasan, sources said, has an axe to grind since the current ICC chairman, Shashank Manohar, had been largely responsible for his exit in 2016. Moreover, Manohar abolished his predecessor's Big Three Model which would have enabled India to receive around $570 million. Under the current policy, BCCI's earnings from ICC is around $293 million.
If the move doesn't materialise, Srinivasan may send someone of his choice to Dubai. But the question remains: Will Sourav agree to Srinivasan's wishes?
Srinivasan wasn't available for comment but a confidant said: "It's too early to speculate on such things. Let us get the Board back in our hands first."
For now, the two walked "hand-in-hand" on their way to the Cricket Centre on Monday afternoon.