Beginner's luck, 10 goals
Payne's incredible solo record stands to this day as the most goals scored by an individual player in EFL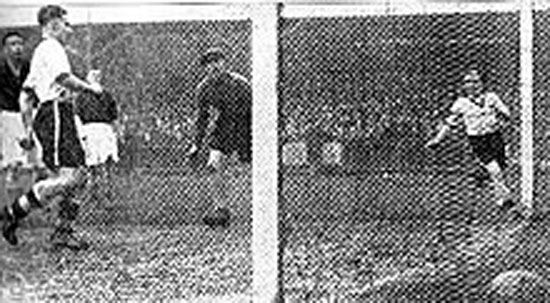 ---
Published 12.04.20, 08:20 PM
|
---
Some records are meant to be broken. Some, like the one set by Joe Payne 84 years ago to the day when he hammered home 10 goals in an English football league match, have stood the test of time.
Joe Payne, who? There was nothing extraordinary about him. Born a few months before the First World War began, in January 1914, Payne spent time as a coalminer in his teenage years and played football for the colliery's team. A scout for Luton Town — the football club named after the city 50km northwest of London — noticed the lad and recommended him to the club, which young Payne joined in 1934.
But for two years, he warmed the bench, rarely getting a chance in the playing XI, and when he did, turned out as a full back.
Therefore, much to his surprise, Payne was asked to play centre-forward for the Hatters — as Luton Town, famous for hat-making and Vauxhall cars, is known — in their Easter Monday clash at home against Bristol Rovers.
Reports of the match suggest that it was an unusually cold day and the crowd of about 14,000 hatted fans, sleet whipping their faces, may have found it difficult to recognise who the centre-forward was for the day since the regular man had been injured the previous week.
The game was evenly poised for the first 20-odd minutes until Payne struck the net for his first goal in the 23rd minute. Thus opened the floodgates, and by half-time he had scored three more.
Sensing that their new centre-forward had beginner's luck on his side, the playmakers fed him with passes and by the 58th minute, Payne had put in a total of seven goals.
He wasn't finished. Between the 65th and the 84th minutes, Payne scored thrice, taking his tally for the match to 10, his team winning 12-0.
Payne's incredible solo record stands to this day as the most goals scored by an individual player in English domestic football.
In an interview many years later, as quoted by Luton Town club historian Roger Wash, Payne recalled the game with difficulty. "They told me to go out and get two or three goals if I could, but did not tell me what to do afterwards so I just carried on," he said. "Time blurs the memory but I recall the Rovers goalkeeper (John Ellis) making as many good saves as the goals he let in."
The world record for the most goals scored by a single player in a domestic game is 16, shared by Stephan Dembecki (who changed his surname to Stanis) of Racing Club de Lens in a French League match against Auby Asturies in 1942 and Olympus Xylofagou striker Panagiotis Pontikos in a Cypriot league Division Three game against SEK Agiou Athanasiou in 2007.
And for the record, the most goals scored by an individual in an international is by Australia's Archie Thompson, who hammered in 13 in their 31-0 World Cup qualifying drubbing of American Samoa in 2001.
So what did Joe Payne get as a reward for his record feat? Club records say he was given a bonus of £2 to add to his £4 weekly pay, and the match ball as a souvenir.
Payne became a first team regular and led Luton to a Third Division title the following season, scoring 55 goals.
He played for England only once, scoring twice in an 8-0 drubbing of Finland in 1937.
Payne moved to Chelsea the following year, but the war, which engulfed Europe in 1939, halted his career for six years. Payne joined West Ham United after the war, playing for the East London team in 11 games before an ankle injury grounded him.
Luton Town entered the top flight after winning the 1981-82 second division and remained there till 1991-92. Its moment of glory came in the 1988 League Cup final when Luton beat Arsenal 3-2. The club is now languishing in the relegation zone of the second tier Championship and would be praying for a Joe Payne-like performance from one of its players whenever football restarts.
Joe Payne died in 1975, aged 61.