Azharuddin's advice for colts: Enjoy success
Azhar wants BCCI president Sourav Ganguly to take strong action so that unruly incidents don't recur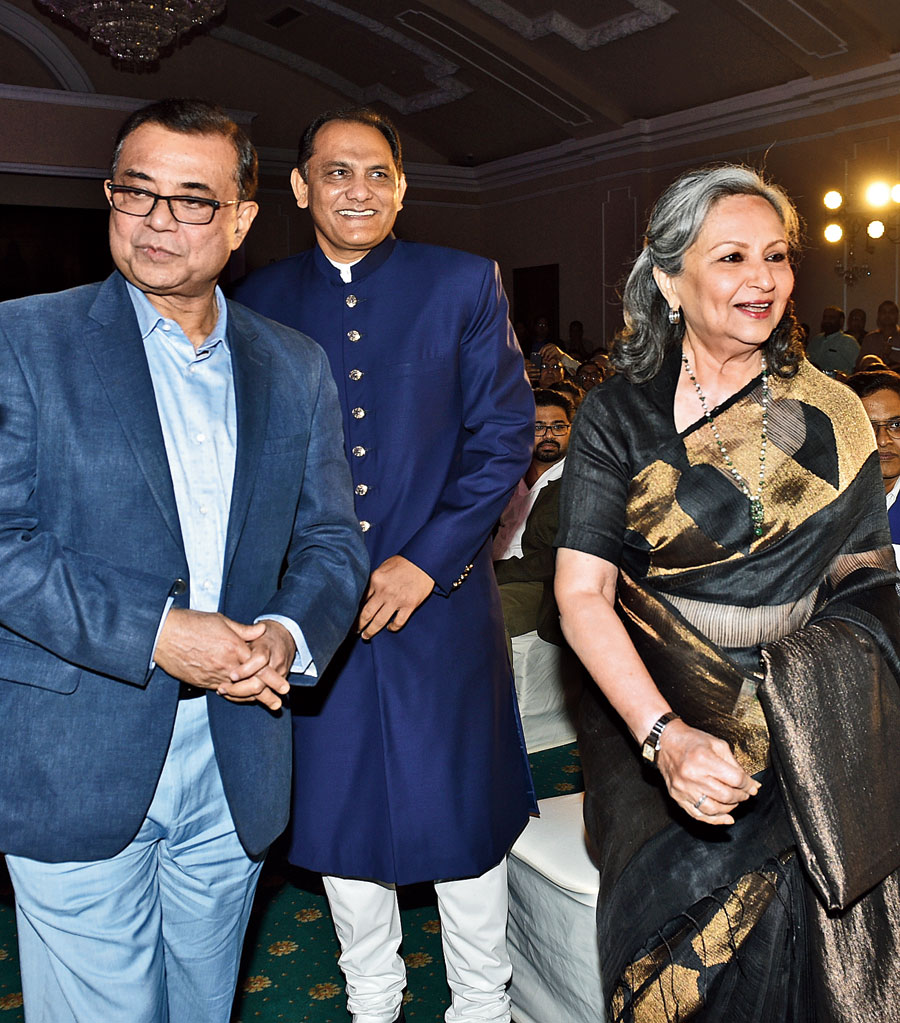 DD Purkayastha, managing director and CEO of ABP Pvt. Ltd, with Mohammed Azharuddin and Sharmila Tagore on Monday.
Picture by Santosh Ghosh
---
Calcutta
|
Published 02.03.20, 09:39 PM
|
---
Mohammed Azharuddin severely criticised the behaviour of the India and Bangladesh cricketers who were involved in an ugly spat almost immediately after the final of the U-19 World Cup in Potchefstroom last month.
Their behaviour, according to Azharuddin, was in poor taste. The former India captain also gets baffled by all the swear words and expletives by some of the players of the current generation when they score a century or take a five-for.
"I saw the U-19 World Cup final. What came out in the final was very, very poor from both the sides," Azharuddin said during the Air India presents Tiger Pataudi Memorial Lecture, a joint initiative by The Bengal Club & The Telegraph in association with The Oberoi Grand Kolkata, on Monday.
Azharuddin also wants the Board of Control for Cricket in India president and former India teammate Sourav Ganguly to take strong action so that these incidents don't recur and the players are more careful in future.
Instead of imposing fines, the guilty players should be banned for such offences, Azharuddin emphasised.
"Also, I don't understand why when you score a hundred, you have to swear or hurl expletives. When you score a hundred or take five wickets, you should be happy. Why the anger?
"With all the cameras nowadays, people can read your lips. I think the Board has to take some step, some strong action regarding this. Because, it should not happen.
"I understand there are fines from match fees and all that, but with the cricketers earning so much money, I don't think that (fine) hurts. I think for such offences the guilty players should be banned, like they do in football."
"People were blaming only the Indian boys, but I think we should also talk about the Bangladeshi team because they are the ones who started it. When they had won the game, there was no need to do all those things. That was a time to be happy, to enjoy the moment.
"But the Board must do something about it. I will tell so to dada, who is the BCCI president, whenever I meet him. As a cricketer, he will definitely understand," Azharuddin added.
Five players were charged by the International Cricket Council (ICC) for their on-field fight. Akash Singh and Ravi Bishnoi and three Bangladeshi players — Mohammed Towhid Hridoy, Shamim Hossain and Rakibul Hasan — were found guilty of breaching ICC Code of Conduct after a few players from both sides nearly came to blows post the Bangladeshi colts' three-wicket victory that won the country their maiden U-19 World Cup title.
Sharmila Tagore, wife of Tiger Pataudi, echoed Azharuddin, saying being happy alone "would tell the tale."
"Whether you are playing cricket or whether you are acting in films or succeeding in anything, you must show you are being happy in many ways, but not cursing or using swear words. Because all of us at that level are role models, and 15-year-olds, 12-year-olds are seeing you and trying to emulate you.
"So I also don't see any merit in being (like that). It might be considered very cool. But I think perhaps they can just be happy.
"Happy alone would tell the tale," was how Sharmila put the message across.