2022 F1 season set to begin in Bahrain
A virtual ride on the fast track to find out what the season promises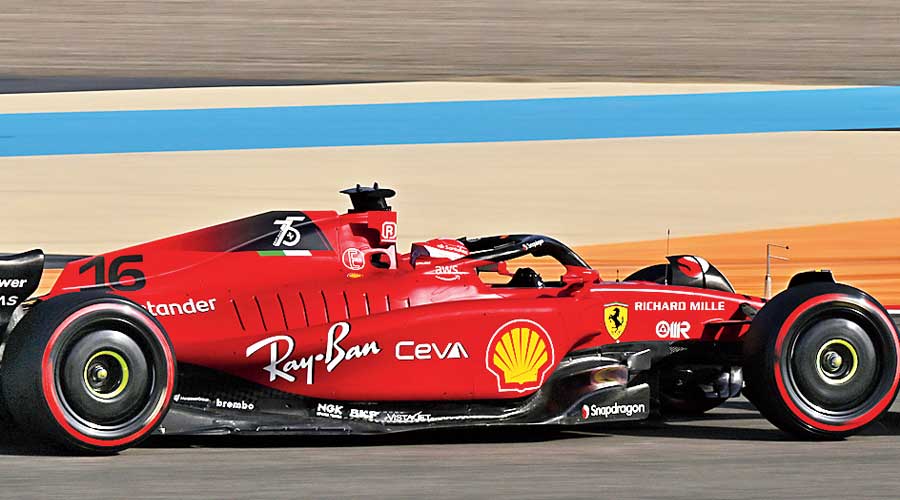 POLE STAR: Charles Leclerc drove his Ferrari F1-75 smartly on Saturday to seize a stunning pole for the season-opening Bahrain Grand Prix in Manama. He beat world champion Max Verstappen of Red Bull by 0.123 seconds. Seven-time champion Lewis Hamilton will start fifth.
Getty Images
---
Published 20.03.22, 03:52 AM
|
---
20 drivers, 10 teams, 22 races. The 2022 F1 season is set to begin today in Bahrain. The Telegraph takes a virtual ride on the fast track to find out what the season promises:
Winds Of Change
The new cars, marking one of the biggest technical changes in F1 history, sport a simplified yet striking look. They are designed to shift the aerodynamic focus from the wings to underneath the car, making it easier to follow the car in front, and thus improve close racing. Some rules have been tweaked too. What's new in F1 this time? Check out:
A ground-effect floor: The 2022 car has two long under-floor tunnels which create a 'ground effect' — meaning there is more suction under the car to pull it to the tarmac, while also ensuring more of the downforce is generated from under the car. The concept was popular back in the 1970s and '80s in F1.
A simplified front wing and a sharp new rear wing: These have been designed to stop sending airflow outwards. The curved rear wing still has DRS, but it may be less impactful.
18-inch tyres with wheel winglets: Another throwback addition, the bigger tyres are aesthetically pleasing and will improve the handling of the cars. The winglets have been added to help direct air away from the rear wing.
Off the track: The FIA will introduce a new virtual race control system, much like VAR in football. There will also be a ban on team communications with race officials being broadcast on television to protect race officials.
Driving Force
Red Bull: Red Bull head into the 2022 season with their line-up of the reigning world champion Max Verstappen and Sergio Perez.
Mercedes: Seven-time world champion Lewis Hamilton will be partnered by 24-year-old British driver George Russell.
Change: Russell replaces Valtteri Bottas.
Ferrari: Ferrari continue with their 2021 driver line-up of Charles Leclerc & Carlos Sainz Jr. in the 2022 season.
McLaren: McLaren continue with the experienced campaigner Daniel Ricciardo and youngster Lando Norris.
Aston Martin: Four-time world champion Sebastian Vettel retains his seat with Aston Martin while Lance Stroll will continue to be his teammate for the season.
Alpine: The Renault-powered team will continue with its driver line-up of Fernando Alonso and Esteban Ocon.
Alpha Tauri: The team of Pierre Gasly and Yuki Tsunoda remains unchanged.
Alfa Romeo: Alfa Romeo have opted for Valtteri Bottas and rookie Guanyu Zhou as their drivers for the 2022 season.
Changes: Bottas replaces the retired Kimi Raikkonen. Zhou graduates from Formula 2 to replace Antonio Giovinazzi. Zhou is set to become the first Chinese driver to compete in F1.
Williams: Williams have roped in Alex Albon for the 2022 season. Nicholas Latifi will be their other driver.
Change: With Russell moving to Mercedes, Albon gets a chance.
Haas: Kevin Magnussen becomes the latest addition to the F1 2022 grid. Magnussen will accompany Mick Schumacher for the 2022 season at Haas.
Change: Russian Nikita Mazepin was to compete for Haas for a second consecutive year. But following his country's invasion of Ukraine, his contract was terminated.
2022 F1 Calendar
March 20: Bahrain GP
March 27: Saudi Arabian GP
April 10: Australian GP
April 24: Emilia Romagna GP
May 8: Miami GP
May 22: Spanish GP
May 29: Monaco GP
June 12: Azerbaijan GP
June 19: Canadian GP
July 3: British GP
July 10: Austrian GP
July 24: French GP
July 31: Hungarian GP
August 28: Belgian GP
September 4: Dutch GP
September 11: Italian GP
October 2: Singapore GP
October 9: Japanese GP
October 23: United States GP
October 30: Mexico City GP
November 13: Sao Paulo GP
November 20: Abu Dhabi GP
Calendar Notes
The Australian, Canadian, Japanese and Singapore GPs are back after a two-year absence due to the Covid-19 pandemic.
The Miami GP is due to make its debut.
The Qatar GP is set to return in 2023 after a one-year hiatus during which the country would focus on hosting the Fifa World Cup.
The Chinese GP was not included due to Chinese travel restrictions related to the Covid-19 pandemic.
The Russian GP at Sochi Autodrom, which was scheduled to take place on September 25, has been cancelled in response to the Russian invasion of Ukraine.