Without cutting corners, good laptop at reasonable price
Mi NoteBook 14 Horizon — Xiaomi's debut laptop in India — is a joy to use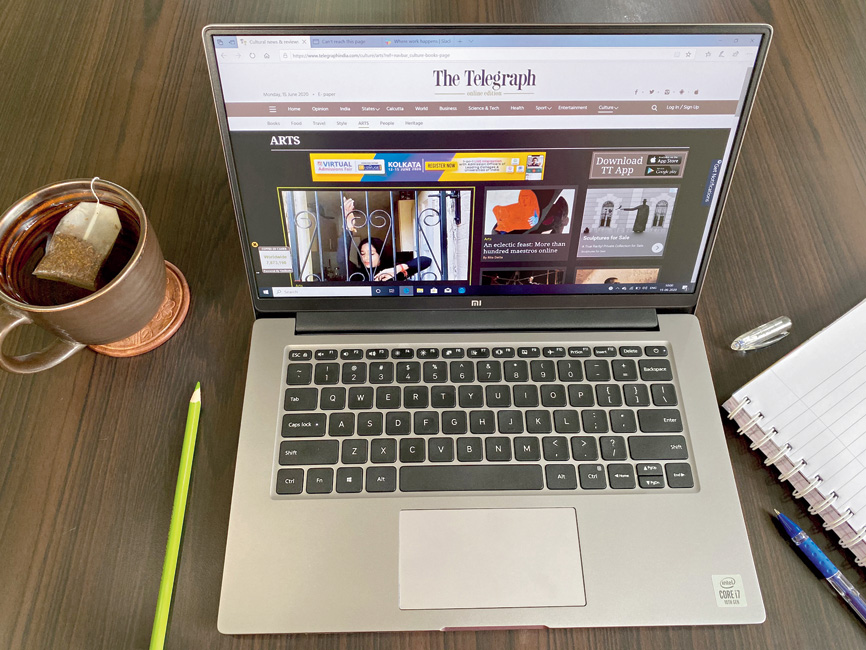 ---
---
Anticipating changes. That can be more difficult while choosing a laptop than firing away an essay on Aristotle. The around-the-corner college season — though online for many — brings with it many costs, including a laptop that should be able to outlive the many thumps and thunks of a student over at least five revolutions around the sun.
A few years ago it was difficult to comprehend USB-C ports, which is now billed as the solution for all our future cable needs. Even if you could, options were few and far between, which leaves us with the reality of what one can and should worry about — memory, storage, battery life, processor and keyboard.
Enter Mi NoteBook 14. Let's dive into the Horizon edition, which we had a chance to experience for 10 days. And it's not just students who would be happy about the product.
Built to last
Being Xiaomi's first laptop in India, the company didn't have to live up to the hype of offering something better than the previous version; instead, it has to compete with all the brands out there. And that's indeed a lot.
Can it compete with the MacBook Air is not the question here because the Apple product continues to be a benchmark for reliability, design and performance. And, of course, it's a completely different ecosystem. Can the Mi NoteBook 14 compete with the many other laptops out there?
First, the problem with laptops. A quick search for laptops on Amazon or Flipkart — keeping in mind particular a specification sheet — throws up a number of options and that too from the same brand. Some brands are just offering new models without offering important distinguishing features. Xiaomi is different.
The first feature to grab one's attention is the absence of the Mi logo on the laptop. It's your laptop, customise with stickers or keep people around you guessing as to what powers the device built from A5052, an aluminium and magnesium alloy, coated through a process of anodised sandblasting, resistant to corrosion and abrasion.
The good looks get extended once the laptop is unfolded. Only slightly longer than an A4 sheet paper, three-millimetre bezels on three sides hold the 14-inch FHD display. Zero complaints about the screen, which has a 178-degree viewing angle, a resolution of 1920x1080 and it's very much visible even under a bright sun. This fares well when compared with the Dell XPS 13, which has a 91.5 per cent screen-to-body ratio with a bottom bezel of just 4.6mm. Also, at 1.35kg, it's quite portable, easily slipping into bags (the new iPad Pro attached with the Magic Keyboard weighs 1.34kg).
Inside out
Impressive processor. The Horizon edition comes with Intel's 10th-gen i7 (Comet Lake), 512GB M.2 NVMe SSD, 8GB RAM and Nvidia MX350 GPU with 2GB of video RAM. What does all this mean?
Simply put, Xiaomi hasn't cut too many corners to offer a good laptop at a reasonable price. The system works more than fine with one's daily load (and overload!) of Chrome tabs, Spotify streaming and most of Adobe programmes. The machine remained cool throughout testing and the fans fired up during gaming.
Counter Strike: Global Offensive played out well and light video editing using Adobe Premiere Pro does well also. You really don't have to worry about lags or stutters.
As for ports, on the left edge are the USB 2.0 port and headphone jack (doubles as a headphone and mic-in) while on the right are two USB 3.1 ports, a Type-C port and an HDMI 1.4b port.
The Horizon edition does the things most people would expect a good laptop to do, and much of that has to do with the keyboard. At hand is a full-sized keyboard with a biggish trackpad. The scissor-switch keyboard comes with 1.3mm key travel. There is enough space on either side of the trackpad to rest one's palms and typing is a breeze. On that note, a few flaws.
It's a great keyboard but there's no keyboard backlighting, which is important while working in dimly-lit environments. Also, the absence of a built-in webcam is felt (though the box comes with an external USB HD webcam). We are sure future editions will tackle the issue. Another absence — an SD card slot. Finally, it doesn't take much effort to add a power indicator on the charging adaptor.
With video streaming being an important part in all our lives, there are stereo speakers with DTS audio processing. The speakers are well-placed, on the smooth curves of the body, which avoids any muffle.
Battery life is also impressive. It comes with a 46Wh battery and a 65W charger, and you can go from zero to 50 per cent charge in just 35 minutes. The company says the laptop can deliver up to 10 hours of battery, which is a good figure if you are not doing a great deal of video editing or gaming.
Is it for you?
Often criticised for ads and bloatware on its smartphones, Xiaomi has done exceptionally well planning out its maiden laptop for the Indian market. Moving around the balcony with the laptop or thunking away on the couch, it's all cool with this one. The lack of touchscreen interface also doesn't bother at all. If only there was a built-in webcam. Yet, what we have here is a laptop with a stable keyboard and reliable configuration to last a few years. Not dull. Not boring. Not confusing. Mi NoteBook 14 Horizon is a joy to use.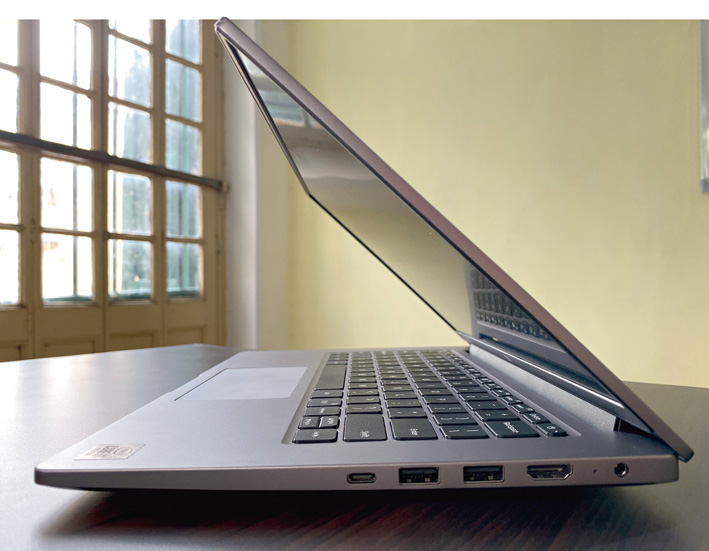 At a glance
Device: Mi Notebook 14 Horizon
Display: 14-inch FHD
Anti-glare Horizon display
Weight: 1.35kg
Processor: 10th generation Intel Core i7-10510U (1.8GHz quad-core with boost clock up to 4.9GHz); Nvidia GeForce MX350; video memory: 2GB GDDR5 VRAM
RAM: 8GB 2666MHz DDR4
Storage: 512GB PCI Express Gen 3 NVMe SSD
OS: Windows 10 Home
Camera: Mi Webcam
HD (in the box)
Audio: 2x2W stereo speakers
Battery: 46Wh battery; 65W power adapter
Price: Rs 54,999
(Mi NoteBook 14 is priced upwards of Rs 41,999)