Tumblr has introduced paid subscription tiers
The feature is called Post Plus and it lets creators offer a $3.99, $5.99, or $9.99/month subscription, which will give readers access to any posts they decide to designate as for subscribers only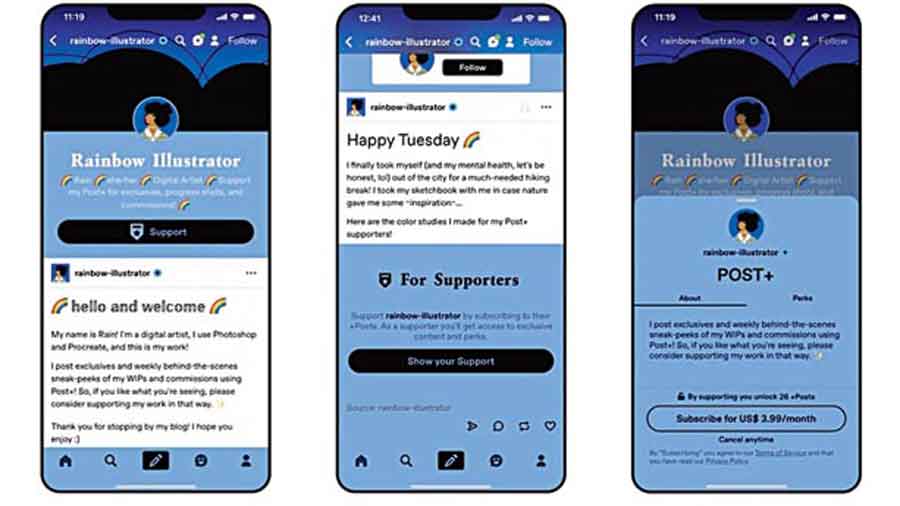 Tumblr's Post Plus feature allows blogs to have a subscription for exclusive posts.
Picture: Tumblr
---
Published 22.07.21, 11:38 PM
|
---
Tumblr, the blogging site, is innovating to stay relevant. The 14-year-old blogging platform has began a test letting some users charge their followers a monthly fee in exchange for access to exclusive content.
The feature is called Post Plus and it lets creators offer a $3.99, $5.99, or $9.99 per month subscription, which will give readers access to any posts they decide to designate as for subscribers only. At the moment, it's a "limited beta" for select creators and appears to be like Substack without the emailed newsletter aspect.
With the move, Tumblr hopes to attract younger users, who were its foundation in the early 2010s but since then, users have shifted focus to other social media giants. Allowing creators charge for content is happening across platforms. For example, in May, Twitter introduced its Tip Jar feature. Last week, Facebook said it would pay more than $1 billion to content creators on its social networks through 2022, a step that Snapchat and YouTube have also taken, that is, offering top creators cash to keep publishing content.
Tumblr hosts more than 500 million blogs, and that 11.3 million posts are shared a day, which is down from 14.8 million this time last year.
The company has been on the back foot after it changed hands a number of times. It was purchased by Yahoo in 2013 and Verizon in 2017 (Verizon Communications acquired Yahoo in June 2017). In 2019, it was sold to WordPress.com owner Automattic Inc. Unlike MySpace or Friendster, Tumblr has been resilient and has managed to keep users on its side.