Try farming — it isn't addictive
Tsuki's Odyssey is a unique adventure that is great for people who want to play games but can't find the time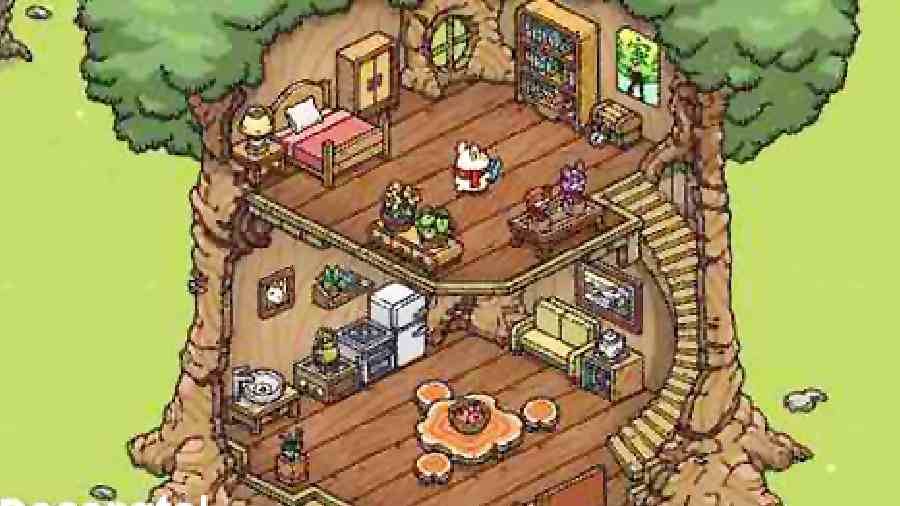 ---
Published 23.01.23, 05:36 AM
|
---
GAME: Tsuki's Odyssey by HyperBeard
GENRE: Idle, simulation
PLATFORMS: Android, iOS
I work in the mobile game industry, yet in my day-to-day life, I find that it takes effort to play games compared to watching YouTube or TV. And if someone like me finds gaming arduous, I'm sure there are many who would want a game that doesn't make them work too hard. Tsuki's Odyssey could be that hidden gem that people such as us have been looking for.
Tsuki's Odyssey gives you a peek into the life of Tsuki the bunny, who has left his city life and moved to Mushroom Village to work on his carrot farm. While this may sound like just another farming simulator, you don't actually control Tsuki or strive to expand the farm. You simply interact with the oddball residents of Mushroom village, observe Tsuki going about his life and occasionally indulge in river fishing. The fun lies in the fact that there's something new to explore every time you open the game. On every login, I would visit all of Tsuki's friends and talk to them. Each time, I would find them in different places, doing different things and having new things to say. Each character has a unique personality and life, and conversations with them felt like catching up with different friends on random topics. The dialogues are chucklesome and so well written that I opened the game just to know more about what's happening around the village.
Over time I discovered many new friends and got to visit their homes. The ingame day is mapped to the real day, which means that if you open the game at lunchtime, you could catch Tsuki eating his lunch and posting about it on the in-game social media.
There's also an aspect of decorating Tsuki's house, to which I initially hadn't paid much attention. I bought a rocking chair from the furniture store and placed it in the house. And the next day, to my surprise, I found Tsuki rocking on the chair. It was a delight to watch and made me want to make Tsuki's house much better for him.
The graphics are beautiful, and the background music score brings all the charm together.
The best part is that the game is not addictive and time-sucking. The ads were completely optional and felt like a reward in themselves. There was no friction in opening or closing the game, and the time spent playing wouldn't be more than 2-3 minutes. It perfectly fit into my hectic adult life, where I didn't need to take time out to play something relaxing. But that lack of things to do initially left me confused about what to do in the game, and made me wish there was more. VERDICT: Tsuki's Odyssey is a unique adventure that is great for people who want to play games but can't find the time. It's a very polished experience, giving the player a little joy at every corner — be it with the graphics, music or animations. Though it sometimes feels like it needs more things to do, that is also the part that doesn't make you addicted to it. I rate it 8.5 out of 10.