Musk now has to care about his golden goose Tesla as well as the new risk, Twitter
The new owner of Twitter is busy with his company Tesla, which he has rescued from from the jaws of bankruptcy more than once, he is also busy with SpaceX, the rocket and spacecraft manufacturer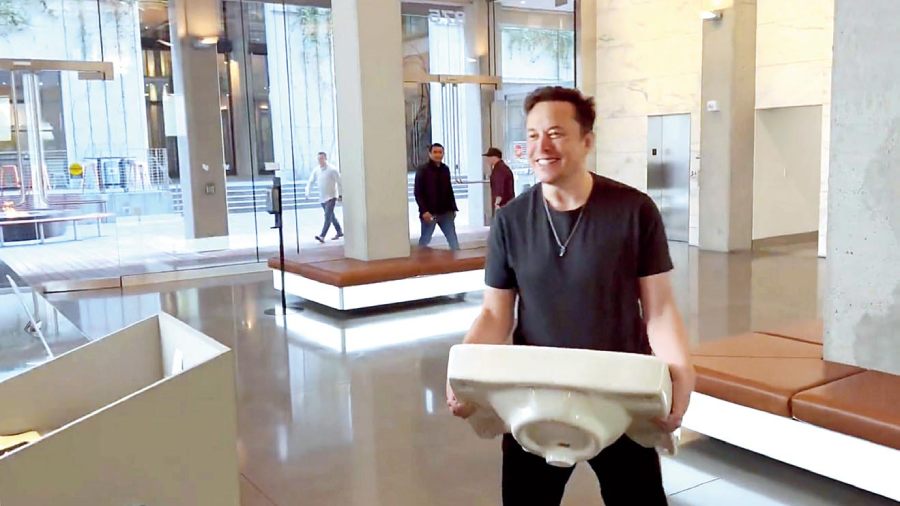 Elon Musk visited Twitter HQ in San Francisco on October 27 carrying a sink
---
Published 29.10.22, 05:18 AM
|
---
Elon Musk now has more responsibility — if the social media platform gets into trouble with governments around the world, he will be spending more time fixing it rather than on the company that lays golden eggs, that is, Tesla. Here are a few problems that Musk may face in the coming days.
Promises to keep
Twitter's revenue situation is not at its best. The company made only $5 billion in revenue last year. The platform is used by politicians, businessmen and celebrities but that doesn't mean Twitter makes a lot of money. According to The Washington Post, Musk has told investors that he will double Twitter's revenue in three years but he apparently also said that he plans to cut 75 per cent of staff, which he now denies.
The naysayers
According to internal Twitter research seen by Reuters, Twitter is struggling to keep its most active users engaged. "Heavy tweeters" (someone who logs in six-seven days a week and tweets three-four times a week) account for less than 10 per cent of monthly overall users but they generate 90 per cent of all tweets and half of global revenue. According to Reuters, heavy tweeters have been in "absolute decline" since the pandemic began, a Twitter researcher wrote in an internal document titled "Where did the Tweeters Go?"
Moderation required
Elon Musk is saying that Twitter needs to allow more free speech, which means less content moderation. But users want content moderation, otherwise tweets can just blow up and can become the talking point unnecessarily. And things get worse if problematic speech involves politics or religious issues.
Fingers in too many pies
The new owner of Twitter is busy with his company Tesla, which he has rescued from the jaws of bankruptcy more than once. He is also busy with SpaceX, the rocket and spacecraft manufacturer. Can you see Musk spending hours each day dealing with content moderation or new features? If Tesla's fortune falters, so will Musk's and that will, indirectly, have an effect on everything he owns.