Year gone: Communication collapse in Kashmir
Telecommunications and internet services have been restored, but only 2G bandwidth deeply affects almost all important activity, from online classes to businesses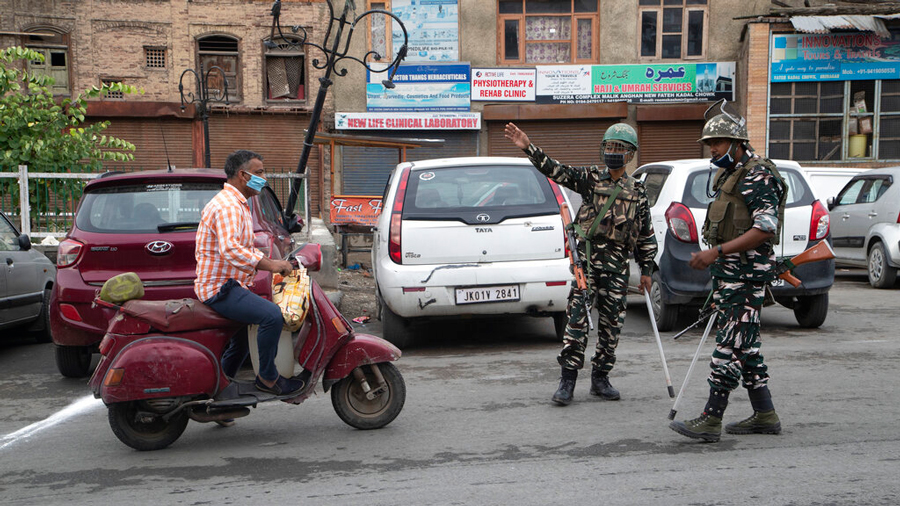 Indian paramilitary soldiers stop a Kashmiri man traveling to visit relatives for Eid during lockdown in Srinagar, Saturday, Aug. 1, 2020.
AP Photo/Mukhtar Khan
---
Published 05.08.20, 12:10 AM
|
---
One year is time enough to judge whether a new dawn has come. This was a promise the prime minister made when the Centre revoked Jammu and Kashmir's special status and statehood, and turned the region, without a word to its people or their leaders, into two Union territories on August 5, 2019. The prime minister's happy tweet had also declared that Jammu and Kashmir would henceforth be free of shackles. True, there has been little stone-throwing since then. But violence persists: in 2020 so far 17 civilians, 34 security people and 154 extremists have been killed, the last comparable count being in 2012. The unshackling is mysterious: over 20 politicians from all parties remain either in jail or under house arrest. This includes former chief ministers and, although Farooq and Omar Abdullah were released in March after seven months of incarceration under the Public Security Act, Mehbooba Mufti's confinement has been recently extended by three months. Evidently the Centre is not eager for political discussions with leaders of the region, even with those who are in favour of the Bharatiya Janata Party. This is rather puzzling in a federal republic. Since the Supreme Court is yet to hear the cases that would decide the constitutionality and legality of the government's act, the new dawn remains foggy.
Telecommunications and internet services have been restored after a long suspension, but since internet is only of 2G bandwidth and not 4G, almost all important activity, from online classes to businesses, have been deeply affected. The new media policy decides on the news to be beamed, for the Centre cannot stand 'fake' news, while the heavy presence of security personnel and repeated curfews — a fresh one is in place till August 8 — perhaps help Kashmir in some unfathomable way. Apparently the crippling of the economy and of education — to mention just two areas of serious damage — do not make Kashmir less 'normal', a claim the Union government is fond of making. But it cannot be argued that the situation imposed on the region is democratic. The abrogation of special status is not the issue — that can be debated — the problem lies with the features that have accompanied it, including the revocation of statehood. India's democratic fabric has been undeniably damaged; repairing it depends as much on the government as on the people of the country.