Where is the Chow? Kidar hai?
Where were you when our banks were robbed, armed intruders wreaked mayhem, and goon gangs killed cattle rearers?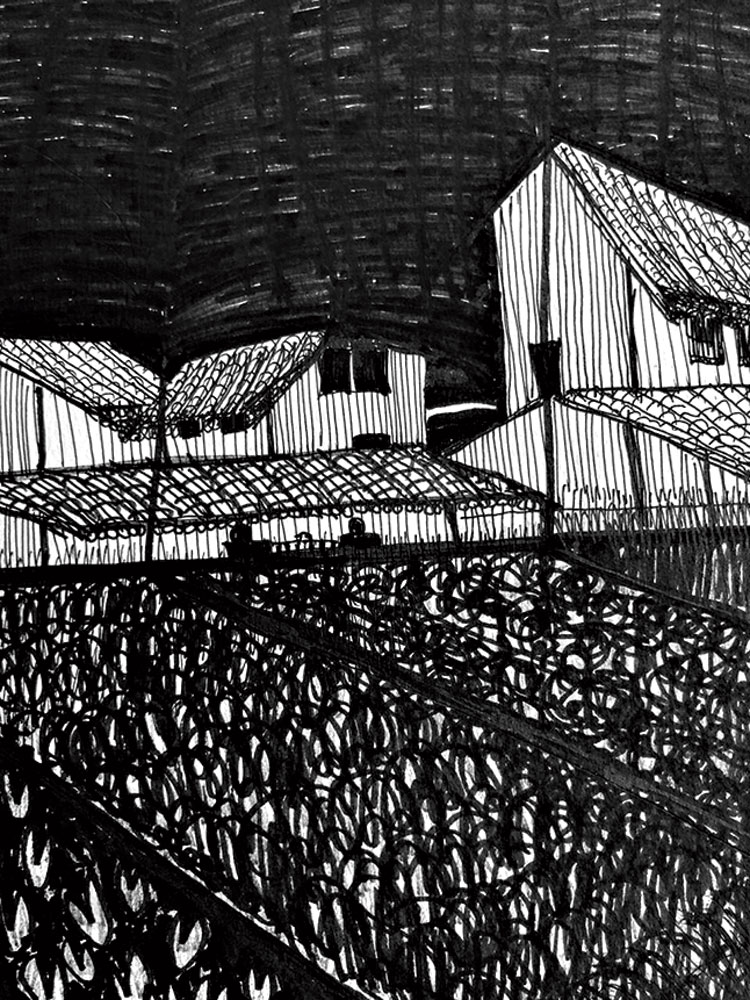 ABSTRACT: Where Is The Chow? Kidar Hai?
Attribution: Anon
---
Published 24.03.19, 06:10 AM
|
---
I am having to speak. I am. Not that I imagined I would have to. Not that I wished to. But these are not times of one's wishing or whim. These are not times that afford the luxury of the uncertainties of would or could. These are not ordinary times. These are times that do not belong to silence. These are times that demand everyone speaks. And of course I am not everyone, do not get me wrong. I am Mahadeb. I am EVERYONE. And I am having to speak. FROM this place I am in, remote and unknown, and yet not so. I can see. From wherever I might be. I have the ThirdEye. I am the ThirdEye, the AllSeeingOne.
And yet there are some things I yet cannot see. I see the homes of people, homes settled under the dark night. Homes where the lights have been turned off and the doors and windows shuttered. Homes where they whose homes they are, peaceably sleep. Or so I assume. Or so is my wish and my blessing. And yet I cannot see... But of that in a bit. Of that in just a bit.
I need first to convey a slice of goodness. Slices is what goodness comes in these days, ever thinning slices, thinning and thinning and thinning on and on until there will probably remain nothing to slice and no slices at any rate.
But this slice has left me most relieved, and able to breathe a whit more easily than I have breathed this past half a decade. I am relieved that a certain TheChaiwala has forsaken that sacred station and left chaiwalas — chaiwalas like me and many other thousands of chaiwalas — no longer sullied of the dubious company of TheChaiwala. No relation. No synonymity. Bless the Lord; good things do indeed come to those who wait for them. And who knows, for all you who have been patiently waiting along Sooterkin, this side and that side of its slimness, for me to arrive atop my cart of tin and timber and resume by servings of tea and coffee in earthen bhaanrs, who knows, I may actually return. It's just that the right moment for it should arrive before I arrive myself, your loved chaiwala, the one and only Mahadeb. But be patient, I pray and plead, and good things should be on the way.
And now to what concerns me and my all seeing ThirdEye. It cannot see, not even the ThirdEye, that man who now calls himself Chow, kidar hai? Kahan hai? Kya kar raha hai? Oye Chow, kidar hai?
What is it that they often say? Iss mulk mein jis shakhs ko jo kaam saunpa gaya, uss shakhs ne uss kaam ki... well let's just say in the interest of Sunday family reading, uss shakhs ne uss kaam ki aisi ki taisi kar dee... Meaning, good, patient people, that whatever job is entrusted to a person in this beloved nation of ours (BMKJ, etcetera, etcetera) that person made a mess of the job entrusted. But whoever entrusted the job to him? Anyone? No. Was this fellow ever even a chaiwala to christen himself TheChaiwala? Don't know. And now the chaiwala monicker lies suddenly shunned and a new role arrogated to himself overnight: Hello, I am Chow. Kidar hai? Kidar hai Chow? Kahan tha? Where were you? When our banks were being looted and our hard earned millions being funnelled away? When armed intruders were violating our sacred frontiers and wreaking mayhem with our jawans? When humble cattle rearers were being lassoed by goon gangs and done to bloody death on our streets? When teenagers were being lynched for what headwear they chose to wear? When our students were being harassed and humiliated for where they belong? When our honoured judges and officers were being hounded for what values they stood for? When our scribes were being shot for writing what they thought right? When the citizenry was being robbed of rights and respect for what faith they pursued and what names they gave themselves? Where were you that you did not even bother sending out a message of mourning and solace to those among us who were unfortunately massacred recently in far lands?
Just because you think they are Them? The condemnable Them? Chow? Kidar? I cannot see you manning your station, Chow. And so here is now my time to say:
For the thief in watchman's clothing
All eyes out, O you people, ho!
On your vigil be unstinting
What do they say? Yes, Jaagte Raho!