Let us do some dhan ki baat
Terrible habit that repeats itself, going zig-zag and tangential in a straight and narrow column space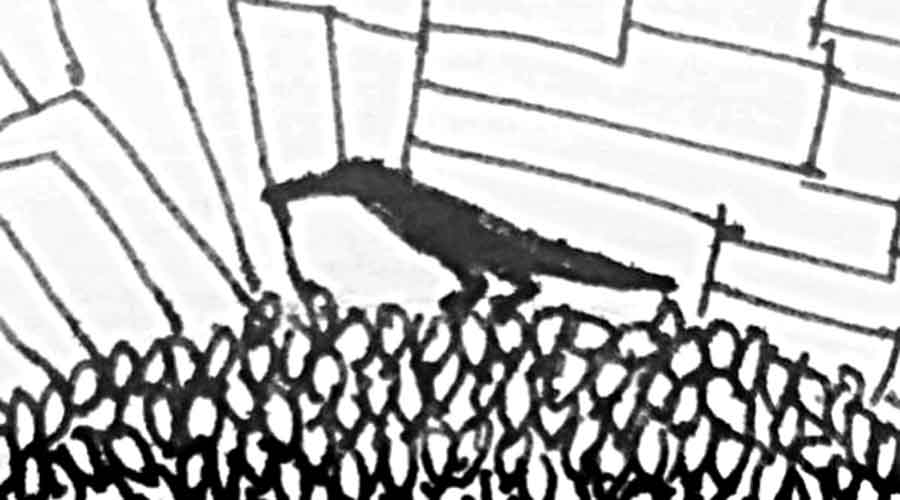 ---
---
Where do we begin? Any suggestions? Probably your pocket? If you have a pocket. Or trees? They say it grows on trees, this thing called Dhan. Would you have a tree? Shake the tree if you have one and check out what happens; maybe Dhan will rain down, who knows. Can you shake a tree, though? Do you have the strength and the will left in you? To acquire Dhan? Shake a tree or two? Have a pocket if not two? If you have no pockets you have nowhere to put Dhan. If you have no Dhan you don't have a pocket, forget two.
It is a vicious sort of cycle.
You have Dhan, you plant a tree. You plant a tree, it grows. When a tree grows, you shake it and Dhan comes down the tree. If you have no tree. You most likely have no Dhan. There is no tree, and no Dhan falling off it.
That is how Dhan is, a vicious thing astride a cycle. Dhan cycles on to more Dhan, if you have no Dhan then well, bachchoo, bach ke rehna, cycles have chains too, they catch you and grind you, while the fellow on top goes on churning more Dhan from Dhan. DhanDhanaaDhan.
Those who have Dhan get more Dhan more easily. They get fatter loans because they have Dhan. They get lines of credit because they have Dhan. They get recommended for being recipients of more Dhan because they give Dhan to those that make those recommendations. With Dhan that is not Dhan but only borrowed or loaned Dhan, they are able to spin even more Dhan. Like begets like, you know. Something like that. Someone called Gregor Mendel said it; it's true, even though Mendel was saying it about rabbits and peas. But he could have said it about Dhan, except he did not conduct his experiments with Dhan. But like like begets like, Dhan begets Dhan. And it begets in ways that there is no end to. And when there is no end, well, that is how we often define greed. The more Dhan there lies accumulated, the more the greed for more Dhan. And sometimes it so happens that those with Dhan soak up so much borrowed Dhan that they do not want to part with it, even though part they must. But no problem. There is no problem that Dhan cannot solve. While you are still alive, that is. When you are no longer alive there are no longer any problems. I wouldn't know, though. Nobody has come back to tell or complain from afterlife.
Anyhow, let's not digress, terrible habit that repeats itself, going zig-zag and tangential in a straight and narrow column space. Dhan can get you away from Dhan-related problems. Dhan can buy you an aeroplane, a really nice and comfy one, padded and souped up, so that you can just board and command the pilot to fly off. Phurrr... Dhan can get you a passport for where you are escaping to. Dhan can get you the best vaqeels and peshkaars to build ramparts and battlements around you so that you can enjoy your Dhan to the fullest. Dhan can get you the favour of Rajas, and the favour of Rajas can get you almost anything in turn.
But if you have no Dhan? Then you will have even less of it. Because you will seek Dhan, and you will spend Dhan, and between the seeking and the spending of it there will be no Dhan left. And if you borrow Dhan they will make you pay, and you will have to pay because you do not have the Dhan to say no, I will not pay. If you do not pay the Dhan you owe, they will take away what few other things you may possess. Like begets like, the absence of Dhan begets absence of Dhan. And that is why the quest  for Dhan, or the promise of it, is forever a seductive thing. It's that thing you don't have, but might get. Remain interested, remain hooked.  
Just there, we are told
A magical goodness lies
Not far at all, the pot of gold
Not far at all as the crow flies.