The medium is the message
The traditional methods of selling have become passé, forcing brands to be inventive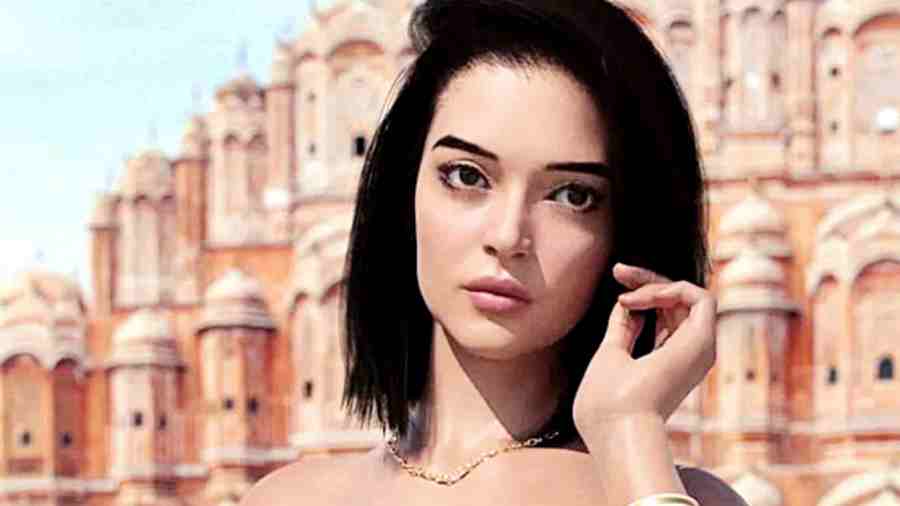 An Instagram post showing Kyra, India's first metainfluencer, outside the Hawa Mahal in Jaipur
Sourced by The Telegraph
---
Published 02.12.22, 04:57 AM
|
---
The medium is the message. The old adage by the communication scholar, Marshall McLuhan, has proved to be valid in the age of immersive communication and computer-generated imagery influencers.
In the wake of the virtual influencer, Kyra, India's first meta-influencer, clocking one lakh followers on Instagram, the lexicon of social media communication has been revised, yet again. The issue has garnered attention from all segments of social media as it appears that a new medium is taking the front seat in the dominant space of audience-centric communication.
Change is the only constant thing in this sphere. Brands are, therefore, on their toes, attempting to position their products anew. The traditional methods of selling have become passé, forcing brands to be inventive. Consequently, digital marketing communication is undergoing significant transformations.
One example of such a change is the inception of immersive storytelling in the sphere of digital communication. With the rise of computer-generated, artificially intelligent influencers, immersive communication is the ascendant star in the constellation of social media communication. What is interesting is that the 'influencer', such as Kyra, may not be real. Yet, in this unique medium of communication, digital personalities remain the focus of attention.
For brands, the attraction towards CGI models, actors, and influencers is perfectly understandable. This new age medium does not need to factor in such imponderables as mounting overhead costs as well as stringent labour laws. Communication marketing is expected to soar on these new wings.
But there are challenges ahead.
Influencers in the immersive format have their own shortcomings. Given the emergence of CGI influencers, brands would now have to rethink and restructure their marketing strategies. Even though CGI influencers would enable certain brands to reach a new demographic, it is entirely possible that some segments of the targeted audience may get left out. This is because the ugly reality of the digital divide cannot be avoided completely. These influencers would have repercussions on the ethical front as well. Their ascendancy may spell doom for intermediary employment, making photographers, camera crews and makeup professionals redundant.
Homophilous social systems endorse innovation in products and technologies. However, what is being debated is the extent to which homophily exists between new kinds of technology and their audiences. Perhaps it would make better sense for brands to prioritise innovation but on an experimental basis so that they can anticipate the changes brought about through the immersive forms of communication.