Taj Mahal – A love story
During his India trip next week, US president Donald Trump is expected to visit the monument with wife Melania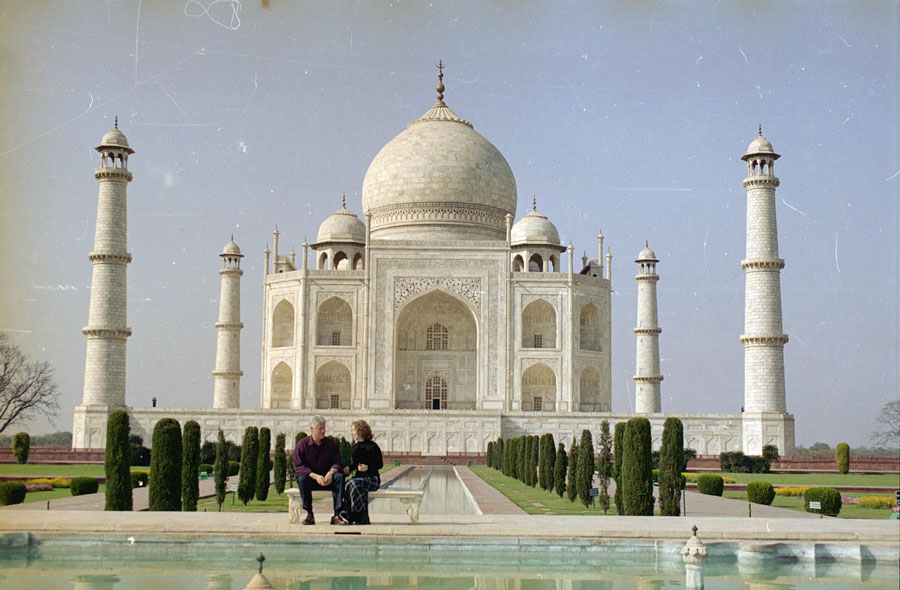 A cautious government overdid the security arrangements so much that Bill Clinton dubbed the place "Ghost Town"
File picture
---
Published 22.02.20, 06:49 PM
|
---
When Shah Jahan commissioned the Taj Mahal, little did he know that the intimate immaculate nod to all that the begum sahiba stirred in him would be appropriated by future leaders to make love to those with whom no war must be allowed at any cost. During his India trip next week, US president Donald Trump is expected to visit the monument with wife Melania. The air is aswirl till then with conjecture — will they do the regulation photo shoot on the Diana bench — it was commissioned by Lord Curzon, the same who presided over the Partition of Bengal in 1905; will Trump go down to the actual graves and so on and so forth.
Jai Ike
As of now, it is known that PM Modi will not be accompanying POTUS and FLOTUS, DOTUS and SILOTUS to the Taj. But naysayers would do well not to read too much into this, much less any sign of lost love. Comparisons are odious but imminent. A handful of greyheads might invoke 1959 when US President Dwight D. Eisenhower (also known as Ike) visited the Taj. The India leg had been part of Eisenhower's three-week tour across three continents, though later he wrote that the whole of it was planned so he could visit India. Jawaharlal Nehru had said to The Visitor: "You are the leader of a great nation... Sometimes there is something greater than honouring the head of a state or even a great man — that something which appeals to the heart of man..." Ten years later, Richard Nixon visited India for a day, but there was no Taj diplomacy on the menu. Nearly another decade later, though, Jimmy Carter made up for it in small measure. Circa 2000. Bill Clinton arrived in Agra. A cautious government overdid the security arrangements so much that Clinton dubbed the place "Ghost Town". Bush Jr's visit in 2006 was important for many reasons, and not the least for the finalisation of a landmark nuclear deal but once again there was no time for the Taj. In 2016, Obama planned a Taj visit but it did not materialise as he had to cut short his trip to travel to Saudi Arabia for diplomatic reasons. It is understandable then that some fingers be crossed on Trump's Taj visit.
The Beast
In 1959, Nehru drove down to the Taj with Eisenhower in an open Cadillac. Ahead of Trump's arrival, his personal limousine, also known as The Beast, has landed. The Agra Development Authority is not exactly thrilled — something about polluting vehicles being banned from the buffer zone around the Taj. And reportedly, the Secret Service has been told that the OTUSes can only ride in the approved VVIP battery-operated bus. Eisenhower dreamt of visiting India since he was a child. Trump too has a deep personal connection. In 1990, he built the Trump Taj Mahal, a casino in Atlantic City for $1.2 billion. He had dubbed it fondly, "the eighth wonder of the world".