Stairs to greatness: Editorial on BJP's animated video of Narendra Modi
An animated work must have a touch of humour to spice up its appeal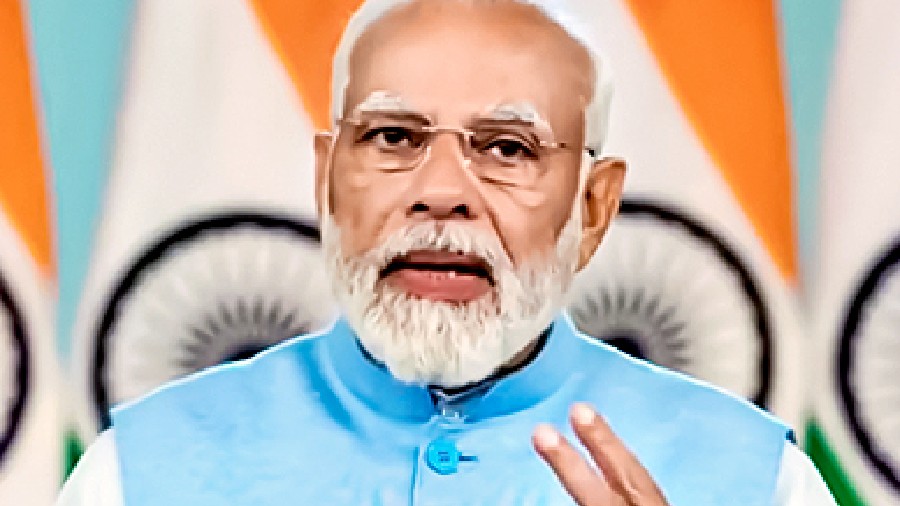 ---
Published 18.03.23, 04:30 AM
|
---
Animation suits the prime minister. The Bharatiya Janata Party has produced an animated video of a doll-like Narendra Modi figure that never stops on its journey upwards at a time when the government's hostilities with the Opposition have become acute. A bit of beauty in all the ugliness, perhaps? Certainly a bit of beautification, because Mr Modi in real life is animated only at chosen moments; for the rest, for example when he is questioned about his publicly displayed friendships, he remains immovably silent. Excitingly, Mr Modi's animated avatar in the video keeps climbing stairs from the chief minister's chair in Gujarat towards the throne of the prime minister — with the promise of beyond — with almost no pause. His journey towards greatness is illimitable.
The video is clear in its message. The prime minister has no time for criticism and allegations cannot touch him. He sails blithely past many of those, fixed smile perfectly in place. Much is made of the Opposition deriding the 'chaiwala', referring to a backstory many feel is a fairy-tale. He only pauses to clean the dirt with his own hands to remind the cheering populace of the Swachh Bharat Mission, and to empathise with the poor at various stages, before leaving his stamp on schemes for cooking gas, housing, banking and so on. The kindness in the figure's eyes is touching, particularly when it moves farmers to adoration. Did the months-long farmers' agitation and the repeal of the new farm laws really happen? An animated work must have a touch of humour to spice up its appeal. So the omissions are funny — no troubled students, for instance, or women running from violence, or churches or poor labourers transporting meat under attack. But it is difficult to record all feel-good mottos in a four-minute video.
Is the video too well-made? The prime ministerial figure's triumphal march is defined by its railroading of the Opposition — one of the main criticisms brought against the Modi government. Opposition legislators claim that they are silenced in Parliament; even their microphones are supposed to have been muted. The smooth upward climb has no place for debate or dissent — perhaps armies of faithfuls are stifling those out of sight of the hallowed staircase. Mr Modi's avatar seems to exhibit the BJP's idea of governance — an unstoppable leader leaving democratic principles far behind. Progress comes through government schemes offered to those the leader deigns to notice. All the main BJP ideals find place, although using Covid to demonstrate nationalism — the Modi-figure chooses the Indian vaccine over the 'foreign' one — might strike some as rather crude. But this can hardly be a problem with a party that believes that cartoonesque propaganda is more important than the dignity of the prime minister's chair and makes no bones about its rejection of the democratic vision.