Single aim: CPM thinks BJP no threat in Bengal
Indian communists always had a strange sense of priorities — beginning with their opposition to the Quit India movement and condemnation of Independence as false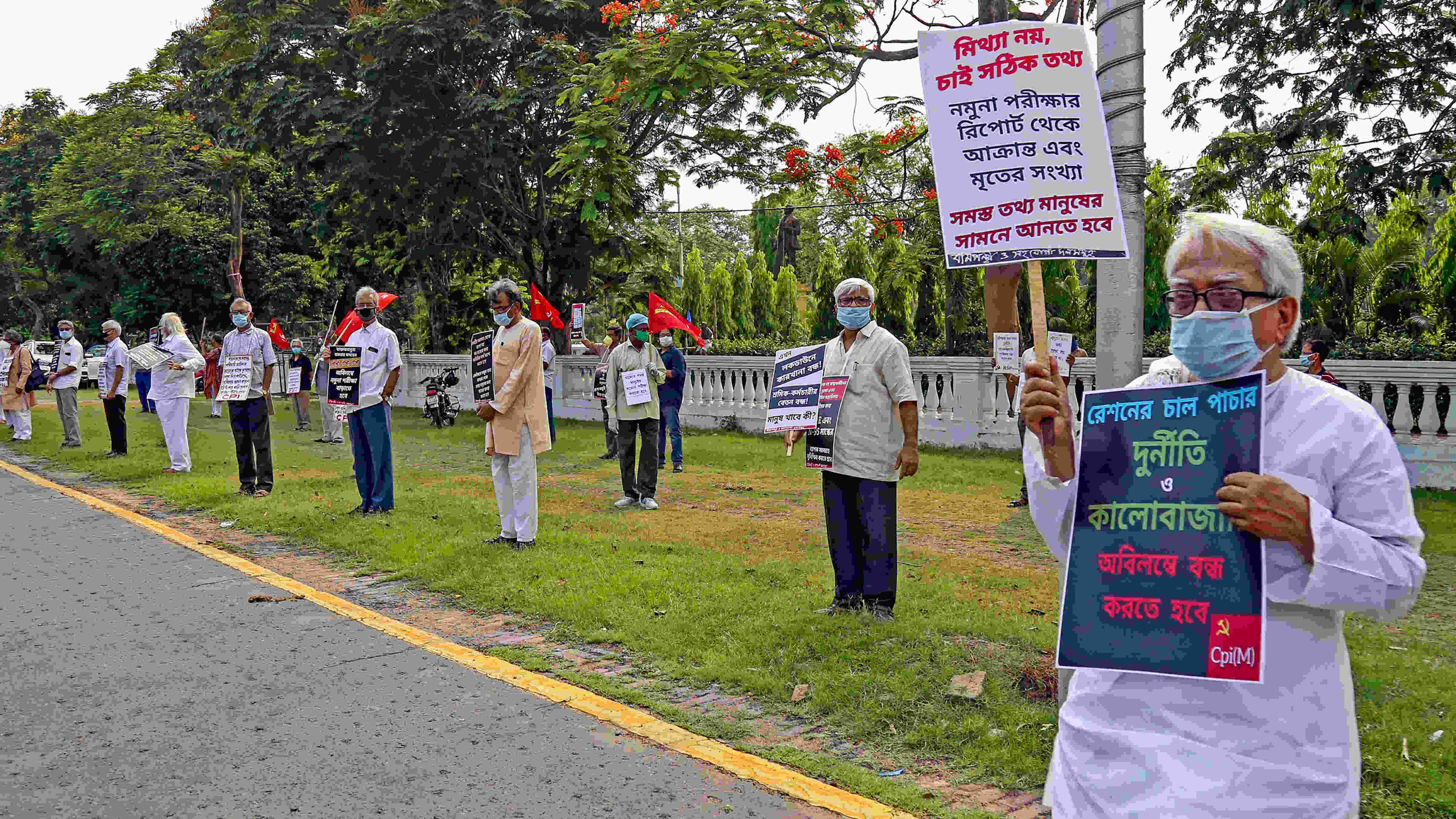 Left Front Chairman Biman Bose with other left leaders participates in a protest against the lack of COVID-19 testing in West Bengal and irregularities in ration distribution, in Calcutta.
PTI file photo
---
Published 18.11.20, 03:14 AM
|
---
For a party that headed a ruling coalition in a state for 34 years, advice is unnecessary. Leaders of the Communist Party of India (Marxist), including its general secretary, Sitaram Yechury, and the West Bengal Left Front chairman, Biman Bose, together with others, have rejected the perception of the general secretary of the Communist Party of India (Marxist-Leninist), Dipankar Bhattacharya, that the Bharatiya Janata Party would be the chief challenge in the 2021 West Bengal assembly elections. Mr Bhattacharya felt that the Left's resurgence in Bihar as part of an alliance against the BJP could inspire the CPI(M) in Bengal. The CPI(M), however, sees the BJP as the political opponent nationally, and the Trinamul Congress as the chief rival in West Bengal. So it has decided on the Congress as its ally to defeat the TMC in the state. Its logic is mysterious. Apparently, if the CPI(M) is seen to be 'soft' on the TMC in order to fight the BJP, the anti-incumbency vote will go to the BJP. The argument loses its feet if it is recalled that Mr Yechury, speaking after the Left's drubbing in West Bengal in the 2019 Lok Sabha elections — no seats — and the BJP's dramatic rise, admitted that the Left supporters' vote had gone to the BJP. The Left had opposed the TMC even then.
Myopia is a stubborn disease. It may masquerade as ideological firmness and concern for a TMC-oppressed people to disguise an enduring hostility towards the TMC and its leader for overturning Left rule in 2011. At the moment, the CPI(M) has 26 seats in the 294-seat state assembly. The CPI(M) is either unaware of or not bothered by the rising BJP in Bengal; it wants the TMC to go. Since it is a stretch to imagine a Left-Congress government in Bengal should the TMC be ousted — it may divide the vote, of course — the nasty-minded may argue that the CPI(M) prefers the BJP to the TMC. Indian communists always had a strange sense of priorities — beginning with their opposition to the Quit India movement and condemnation of Independence as false. The BJP's threat to democracy is unconcealed. It takes extreme myopia to believe that the TMC, which is fighting the BJP, is the bigger peril at any level.