Rest in peace: Editorial on transient nature of technology
Smartphones rang the death knell for several gadgets like pagers, palm pilots, instant cameras, handycams, and MP3 players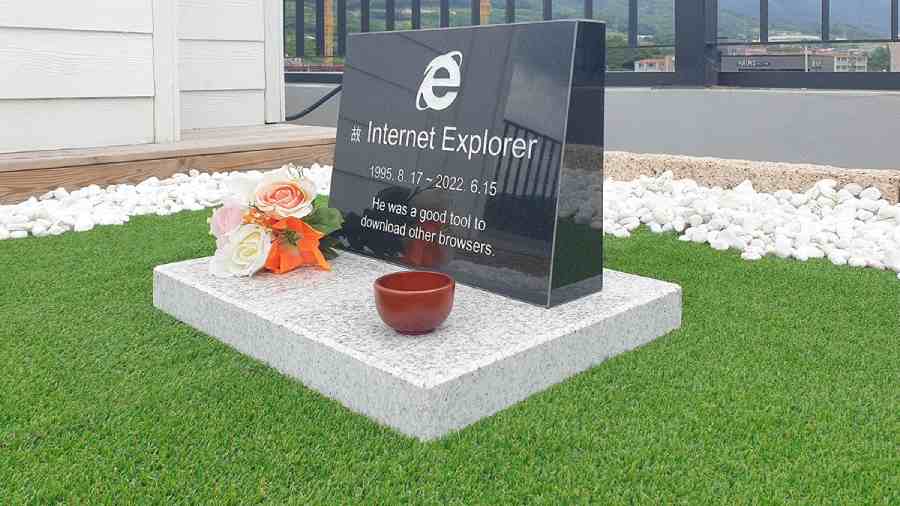 An Internet Explorer gravestone in South Korea.
Twitter/@ksoonson
---
Published 19.06.22, 02:48 AM
|
---
All things, animate or not, must die. But few things are as transient as technology. The Internet Explorer — once the king of browsers — was officially laid to rest earlier this week by its creator, Microsoft, at the seemingly young age of 27 years. Once upon a time, in the age of stuttering dial-up connections, the little blue icon with the lowercase 'e' was an escape pod for many out of their childhood bedrooms, college dorm rooms, and office cubicles. But it has now been 'edged' out by a faster and more secure browser. IE, though, is no stranger to such a coup — years ago it had hastened the demise of Netscape Navigator, the world's first commercial web browser. Internet browsers are not the only things engaged in a Darwinian race for survival. In the last 20 years, floppy disks have been replaced by USB drives, which are now being rendered useless by cloud storage. Smartphones rang the death knell for several gadgets like pagers, palm pilots, instant cameras, handycams, and MP3 players. Not only have the past decades seen the disappearance of technological gadgets like the VCR and the decline in popularity of CDs and DVDs but the apparently ubiquitous cable television is also under threat from OTT platforms like Netflix.
 In a nutshell, the evolution in technology works this way: novel technology is formed from a combination of existing ones, and, in turn, becomes instrumental in the destruction of what is dismissed as antiquated technology. Transience and impermanence, then, are coded into the very nature of technology. This could be why history is littered with innovations that sparked resistance before becoming fixtures in everyday life. Be it worries about the safety of driverless cars, the economic impact of automation and the security of mobile banking in the 21st century or aversion to innovations such as mechanical farm equipment or recorded music, consumers may not always fear innovation simply because the technology is new but because innovation often means losing a piece of their identity or lifestyle.
Given that even technology is mortal, why, then, do humans grieve over its passing? Academics are exploring the nexus between psychology and technology, studying the relationships people develop with electronic devices and software, and how these impact human behaviour. Research shows that an emotional bond between the sentient and the non-sentient is not novel. Technology is often inextricably linked to personal memories — think of video recordings of the earliest years of one's life — and is, thereby, humanised. Science has even suggested a way to cope with such loss: 'tech break-up' is a methodology that asks users to articulate their relationship with a piece of technology and then sever ties with it in an improvised break-up. But such decoupling, science must consider, can be messy. The possibility of an increasingly wired society choosing to grieve over gizmos cannot be ruled out.