Poachers are not the only ones using snare traps on tigers
The menace of snares threatens to reverse the gains made by the tiger conservation policy in the country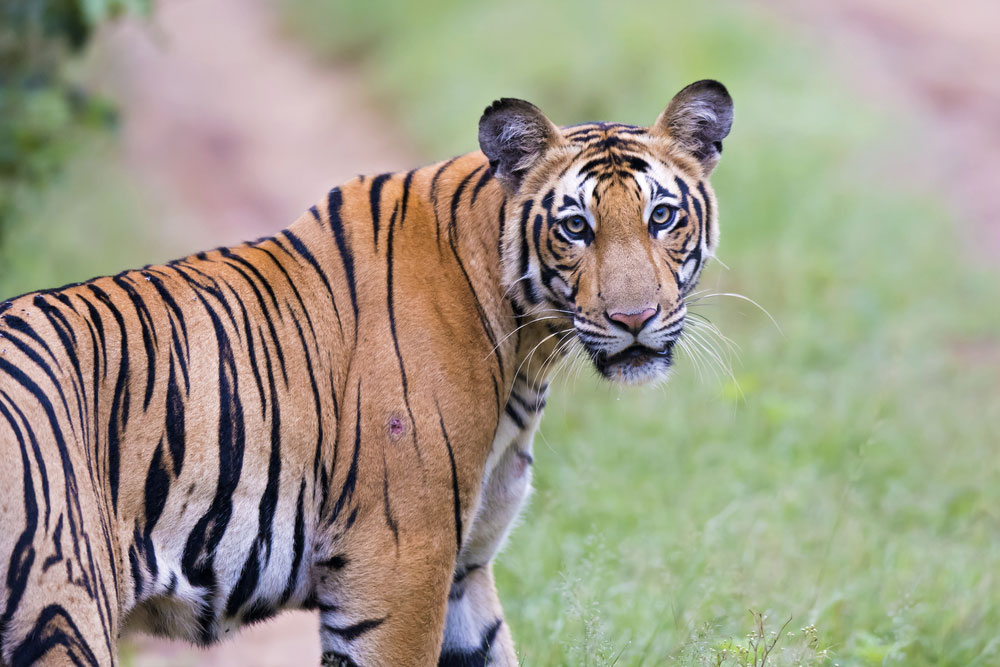 There had been a steady growth in the tiger population in the last few years as India has 2,226 tigers — a jump of 60 per cent compared to figures in 2006.
(Shutterstock)
---
Published 26.05.19, 11:13 AM
|
---
Skewed balance
Sir — Cricket has traditionally been a game that pits a batsman and a bowler against each other in conditions equally suited to both. However, with the advent of television and the growing belief that cricket should be all about hitting fours and sixes, self-appointed custodians of the game have sounded the death knell for bowlers by tweaking rules to overwhelmingly favour batsmen. These changes include the introduction of white balls with very little seam, allowing two balls per innings, restricting the use of bouncers, allowing the use of bats with increased width and thickness, reducing the boundary distance and legalizing the controversial switch hit.
The truth, however, is that spectators will enjoy a contest where a score of 200 runs is defended well as much as they will enjoy a game where 400 runs have to be chased. One hopes that at least a few matches in the World Cup turn out to be memorable, not because of the pyrotechnics of the batsmen but because of the swing and spin of crafty bowlers.
Rakesh Bajoria,
Calcutta
Sir — It was distressing to learn that as many as 24 tigers and 114 leopards were killed on account of snare traps in the last nine years. Snares are metal devices with sharp edges laid out to trap animals. It is because of these traps that endangered animals suffered slow and agonizing deaths even in the sanctuaries. Even more worrying is the fact that poachers are not the only ones who inflict such cruelty on the animals. Local people, too, use wire noose snares to kill big cats preying on their livestock.

The menace of snares threatens to reverse the gains made by the tiger conservation policy in the country. There had been a steady growth in the tiger population in the last few years as India has 2,226 tigers — a jump of 60 per cent compared to figures in 2006. Protecting these gains is proving to be a challenge in the face of the growing encroachment upon forest land and the erosion of tiger corridors. Tigers need large habitats as their juvenile dispersal rates are high. But growing human population and careless development are confining tiger populations to certain pockets. One study revealed that tigers have lost 93 per cent of their historical habitats.
Project Tiger may have been successful in preventing the decimation of the species, but sustaining and growing tiger populations is the next big challenge.
This can only be successful through the careful preservation and expansion of tiger habitats. Project Tiger needs to focus on keeping 'development' away from sanctuaries. As an immediate step, big cats must be protected from snare traps. Anti-snare exercises using metal detectors must be operationalized in all tiger reserves. A few years ago, volunteers and activists organized anti-snare campaigns and removed over 100 traps from various national parks across India. Such movements must be revived.
Khokan Das,
Calcutta
Sir — Snare traps are incredibly cruel as the pain they cause to trapped animals is excruciating. While one cannot expect any better from poachers, local dwellers in and around sanctuaries must devise other ways to ensure that their livestock is kept safe from tigers and leopards. Forest and sanctuary officials must make it a point to remove snare traps on a regular basis.
Riya Gupta,
Calcutta
On top
Sir — As a woman, I felt a personal sense of pride when I read about the 23-year-old Nahida Manzoor, who has become the first ever Kashmiri woman to scale the Everest ("Valley's first woman Everester", May 23). The young woman, who hails from a middle-class family, had always dreamt of reaching the Everest summit.
Before achieving this feat, Manzoor had already scaled the Friendship Peak in Himachal Pradesh, Mount Deo Tibba in Manali and the Mahadev and Tatakooti peaks in Jammu and Kashmir.
One hopes that she will serve as an inspiration for more young girls across the country who want to become mountaineers.
Mala Sinha,
Calcutta