Niti Aayog strategy document: A roadmap that reads familiar
Even though it replaced the Planning Commission, the Niti Aayog seems to have a similar purpose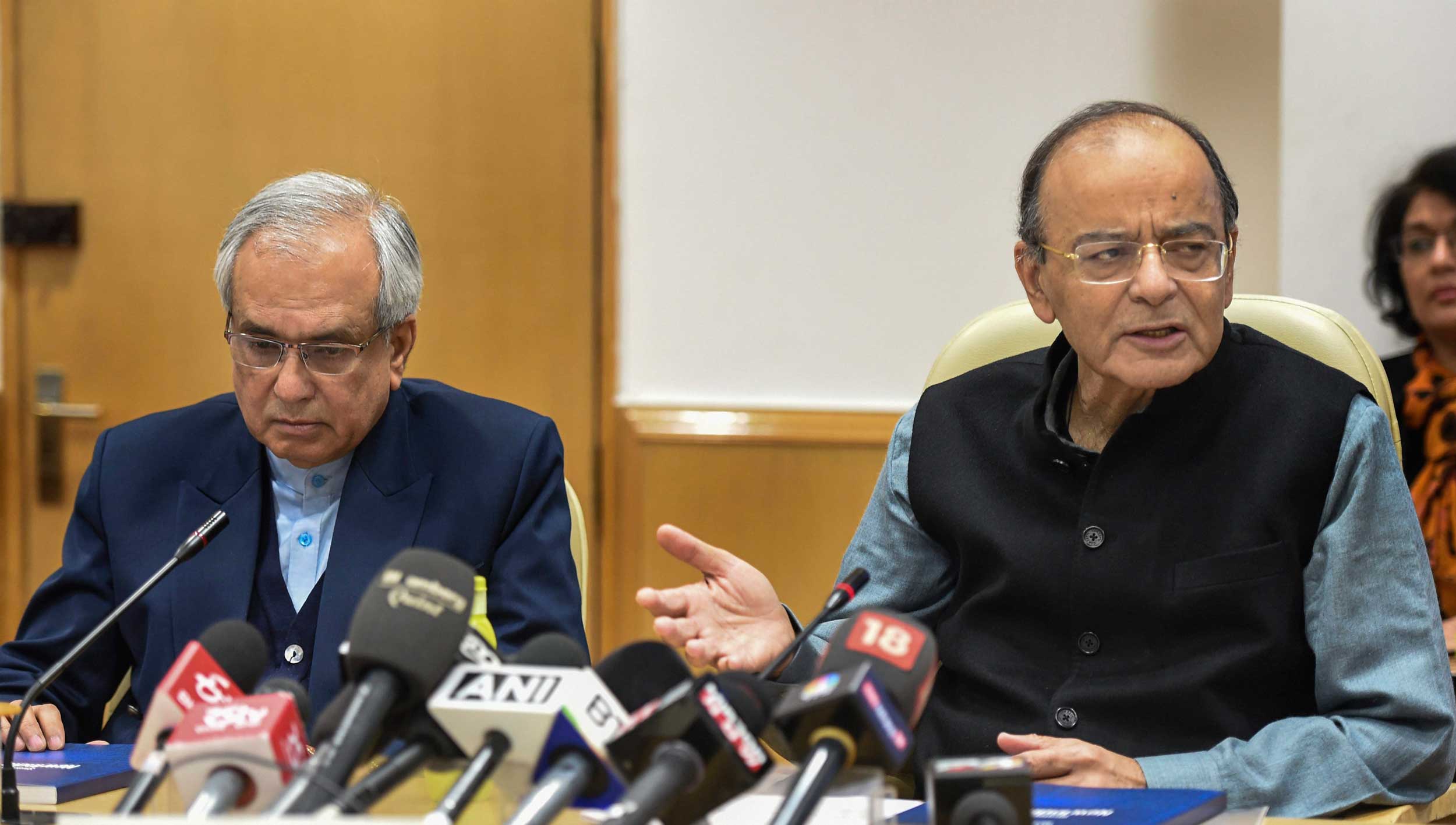 Finance minister Arun Jaitley with Niti Aayog vice-chairman Rajiv Kumar at a press conference after the release of the strategy document in New Delhi on December 19, 2018.
(PTI Photo)
---
Published 25.12.18, 03:44 AM
|
---
The recently released Niti Aayog strategy document reads very much like the 'approach papers' and other 'plan documents' that were the staple of the erstwhile Planning Commission. There is mention of an Indian model of inclusive growth, with emphasis on women's empowerment and the creation of social consciousness. There are a lot of other futuristic prescriptions regarding health, education, entrepreneurship and technology. There is some familiar pontification on the glory of the Indian story of transformation. This is all about the future: near as well as distant. Officially, the document is supposed to be a roadmap from the present to 2022-23.
When the Planning Commission was disbanded by the current government, it was stated that the institution had outlived its purpose and planning was no longer the central idea around which economic development would take place. Markets were supposed to be the prime mover of growth, with the State playing the role of a mere facilitator. However, even though it replaced the Planning Commission, the Niti Aayog seems to have a similar purpose where the government's idea of development would be the guiding principle of all other economic activities. The new institution has a grander vision than that of the former Planning Commission: it is created to transform India. The problem is, if the State's role was overemphasized by economic planning, then why have documents been released with much fanfare regarding the State's vision of the future and the economic means to arrive at the goals? On the other hand, if planning is necessary for development, according to the government, then why scrap the Planning Commission in the first place? This apparent confusion reflects two aspects of the current government's political philosophy. The first is that it wishes to change the narrative of India and India's development. It wishes to change the names of institutions and places, rewrite history, and put forward new symbols of nationalism. In this respect, the government is overambitious. The second aspect is that the government wishes to exert control over almost every aspect of everyday life. That is perhaps what Narendra Modi had meant by 'maximum governance'. It is a sign of great insecurity that the government has reservations about people having the freedom to choose what they wish to do and how to achieve them.