New heights: tricolour tribulations
It is more than a little funny that the PM, who reportedly autographed a national flag for Obama, and used another as a wipe-cloth, should be so pained by a non-existent insult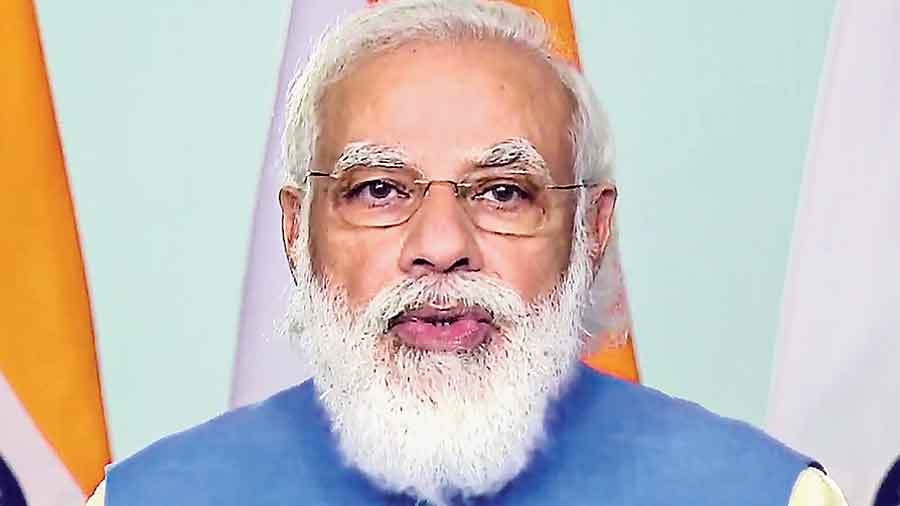 Narendra Modi.
Shutterstock
---
Published 03.02.21, 01:33 AM
|
---
Anything goes. If the prime minister of India declares with calculated vagueness that the nation has been pained by an insult to the national flag, the nation immediately feels pained. Vagueness helped the prime minister avoid a direct reference to the protesting farmers towards whom the Union government has been rather less than friendly. One of the first labels for the protesters, led by farmers from Punjab and Haryana, was 'Khalistani', a condemnatory appellation they have not forgotten. This time, however, there was no direct hit; the prime minister just omitted certain facts from his comment. The situation was certainly undesirable. Some protesting groups — it is not known where their allegiance lies — had deviated from the agreed routes of the protest on Republic Day and had hoisted a Sikh religious flag on a mast in Red Fort. While violence and indiscipline should be penalized, the emphasis of the prime minister on the insult to the national flag made the protesters out to be disrespectful to the nation. This strategy to alienate people's sympathy for the farmers relied on the transmission of some falsehoods, although the prime minister never uttered them. As usual, it was social media's duty to spread these: the protesters put up the Khalistani flag; the Indian flag was taken down; the protesters' flag was higher than the tricolour. Lies masquerade as facts in these hyper-patriotic times. Protesters hoisted the Khalsa flag — nothing to do with Khalistan — on an empty mast; no national flag was lowered. The form of the protest may be questioned, but there was no insult to the national flag.
It is more than a little funny that the prime minister, who is reported to have autographed a national flag to give to Barack Obama and used another as a wipe-cloth during a yoga session, should be so pained by the non-existent insult. What is funnier is that his apprenticeship in the Hindutva brand of nationalism began with the Rashtriya Swayamsevak Sangh, which openly rejected the tricolour as the national flag until recently. At the time of Independence, for example, the RSS had felt that the tricolour would never be "respected and owned by the Hindus", and that sentiment persisted for years. So an excess of patriotism via the national flag might even erase that history while portraying the protesting farmers in a negative light.