Letters to the Editor: The incentive behind blood donation
Readers write in from Calcutta, Bengaluru, Kanpur, Ujjain and Chennai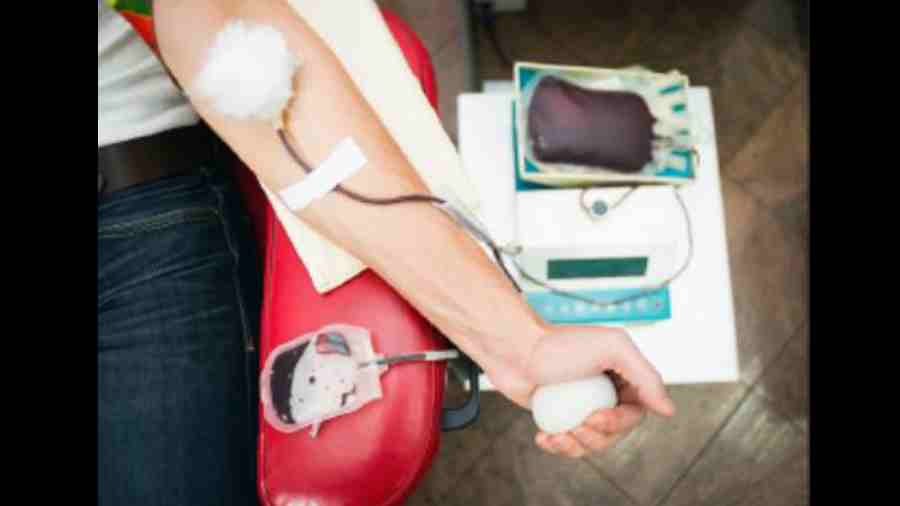 A study by the National Center for Biotechnology Information has shown that poor people are tempted into donating blood only to avail of these gifts or one square meal.
File Photo
---
Published 23.01.23, 05:03 AM
|
---
Priceless donation
Sir — 'Tum mujhe khoon do, main tumhe gamla dunga.' Those confused about the misappropriation of Netaji Subhas Chandra Bose's slogan need only visit their local blood donation camp for clarity — it is common practice to organise such camps on Bose's birth anniversary. Many of these camps offer incentives to those donating blood — from the humble plastic tub to the more lavish coffee mug, a scan of any newspaper will reveal a list of varied items gifted to blood donors. This can be problematic. A study by the National Center for Biotechnology Information has shown that poor people are tempted into donating blood only to avail of these gifts or one square meal.
Jharnali Biswas, Calcutta
Grave charges
Sir — The Union minister of state for electronics and information technology, Rajeev Chandrasekhar, has made some shocking accusations. If it is true that Pfizer tried to bully India and that Congress leaders, including Rahul Gandhi, lobbied for it, then it is a matter of great shame. Political parties must bury their differences in times of crisis and certainly not try to profit from a terrible situation. Any party that ignores the best interests of the nation will alienate itself from the people.
K.V. Seetharamaiah, Bengaluru
Political colours
Sir — Color Positive, a Mumbai-based NGO organising a Pride parade in the city, has discouraged participants from bringing political posters that are irrelevant to the event. But the apolitical positioning of queer issues goes against the inherently political nature of queerness.
Take, for instance, the ongoing debate around an openly gay advocate, Saurabh Kirpal. The Supreme Court collegium has upheld its recommendation of appointing Kirpal as a judge in the Delhi High Court. This was after the law ministry objected to his appointment, stating that Kirpal's "ardent involvement and passionate attachment to the cause of gay-rights would not rule out the possibility of bias and prejudice."
The Transgender Persons (Protection of Rights) Act, 2019, widely criticised as transphobic, is yet another instance of queerness being political, as is the government's opposition to legalising same-sex marriage. These indicate how politics plays an integral role in shaping the lived realities of queer communities.
Yashodhara Sen, Calcutta
Vulnerable spot
Sir — The mayor of Calcutta, Firhad Hakim, has rightly expressed concern about the pavements filling up with ragpickers ("Ragpickers a cause for worry: Mayor", Jan 21). He has further instructed the police to identify these street-dwellers and shift them to shelters for the homeless. The children of pavement dwellers grow up on the streets, starting, in turn, to beg for food and money themselves. It makes them vulnerable to abuse and exploitation.
Kiran Agarwal, Calcutta
Sir — Ragpickers are to be removed to shelters for the homeless according to the mayor of Calcutta. Attention should be paid at this juncture to the state of the homeless shelters in West Bengal.
S.K. Saha, Calcutta
Be wary
Sir — The prime minister of Pakistan, Shehbaz Sharif, has admitted that wars with India have only brought misery, poverty and unemployment to Pakistan. This is no more than part of an old ploy of extending a hand for friendship and then setting conditions for it.
Kirti Wadhawan, Kanpur
Hidden disorder
Sir — The Union government recently informed the Lok Sabha that there are just four drug de-addiction centres for women — two in Manipur and one each in Mizoram and Karnataka — whereas, according to the latest available data, there are an estimated 57.4 lakh women dealing with substance abuse of different kinds across the country. Yet, few women seek treatment. Social stigma, lack of financial support, the high cost of private rehabilitation centres, and the disproportionate burden of household responsibilities and childcare act as barriers to women's access to aid. The lack of women-only facilities further exacerbates the problem.
Preeti Jaiswal, Ujjain
Keep track
Sir — Spain's ministry of equality has introduced a system where rape survivors can now demand their offenders wear trackers once released from prison. This is a consequence of a legislation passed last year, that led to 133 convicted sex criminals having their sentences reduced. One wonders whether India can start a similar system in light of the early pardon granted to those convicted of raping Bilkis Bano during the 2002 Gujarat riots.
Pradip Krishnan, Chennai
Parting shot
Sir — It is sad that some youths lost their lives during jallikattu in Tamil Nadu. The pride of Tamil Nadu is in its heritage and language not in a sport that causes deaths and injuries.
Ranganthan Sivakumar, Chennai