Letters to the editor: Social exclusion is most common form of bullying
Readers write in from Calcutta, Nadia, Nagpur and Ujjain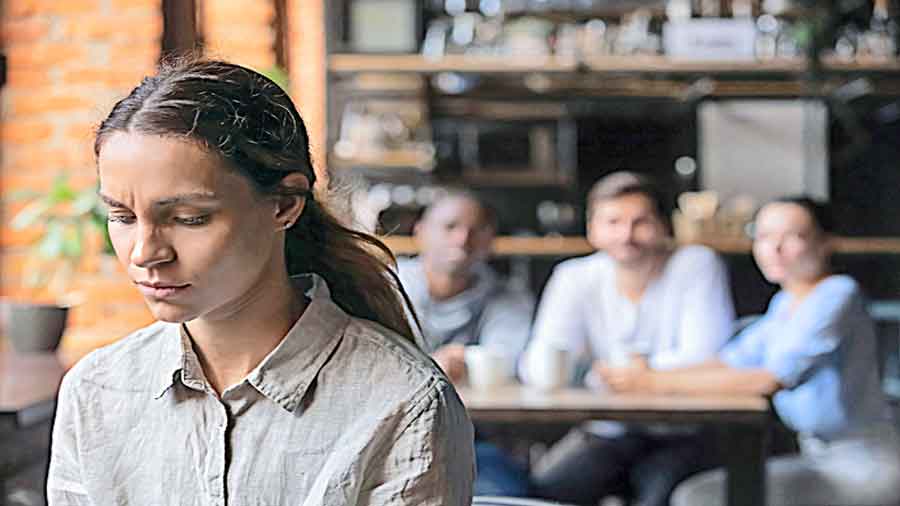 Representational image.
File photo
---
Published 30.08.22, 04:30 AM
|
---
Silent abuse   
 Sir — Bullying is a form of abuse that is often employed to harm or intimidate people. It is usually associated with physical aggression or verbal attacks. But deliberately isolating people — either by excluding them from group activities or shunning them completely — is also a covert form of bullying. In fact, a recent study conducted in the United States of America found social exclusion to be the most common form of bullying. The perception of social exclusion not being as harmful as visible forms of aggression enables its perpetuation, allowing it to continue unaddressed and without any kind of intervention.
Rajesh Palkar, Nagpur
Correct choice     
Sir — The choice of cases that the newly-sworn-in Chief Justice of India, U.U. Lalit, listed for hearing on his first day in office is heartening ("CJI kick-off with rights cases", Aug 29). His effort to ensure that cases pertaining to violations of fundamental rights are heard at the earliest should set an example for his successors as well as for the lower courts. Equally encouraging is the announcement that the apex court will strive to have at least one Constitution Bench functioning throughout the year; this will bring down judicial delays.
S.S.Paul, Nadia     
Sir — The appointment of U.U. Lalit as the CJI comes at a fraught time for the judiciary — crucial and consequential cases are waiting for their day in court. These include challenges to the demonetisation scheme, the law on electoral bonds and the abrogation of Article 370 that scrapped the special status of Jammu and Kashmir. The judiciary has to prioritise and assign these cases to larger benches. Full bench meetings are also crucial for judges to discuss administrative issues — there has not been a single such meeting since the January 2018 press conference in which four senior judges went public with their concerns.
Shreya Rastogi,Mumbai     
Sir — The CJI, U.U. Lalit, has said that the government is bound by the collegium's decision to appoint a judge when it is reiterated. This underlining of the law is important and comes at a time when the government has been dragging its feet on certain appointments. The collegium must engage with the government and ensure that its recommendations are implemented.
Aniket Chatterjee,Calcutta
Stellar victory   
 Sir — India won the first match in their Asia Cup campaign by defeating Pakistan by five wickets in Dubai ("Ball or bat, Hardik calls the shots", Aug 29). Short-pitched deliveries by Bhuvneshwar Kumar and Hardik Pandya helped India pick some early wickets and restrict Pakistan's score to a manageable 147 runs. Pandya also scored 33 runs off 17 balls to secure victory for India at a time when Pakistani bowlers had cornered the Men in Blue.
Khushbu Khatri, Ujjain    
 Sir — Cricket matches between India and Pakistan are a special treat for viewers in the subcontinent. Their first clash at the Asia Cup was no different. Although India won the match with five wickets in hand, it was not an easy victory. The Indian batsmen struggled to hit boundaries because of Pakistan's excellent fielding. Hardik Pandya and Ravindra Jadeja stole the show with their partnership. The former's calm demeanour in the final over took India past the finish line with elan. Yet, Pakistan played some great cricket too and must be commended for it. They kept viewers on the edge of their seats till the very last over. The Pakistani debutant, Naseem Shah, played exceptionally well.
Kirti Wadhawan, Kanpur     
Sir — India's five-wicket win against Pakistan was one for the books. Even though the target before India was not much, Pakistani bowlers fought tooth and nail till the end. The climatic conditions in Dubai made it especially difficult for bowlers, many of whom suffered from cramps. They must be lauded for this.
The star of the match, though, was Hardik Pandya. A win in the first match of the Asia Cup will boost the morale of the team.Jayanta Datta, Hooghly
 Growth push   
 Sir — The Union finance minister, Nirmala Sitharaman, has granted 25 crore rupees to the University of Agricultural Sciences, Raichur to promote the production and consumption of millets. The Raichur district in Karnataka is the nation's top producer of millets. The UAS should use this funding for research on how to augment millet yields.
Vijaykumar H.K.,Raichur, Karnataka 
Parting shot   
 Sir — The shocking death of a man after a truck hit a crater and toppled over on his car in Kidderpore has highlighted, once again, the poor state of Calcutta's roads ("Craters pave killer Kidderpore stretch", Aug 29). To make things worse, many of Calcutta's streets, especially in the area where the accident took place, are poorly lit. There is also a problem of illegal parking. This is a wake-up call to repair the city's battered roads before they claim more lives. 
Khokan Das,Calcutta