Letters to the Editor: 'Melas' need to saved, for culture and livelihoods
Readers write in Calcutta, Chennai, Bokaro, Coimbatore,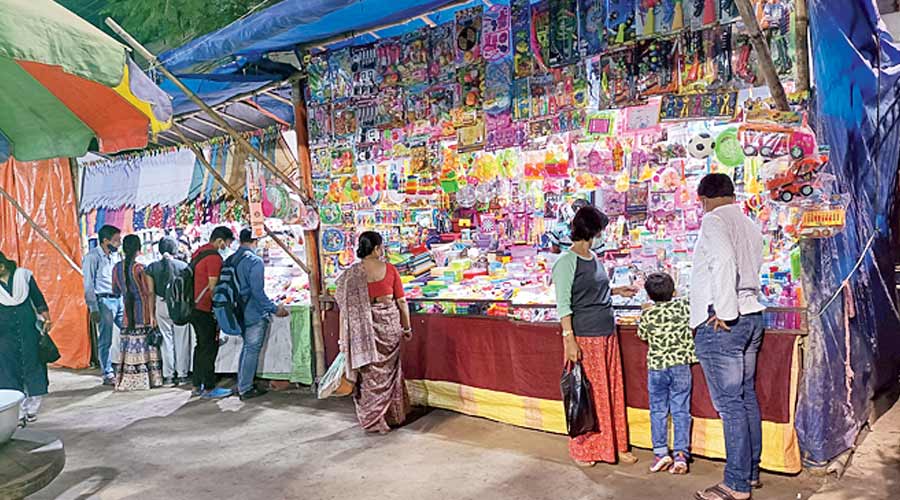 Representational image
The Telegraph
---
Published 01.03.22, 01:26 AM
|
---
Lost charm
Sir — There was a time when growing up in Calcutta included must-visits to local melas. Few things can match the happiness of eating deep-fried delicacies, enjoying the thrills of slightly dilapidated joyrides and buying cheap trinkets. But the fanfare around these local melas has seen a steep decline in recent years. Children now prefer the glitz of overpriced malls over the neon brightness of melas. Online shopping and food delivery apps, too, have hit this ecosystem hard. Nobody wants to buy wares from the small merchants who populate these melas. The government should take steps to preserve these melas; not only are they part of our cultural heritage but many livelihoods also depend on them.
Sanchari Saha,
Calcutta
Caught out
Sir — Priyanka Gandhi Vadra and Rahul Gandhi recently stated that politics in Uttar Pradesh is focused on caste and religion instead of issues like unemployment, women's safety and so on ("Rahul-Priyanka to voters: Look within", Feb 26). But has the Congress not reaped political dividends from caste and religion? The Congress had once preached 'Garibi Hatao', but under its rule, salaried middle class and pensioners were left impoverished.
Now that it is fast losing ground to the Bharatiya Janata Party, the Congress seems to have suddenly woken up to the plight of farmers and the salaried classes. Voters can see through the Congress's gimmicks. One hopes that the people will vote for leaders who actually care for the poor.
N. Mahadevan,
Chennai
Long wait
Sir — It is laudable that the Supreme Court has asked the Allahabad High Court to consider granting bail to convicts who have served 14 or more years of jail sentence and are not repeat offenders. This was said especially of convicts who are waiting for the high court to hear their appeals against the conviction. It is supposed to bring down pendency rates in the high court.
The Supreme Court has undoubtedly set a good example; all states should follow this order as well to lower the pendency rates of judicial cases in India.
Arun Gupta,
Calcutta
Risky fortune
Sir — The discovery of an ore deposit of what may be more than a million tonnes of lithium oxide would have been good news if not for the fact that it lies near the Everest in the ecologically fragile zone of the Himalayas ("Lithium trove near Everest", Feb 25). The demand for lithium has soared because of its use in energy storage and in electric vehicles. But lithium extraction can contaminate local water sources and contribute to soil and air pollution.
China is notorious when it comes to disregarding such ecological risks. The Yangtze river dolphin, one of the world's rarest mammals, is functionally extinct; it is a victim of China's rapid industrialization. The world should be careful while choosing between economic development and ecological needs.
Dyutiman Bhattacharya,
Calcutta
Sir — Lithium has great potential because of the range of its utility. It not only helps in reducing carbon emissions by powering EVs but also in the storage of renewable energy. China has been wise to start considering the possibility of mining Lithium. India should follow suit.
Suparni Haldar,
Calcutta
Graceless tussle
Sir — The head coach of the Indian men's cricket team, Rahul Dravid, allegedly conveyed to Wriddhiman Saha that he would no longer be a part of the team. There has been unnecessary controversy around this exchange. Even if age, fitness and performance are the reasons behind dropping Saha from the team, the Board of Control for Cricket in India should have handled the issue in a dignified manner.
M.N. Gupta,
Bokaro
Double take
Sir — In 2019, a young IT employee in Chennai died when the banner of a political party fell on her. M.K. Stalin, then the leader of the Opposition, wasted no time in criticizing the 'banner culture' and forbidding party cadre from indulging in such activity. Ironically, cut-outs of Stalin, now the chief minister of Tamil Nadu, and his father and son, M. Karunanidhi and Udhayanidhi Stalin, respectively, were erected near Chennai recently.
Although the cut-outs were later removed by the police, it remains to be seen whether the chief minister will take appropriate action against those who put them up. After all, creating a political storm when one is in the Opposition is easy but taking responsibility when one is in power needs courage.
N. Viswanathan,
Coimbatore
Save lives
Sir — High cholesterol levels and resultant health problems are worrisome. Inclisiran, a new medicine developed by Novartis, promises to cut down cholesterol levels by half. In 2021, it was reported that the National Health Service in the United Kingdom was providing Inclisiran at a discounted price. But there has been no news about the drug coming to India. Many are eagerly waiting for the introduction of this treatment in the country.
S.K. Som,
Calcutta
Parting shot
Sir — The Central Bureau of Investigation recently arrested Anand Subramanian, former chief operating officer of the National Stock Exchange. One hopes for a fair and transparent investigation into the scam that led to several investors losing their hard-earned money.
R. Sekar,
Chennai