Jump right in: Restriction for namaz at Nizamuddin Markaz
The real bizarreness, though, lies in the contrast with the huge press of devotees at the Kumbh Mela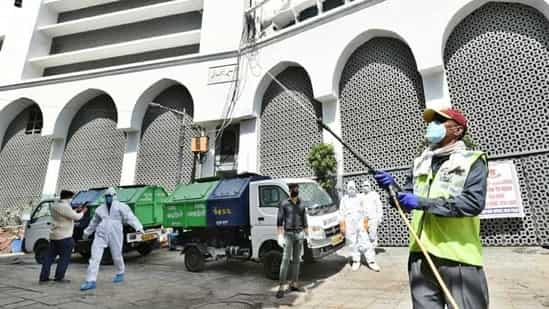 The Nizamuddin Markaz building.
File picture
---
Published 16.04.21, 02:05 AM
|
---
India has become bizarre. The Delhi High Court rejected the submission of the Centre and the Delhi police that only 20 people be allowed to enter the mosque at Nizamuddin Markaz for prayers during Ramadan from a police-verified list of 200. The court reportedly said that there cannot be a fixed list of devotees since no other place of worship has it. Prayers will be offered according to the Delhi Disaster Management Authority protocols for Covid-19 control, with correct distancing inside the mosque. But all devotees can enter when their turn comes. Here it is bizarre that the Centre and the police persist in keeping a particular memory alive: the premises hosted the Tablighi Jamaat meeting last year and its members were arrested for deliberately and negligently spreading the Covid-19 virus. The accusations were dismissed in court and the media were severely admonished for making scapegoats of the participants who belonged to the minority community. By keeping the premises out of bounds and then going to court about prayers in the mosque there, the Centre and the police are trying to invest the site with negative associations, although their basis has proved to be non-existent. That the Delhi High Court reportedly said that nobody can take away the building could not be without a reason.
The real bizarreness, though, lies in the contrast with the huge press of devotees at the Kumbh Mela. The Centre's concern for limiting worship in order to control the virus is invisible here, so the majority religion's sacred event has become one of the main causes of the frightening rise in the number of infections. No imposition of order on entry assumes that testing will be difficult and social distancing impossible. Do Bharatiya Janata Party leaders believe, along with the worshippers, that the Ganga will save the bathers from Covid, or are they allowing the devotees free scope only for votes — let the virus take who it may? Whatever their beliefs about the cow, they must know that Covid does not pick and choose faiths. So, over one thousand people tested positive in 48 hours at the mela. This is possibly just the tip of the iceberg in what is now a superspreader event. But inequality of treatment is now open and unashamed; infections are secondary.