India's para-athletes
At a time when there is a global shift towards making sports inclusive, India cannot develop if it continues to marginalize PwDs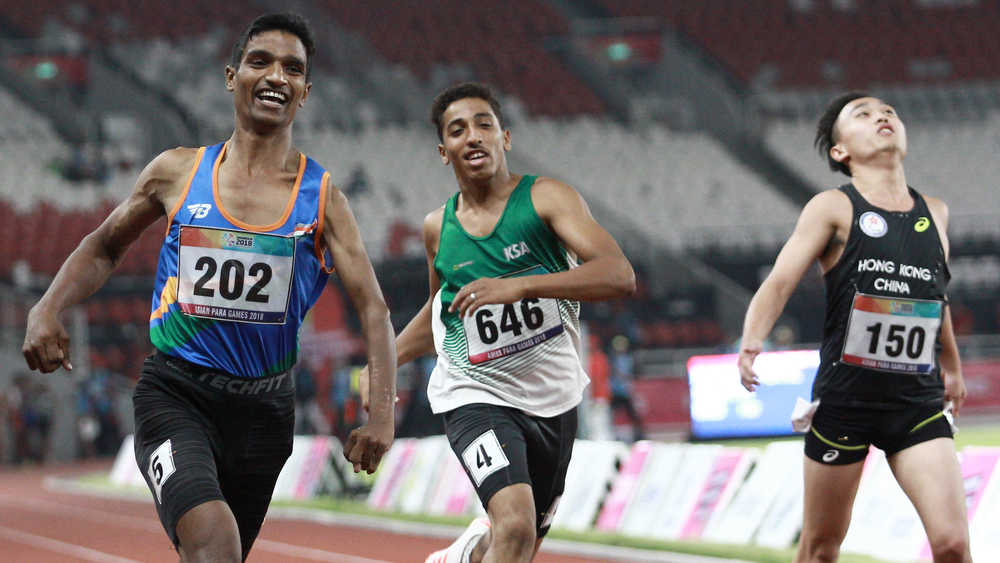 India's Narayan Thakur (L) celebrates after winning gold medal of the men's 100 metre T35 sprint of the 2018 Asian Para Games in Jakarta, Indonesia on October 9, 2018.
Shutterstock
---
Published 05.01.21, 12:09 AM
|
---
The World Health Organization observed the International Day of Persons with Disabilities on December 3, endorsing the theme, "a day for all". The United Nations is embarking on its 17-point sustainable development goals for the year, 2030, and inclusive measures for the disabled have been duly accommodated. India has been a signatory to the UN Convention on Rights of Persons with Disabilities since 2016. However, India seems undeterred about not executing adequate measures for PwDs in various fields, including sports.
Sport has the potential to lessen the stigma attached to the disabled community. To make sports for the disabled inclusive, the Union sports ministry has planned to spend Rs 83.7 lakh under the Khelo India initiative. The Centre for Disability Sports is also coming up in Gwalior. In a refreshing change, during this year's Indian Premier League, an education-tech firm roped in Deepa Malik, a silver medallist in Paralympics, for an advertisement. Manasi Joshi, a para-badminton player, also made it to the cover of Time's Asia edition. Blind cricket is also gaining popularity in India.
However, these developments, although inspiring, are not enough. As it is, sport has taken a back seat in public policy. Parasports, or sports for PwDs, is yet to become part of the mainstream narrative. Consequently, Paralympians are left in the lurch; the Paralympic movement is yet to gain traction in India too.
Significantly, India has taken part in the Paralympic Games since 1968. Athletes have brought back 12 medals in a total of 10 editions of the tournament. For many such athletes, representing the country is often a means of gaining acceptance in society. The prospect of winning a medal comes with the promise of recognition, awards and, in many cases, a job.
However, there is a dearth of interest in disability sports in the public domain. This has resulted in the paucity of sponsors and, as a result, a funds crunch. Moreover, sports for PwDs are also limited to urban centres. There are divisions pertaining to gender and geography. Women with disabilities and PwDs from rural areas are grossly under-represented in policy. The Paralympics, which caters to persons with some kinds of physical disability and is separate from the Deaflympics and the Special Olympic World Games — two other major sporting competitions for PwDs — has had a lopsided participation from women in the Indian contingent. Among 95 athletes, 12 women have represented the country in the past 30 years. The cyborgfication of elite disabled athletes on account of the increasing use of technology is also a matter of concern. The other challenges for sports for PwDs include the scarcity of physical education in schools, the absence of coaches as well as socio-cultural prejudices. 
At a time when there is a global shift towards making sports inclusive, India cannot afford to achieve development in the real sense if it continues to marginalize PwDs who constitute 2.21 per cent of the total population.