Abhimanyu's test
STATE OF PLAY | Idealism is one thing, political reality quite another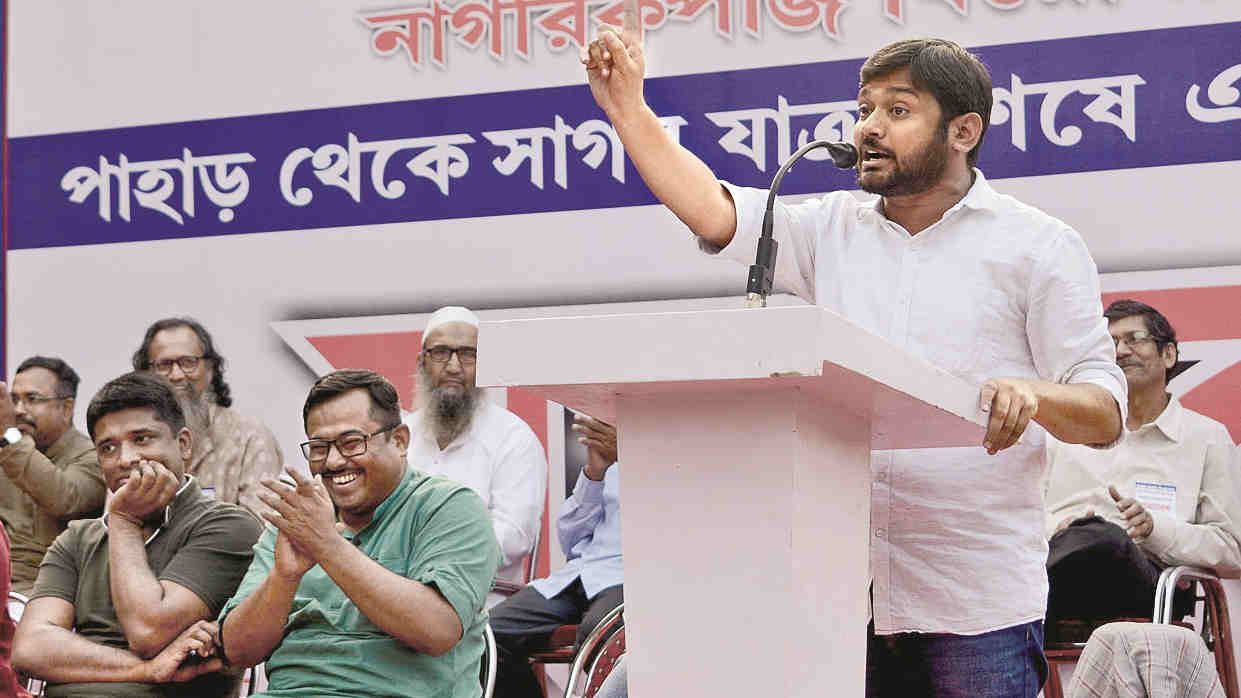 Kanhaiya Kumar.
File photo
---
Published 03.11.21, 01:43 AM
|
---
Kanhaiya Kumar ran one of the most electrifying, and watched, campaigns of 2019. As an arena spectacle, there isn't anything quite as riveting as the sight of a young debutant stepping in to dare formidable reputations. Kanhaiya dared that dare in Begusarai with little more than a reputation that was — and remains — celebrity to some, notoriety to others.
It was also a campaign that revealed to anyone who was ready to see the fine but critical difference between political activism and the rather more complex and exacting craft of electoral politics. Kanhaiya fought that election as an activist, victory was never going to come easy; eventually it did not, he lost by four lakh and more votes. Though at least one clear opportunity came by after 2019 — the Bihar assembly polls — Kanhaiya has stayed away from contesting. It is not clear yet — perhaps not even to Kanhaiya himself — whether he plans to rekindle electoral ambitions anytime soon. It is not clear yet in any demonstrable way whether in switching from the Communist Party of India to the Congress, Kanhaiya has also made the switch from political activist to politician. Truth to tell, it is not clear what it means for Kanhaiya to have left the Communists and joined the Congress. What is it in the Congress that Kanhaiya is embracing? What is it in Kanhaiya that the Congress is embracing? Have the two meditated the question and convinced themselves that they have the answers right?
Kanhaiya is arguably the most enigmatic and controversy-ridden political entity to have been thrown up during the Narendra Modi era — unapologetically radical, unafraid to embrace causes that he believes must be fought for and very often perilously unmindful of the consequences of what he espouses, oratorically mesmerizing, rhetorically adept. The fact that he gets under the skin of the Modi ecosystem by sheer dint of his presence, the fact that the State and its arms and instruments went after him with all they had and managed only to stoke his rebellion more and made him larger than life, is testament to the very special corner he has come to occupy in public life. Kanhaiya is an entity perhaps unlike any other. How is the Congress to contend with him and all that his diminutive persona has become a metaphor for?
Kanhaiya was suffocating in the CPI, unable to enact the role he has come to imagine for himself in a set-up whose laid out rules and regulations can be restrictive, even unaccepting, of individual identity or enterprise. But is the Congress the stage that will afford him free play? Is the Congress even prepared to absorb the consequences of admitting Kanhaiya to its ranks? Question: when Rahul Gandhi made a short visit to Kashmir in August, he did not so much as mention Article 370 or Article 35A, much less demand their restoration. How does that square up with the notions Kanhaiya resonates with? Question: the mere arrival of Kanhaiya's shadow on the Congress stage shakes up the party's ties with its most outspokenly loyal ally, the Rashtriya Janata Dal. Where does that leave the Congress in as critical a state to its future fortunes as Bihar? You have to be seriously spooked in the head to even imagine that there can be any comparison between what the RJD can do as an ally for the Congress in Bihar and what Kanhaiya can. Bihar is where Kanhaiya's political and electoral ambitions must lie. How is the Congress going to play him in the state? How is he not a horridly sharp-edged square peg being imagined as suitable to fit a round hole?
And what of Kanhaiya himself? What role has he come envisaging for himself in the Congress? What would he be busy doing the days Rahul Gandhi is on some temple-run somewhere? How would he feel in the company of the authors of some of the most draconian laws that he has made a name flaying? How would he not mainstream himself as a Congress neta, how would he not have to shed and shun much of the radicalism that has made him Kanhaiya Kumar?
The irony mustn't be lost that if Kanhaiya Kumar has to proceed anywhere substantive from where he stands today, he will have to lose much of what has gone into the making of Kanhaiya Kumar. It cannot be, for instance, that he will continue to spurn the importance of caste in politics and remain a credibly ambitious politician, especially in a state such as Bihar. Idealism is one thing, the crucible of reality very often quite another. During a conversation snatched in the raucous mill of his roadshow in Begusarai one blistering afternoon back in the 2019 campaign, one of the things Kanhaiya told me was: "Main sameekaran ki rajneeti nahin kar raha hoon (I am not indulging in the politics of equations)." I had asked him if he would succeed in breaking the sameekaran, or the caste-arithmetic, of Begusarai. In effect, I had asked him if he would be able to break the Begusarai chakravyuha, of which he was most decidedly the Abhimanyu. He had said, in effect, that that chakravyuha did not bother him. He sounded certain he was going to breach it. He sounded, in fact, as if he did not see, or recognize, the chakravyuha he necessarily had to demolish.
That chakravyuha, those calcified caste and creed forts, are a reality, a Bihari reality, of course, but a reality far beyond the frontiers of Bihar. Votebanks exist; votebanks flourish. Identity politics exists; identity politics flourishes. If that weren't the case, Narendra Modi would be knitting cardigans. Clearly, Kanhaiya Kumar doesn't want to be doing that.
sankarshan.thakur@abp.in