How knowledge is used to destroy the environment in a capitalist society
Bangladeshi artist Marzia Farhana, whose work has made waves at the Kochi Biennale, talks about her work and life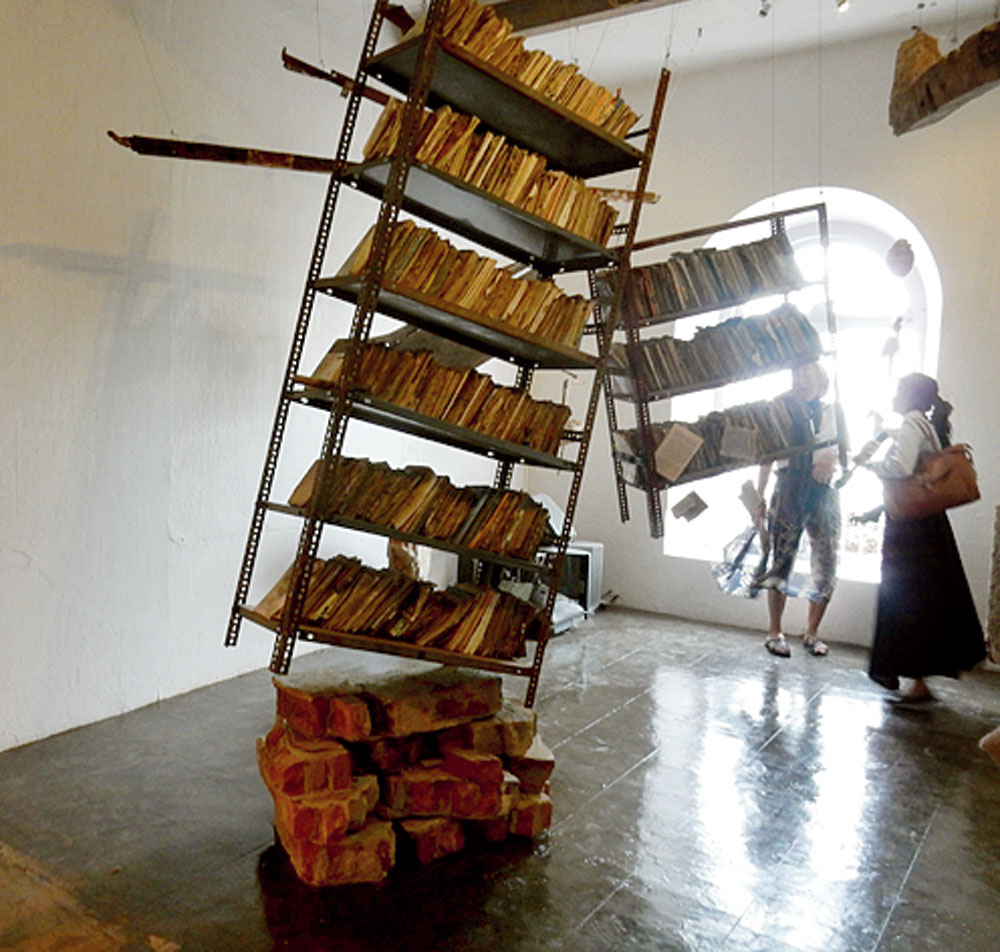 An installation by Marzia Farhana at the Kochi-Muziris Biennale
Source: Soumitra Das
---
Published 18.02.19, 12:13 PM
|
---
Contemporary artists find it difficult to practise in Bangladesh because they hardly have any support system, and contemporary art language is yet to be well received by both viewers and the market. The government academy in Dhaka does not have any provisions to train them and gallery support does not exist. However, practitioners are on firmer ground than before, thanks to festivals being held of late. Hence, a platform is in the process of being created. One can imagine how, with the rise of fundamentalism in our neighbouring nation, it has become that much more difficult for women artists to continue their practice. However, there are forward-looking artists here, too, who have managed to take these apparently insuperable problems in their stride and work independently on their own terms. Marzia Farhana (born 1985), whose outstanding multi-media installation, Ecocide and the Rise of Free Fall, inspired by last year's devastating floods in Kerala, has been making waves at the fourth edition of the Kochi-Muziris Biennale, is one such bright example. "I need a lot of determination to continue my practice. There were huge social barriers as a practising woman artist that had to be overcome to forge an art language of my own," says Farhana.
Farhana was drawn to art from childhood, and even during her stint at the Faculty of Fine Arts at the University of Dhaka, she had practised on her own and created her personal language wielding painting, video art, assemblage and collage as her tools. Farhana tried her hand at creating sculpture with ready-made found objects, and moved on to installation thereafter. When she got admission at the St Martin's University of the Arts in London, funding was a huge problem. The mother of Farhana's husband, Gibonara Begum, came forward to help her in a big way, something unheard of in this part of the world. The lady lives in the village Nursonapur and manages her farmland. Farhana's husband, Mizanur Rahman Chowdhury, who is himself a practising artist, has been a bulwark of support, which is why she considers herself very lucky.
After her two-year Masters course in London, she returned to Dhaka, but she had to forget art for one whole year because of various personal problems. In 2017, the Samdani Art Foundation in Dhaka sponsored her trip to Goa to join a workshop conducted by Khoj, the Delhi-based not-for-profit contemporary arts organization. Last year, Farhana participated in the Dhaka Art Summit, and was shortlisted for her Equilibrium project. It was there that Farhana took part in what she calls her first "socially engaged participatory art". She worked with school children of the 10-12 age group from underprivileged families. Many of their fathers drove autorickshaws for a living, and the children were drop-outs. The project travelled to Akar Prakar gallery in New Delhi. Last year, Farhana exhibited at the Museum of Contemporary Arts Barcelona, where her installation, The Act of Resistance, highlighted the "critical violent co-existence of man and machines". Curated by Raqs Media Collective, her multi-media work was an assemblage that included two paintings, Betrayal and Visceral, and true to its title, is like a clenched fist raised to protest against injustices the world over.
At Kochi, Farhana visited the site a few weeks after the catastrophe and collected white goods, furniture, books and detritus left behind by the floods. At Laboratory, where she put together her installation, this wreckage hangs mid-air as if floating in a torrent of water. Farhana says she wanted to show how in a capitalist society, knowledge is being used to destroy the environment. But more than her message, it is the haunting dream-like effect that lingers.