A peek into the 4th Kochi-Muziris Biennale
Anita Dube is the first woman curator of the Kochi-Muziris Biennale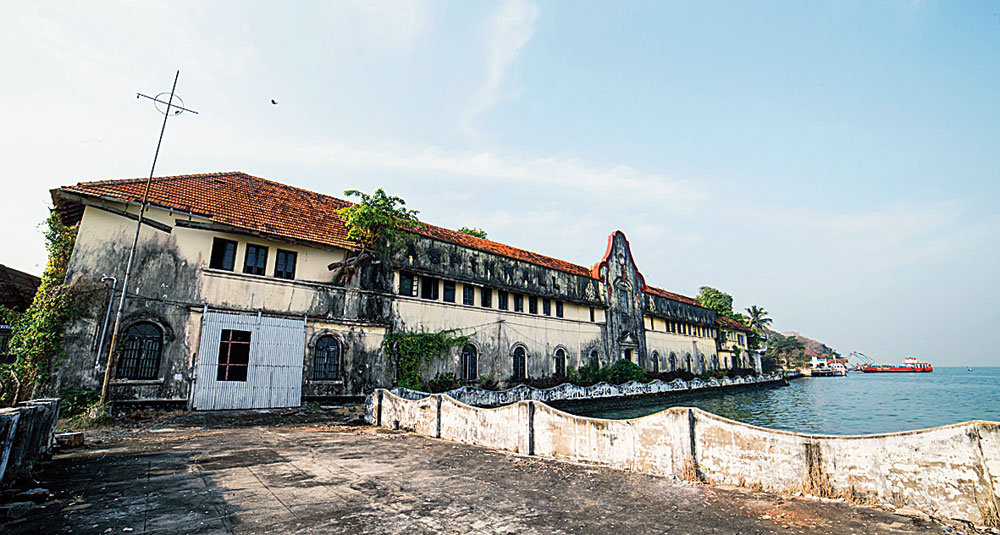 The large sea-facing property of Aspinwall House in Fort Kochi is the primary venue for the Kochi-Muziris Biennale.
Picture: Kochi Biennale Foundation
---
Published 25.11.18, 01:23 PM
|
---
You have travelled across the globe, curating this festival. What are some of your takeaways?
I wanted to focus on the Middle East, South-East Asia, Africa and the Latin American nations. The wide range of art we will be showing during the Biennale comes from these fascinating experiences and encounters with artists and projects that I may not have heard of otherwise. Absorbing and chewing on all this, I was able to draw parallels and connections of practice across continents that I hope to bring into dialogue in Kochi.
How has art in India and people's perception of it changed?
If on one hand the art world in India is far more commercialised than ever before, there are also many grassroots-level initiatives, like the Kochi-Muziris Biennale, getting attention and creating meaningful engagement. I hope that such spaces can keep working to de-eliticise art so that people don't feel intimidated or alienated from its languages.
What's exciting in the new artscape of the country?
The artscape is diverse and experimental. Photographers like Vicky Roy and Chandan Gomes are pushing boundaries, as is a queer artist like Aryakrishnan Ramakrishnan. A mid-career artist like Arun Kumar HG has turned his attention to ecology and recycling; so there is a shift in what artists are turning their attention to.
Any artist from Calcutta you follow?
One artist from the city featured in the Biennale exhibition is Bapi Das. Bapi is an autorickshaw driver by day, and hand-embroiders beautiful images when he isn't driving, often responding to the urban fabric of the place he navigates daily. Each piece takes around a month to complete. I am very excited to bring his work to the Biennale. Other than that, of course, I have long admired artists from Bengal, from the masters of the Santiniketan school— Benode Behari Mukherjee, Ramkinkar Baij and K.G. Subramanian — to contemporary practitioners like Sanchayan Ghosh, who is actually a Students' Biennale curator this year.
How did your love affair with art begin and what are some of the biggest influences on your work?
I ended up studying art somewhat by accident. After hearing about the art history programme at MSU Baroda (The Maharaja Sayajirao University of Baroda), I found myself intuitively drawn. During the MA course, I was exposed to the narratives of Western and Indian art history. Of course, being friends with practising artists and hanging out in their studios brought me close to how art is made. All this was very useful when I started to make art myself around the age of 30.
My influences and inspirations do not come from one place or time, or even only from the arts. My work, whether writing or art-making, responds to art history as much as it does to theory, and politics, which is evident also in my curatorial approach for the Kochi-Muziris Biennale. Two major influences in my conceptualising of this edition were the critical social commentary of Guy Debord, as well as sculptures by the late K.P. Krishnakumar.
Art-historian, critic and artist — which is a hat that you love wearing the most?
Making art is something I love the most as it provides the maximum space of freedom for any individual. I'm a reluctant art critic and usually switch off this part of my brain when I am working on a sculpture or installation.
A noted artist, art historian and critic, Anita Dube is the first woman curator of the Kochi-Muziris Biennale, a role she says she's taking "very seriously". Dube's chosen list of artists for the biannual calendar art event in Kochi, scheduled to begin on December 12, is dynamic and inclusive — a mix of young and old artists with myriad experiences and art practices. In a chat, Dube retraces her path, recounts her experiences and influences and sums up her curatorial vision for the fourth edition of the Kochi Biennale.
What have you lined up for the fourth Kochi-Muziris Biennale?
I take the title of being the first female curator very seriously. It is an opportunity with tremendous responsibility towards the wonderful women artists whose work I admire, especially the work of older women artists who are very often sidelined in the quest for the young and the new. We are working to ensure a dynamic representation of artists from all over the world, with a myriad of backgrounds, experiences, and methodologies.
How much of it is a reflection of you as an artist?
My curatorial process has had parallels and similarities with my artistic process. Instead of assuming a validatory or proclamatory role, I hope I can be an essayist-curator: compiling fragments of affect and concepts into a rhythmic construction. Curation for me has been the product of many conversations, with artists and my team, and I hope it reads, in its openness and dialogic nature, as such.
Since its inception in 2012, Kochi-Muziris Biennale has gone on to become a fixture for artists and art enthusiasts...
The Biennale has always prioritised accessibility. This is crucial to its success as is its location in Fort Kochi with its string of warehouse venues within a small 5km area. Unlike any other mainstream exhibition venue, these maintain their architectural essence instead of adopting the "white cube" model.
I am also aware that while I am part of a privileged group that is used to international art events, the majority of the Biennale's audience are curious visitors who are encountering global contemporary art only during the Biennale. I am keen for this audience to become an active participant rather than being a passive consumer of culture. For this I am opening up the exhibition model by setting up an interactive pavilion space as a knowledge sharing laboratory.