Homelessness highlights the inequality behind GDP growth numbers
To tackle homelessness, the government should provide better incentives to developers to provide affordable housing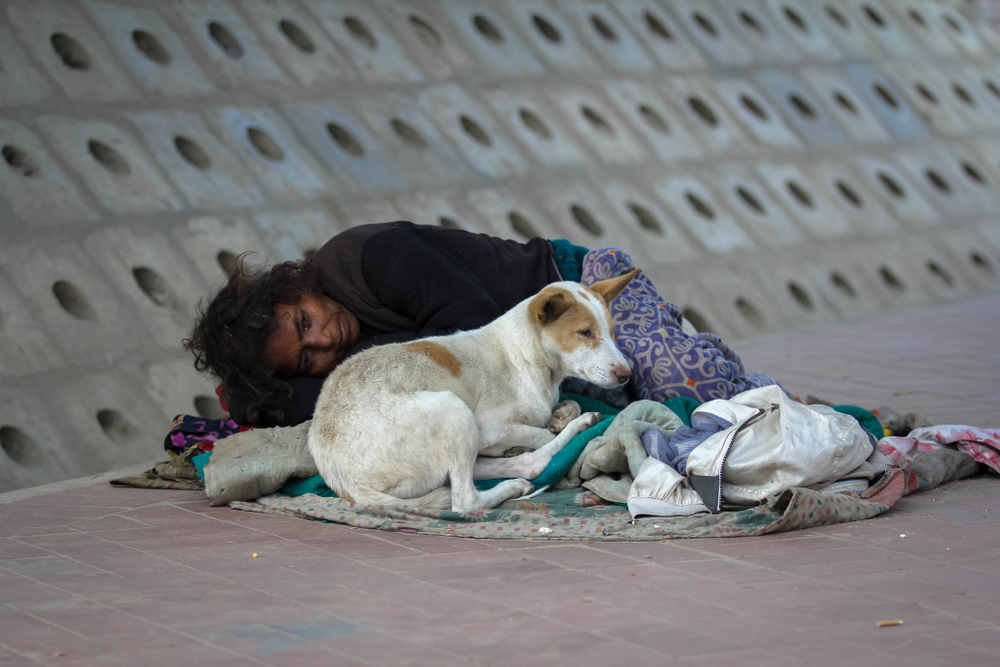 More often than not, homelessness is the result of the failure of institutions to provide for citizens living in poverty, experiencing domestic conflict/violence as well as those who want to resettle
(Shutterstock)
---
Published 01.07.19, 01:48 PM
|
---
Food, clothing and shelter are three basic human needs. Out of the three, shelter remains beyond the reach of 1.77 million people in India, accounting for 0.15 per cent of the nation's population (Census 2011). Rights groups, however, say that the actual figure is at least three times higher. Consequently, a large number of people are spotted living and sleeping in public places such as pavements and streets. They are India's 'homeless people'.
Homelessness, an example of social exclusion, is neither new nor rare. The homeless — vagrants, vagabonds, tramps, beggars, mendicants, idlers, indigents, itinerants and the underclass — are a heterogeneous constituency, belonging to different age groups, gender, livelihoods and places of origin. Most of them are not beggars; a significant number work as casual wage labourers.
Homelessness could be attributed to poverty as well as the failure of the housing supply system. Declaring 1987 as the International Year of Shelter for the Homeless, the United Nations defined a homeless person as not only someone who lived on the street or in a shelter but also someone whose shelter or housing failed to meet the basic criteria considered essential for health and social development. These criteria included security of tenure, protection against inclement weather, personal security as well as access to sanitary facilities, potable water, education, work and health services.
Homelessness has fatal consequences. Unnatural deaths peak during summer, winter, and the rainy season. Homeless women run the risk of being assaulted and/or abducted. Several instances have been reported wherein rash driving has claimed the lives of pavement dwellers.
More often than not, homelessness is the result of the failure of institutions to provide for citizens living in poverty, experiencing domestic conflict/violence as well as those who want to resettle. In the process of redevelopment and resettlement, households are often categorized as illegal, denying the residents relocation entitlements. They then become homeless. This segment faces the loss of self-respect, privacy, security, health rights and social dignity. Additionally, the youth fall prey to addiction. The nation's achievement is often celebrated through double-digit growth in the gross domestic product. But the condition of homeless people draws attention to the underlying inequality.
Incidentally, India has committed itself to providing housing for all its citizens by 2022. 'Housing for all', an ambitious scheme, aims to build 20 million urban units. The Indian government has also committed itself to building 100 'smart cities'. India hopes to reside in smart cities, but a report by the Housing and Land Rights Network has called the project faulty, arguing that the funding is discriminatory and lacks human rights indicators, especially for low-income groups.
Affordable housing, social housing and the creation of employment opportunities could empower societies to combat homelessness. Affordability is the key here because homelessness is driven by the lack of affordable housing. Fewer and fewer units are produced in the market by developers that could cater to low income groups. There is a case for the government to provide better incentives to developers to provide affordable housing. Employment opportunities would enable the homeless to earn wages and pay back loans.
Homelessness is associated with numerous problems and complexities and requires interventions at several intermediate stages. The policy interventions/responses need to adopt glocal approaches, juxtaposing global styles with local conditions, to bring about change and sustainable development.