Stories of the homeless travel in a museum
The Dignity Museum aims to raise awareness about homelessness as well as to serve the homeless community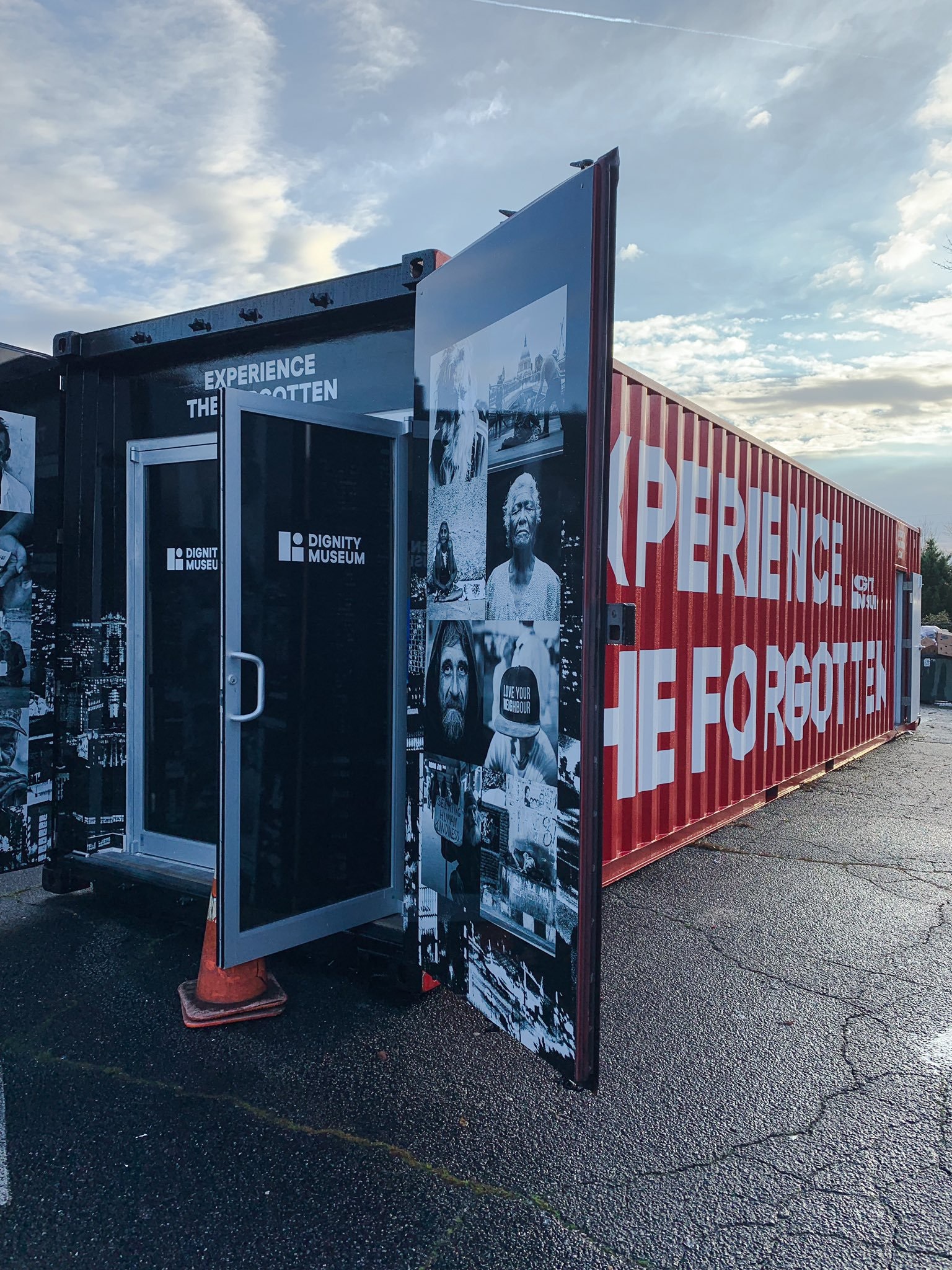 The Dignity Museum, which opened on March 23, is built in a single shipping container divided into the three rooms.
@DignityMuseum (Twitter)
---
Published 30.03.19, 07:04 AM
|
---
There are almost a million homeless people in America. A new travelling museum, called the Dignity Museum, tells the stories of these people who are often overlooked. The founder of the museum is Terence Lester, who also co-founded Love Beyond Walls. Lester, along with his wife, Cecilia, started the non-profit organization in College Park in 2013 to raise awareness about homelessness as well as to serve the homeless community. The purpose of the museum is to help visitors understand the systemic causes of homelessness, including injustice and poverty.
In one of the three rooms, the museum uses virtual reality to give visitors the experience of being on the street. An app shares stories told by homeless people. Visitors can read data about homelessness and learn about issues such as affordable housing. A monitor on the wall prompts questions like, "What if you were known for the hardest time in your life?" The last of the three rooms is a call to action. Visitors learn about different non-profits and how they can take some responsibility and help the cause.
The museum, which opened on March 23, is built in a single shipping container divided into the three rooms. Admission is free, but donations are accepted and go toward housing for the homeless. There is talk that a similar museum could eventually open in the United Kingdom, where a group called the Museum of Homelessness has staged a series of events, but doesn't yet have a building of its own.
Mixed feelings
The newly-opened monument in Hudson Yards in New York City is creating a lot of buzz. Known as 'Vessel', the installation weighs 600 tonnes and resembles a honeycomb (it has also been noted to resemble a shawarma, a cockroach and a trash can). However, the name is just temporary and the group behind the creation is open to suggestions on a permanent name.
Opened on March 15, the structure, costing millions of dollars, is 15 stories high, and while you have to make a reservation, tickets are free. The view on top includes the panorama of the Hudson River, NYC architecture and the occasional under-construction building. Guests initially had to give up rights to "photos, audio recording, or video footage depicting or relating to Vessel."
The intent behind the creation, conceived by the British designer, Thomas Heatherwick, is to engage the surrounding towers, and to be a "living room" for the public and residents who have homes in the neighbourhood. The responses and reviews have been mixed. The New York Times had this to say: "Purportedly inspired by ancient Indian stepwells (it's about as much like them as Skull Mountain at Six Flags Great Adventure is like Chichen Itza) the object — I hesitate to call this a sculpture — is a 150-foot-high, $200 million, latticed, waste-basket-shaped stairway to nowhere, sheathed in a gaudy, copper-cladded steel."
New experiences
The concept of themed cafés has been popping up now more than ever. Eating out is a social experience and cafés and restaurants are incorporating pop culture into the dining experience. There is a Lego-themed pop-up coming soon to New York which is an adult playground full of Lego pieces. The Spotted Cheetah restaurant in NYC's Tribeca devotes itself to 'all things Cheetos'. The three-course menu features appetizers, entrées and desserts all inspired by Cheetos. Avocaderia in Brooklyn and Manhattan sells avocado-only meals. The Rue La Rue café is a Golden Girls-inspired restaurant in the Washington Heights neighbourhood of NYC. It has photos of the cast members and serves items like a coconut-covered 'Betty White Cake'.
Yelp! data show that businesses in the 'themed café' category are largely clustered in urban metros on the East and West coasts, although Texas, Florida, Georgia and North Carolina also find significant numbers of these businesses. Cat cafés have also been trending for a few years. Now there are some for dogs too. Chateau le Woof — 'New York's first Dog Café & Bar' — is a new spot in Queens that combines both La Colombe coffee for humans with facilities and services for dogs.
Serious problem
Plastic pollution is a serious crisis. Several food chains and also state legislatures are trying to tackle it. Walmart has promised to work with its private labels to create 100 per cent recyclable, reusable or compostable packaging by 2025, among other waste reduction commitments. Starbucks, McDonald's, Coca-Cola and others joined hands with Closed Loop Partners to launch the NextGen Cup Challenge, an open invitation contest aimed at finding a new paper cup that is recyclable and compostable. Fast Company reported that Closed Loop has now picked its winning 12 concepts.
Lawmakers in Hawaii and New Jersey are considering a statewide plastic and Styrofoam ban, a move that could lead to a wave of anti-plastic legislation. Hawaii's proposed senate bill goes even further, not only banning Styrofoam containers but nearly all plastic from fast food and full-service restaurants, including drink bottles, utensils, straws, stirring sticks and garbage bags. Both proposals are currently making their way through their respective state senates. California and Hawaii are the only states that already ban single-use plastic bags. Several big cities, include Boston and Chicago, have similar bans.
Footnote

The NCAA men's basketball tournament has begun. One of the most exciting aspects this time is creating brackets, predicting which teams will move through to the finals. According to `ncaa.com`, even if every game were a coin flip, the odds of completing a perfect bracket for the entire tournament would be about one in 9.2 quintillion. Over the next few weekends, around 100 million people will tune in to watch the 67-game, 68-team tournament played across 14 cities.