Kashmir's high voter turnout is no indicator that democracy is healthy there
An election under the shadow of the gun and boycotted by major parties cannot be considered a marker of normalcy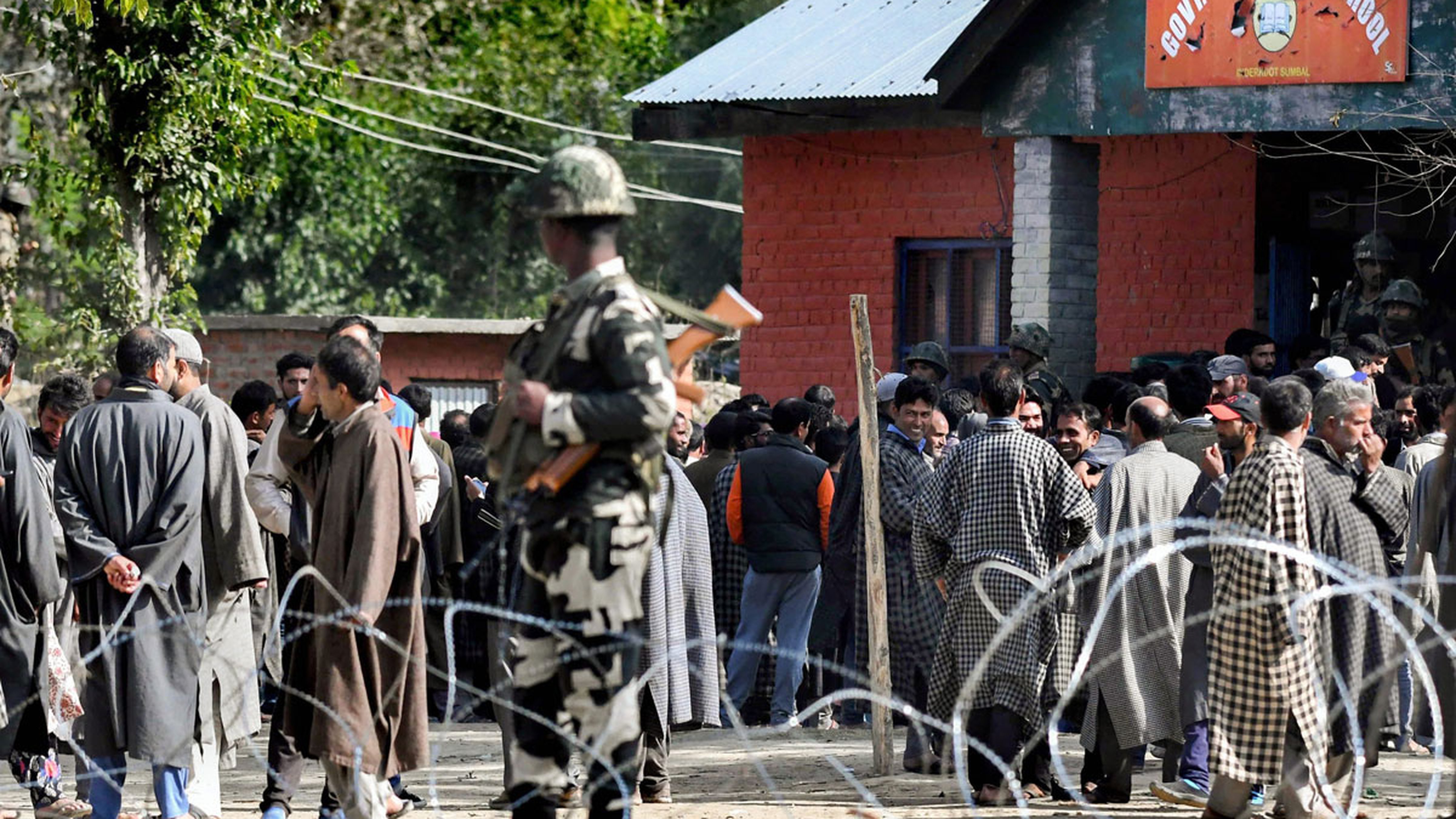 Security personnel stand guard as people wait in queues to cast their votes at a polling station during the second phase of municipal elections in Bandipora district, Jammu and Kashmir, on October 10, 2018.
PTI
---
Published 21.11.18, 02:25 AM
|
---
Elections are integral to a parliamentary system of governance. But are they reliable indicators of the health of a democracy? This question has been brought to the fore, once again, by the peculiar situation prevailing in Kashmir. Successive dispensations, in the state and at the Centre, have argued that impressive turnouts in elections prove that all is well in that state. Indeed, in the first phase of the ongoing panchayat polls — the elections have been distributed across nine phases — the voter turnout was over 70 per cent. The high figure can be explained by the fact that polls are often perceived by distressed rural voters as the only means available to press for legitimate entitlements. But segments of the administration and their political sympathizers are ever willing to cite the high percentage of votes cast to paper over the deteriorating situation on the ground. The slide — is it not the manifestation of a democracy's failings? — is borne out by several developments in Kashmir. This election, as is often the case in the restive state, is taking place under the shadow of the gun. In the past, panchayat functionaries have fallen to the bullet for the sake of the ballot. Elections to urban bodies held earlier witnessed a pitiable turnout of a little over 4 per cent in the Valley. Even though the rural polls are not being contested on political lines, the two principal parties in the state, the National Conference and the Peoples Democratic Party, have boycotted the exercise. The turnout notwithstanding, under no circumstances can such trying conditions be considered markers of normalcy.

It must be acknowledged that what is under duress in Kashmir is democracy's claim to be inclusive. Numbers, be they of votes or candidates in the fray, are not enough to conceal the alienation of the people. This distance, between citizens and their political system, undermines the participatory nature of democracy. Of course, political parties of all hues can stake claim for creating this chasm. Elections have always been viewed as a temporary balm or a bargaining chip by the political Establishment to camouflage festering wounds in Kashmir. What is especially worrying is that under the Bharatiya Janata Party, New India resists attempts to investigate the causes of this alienation by branding investigators — journalists, civil society, politicians and philanthropists — 'anti-national'. Hypernationalism widens gulfs; Kashmir, and some other parts of India, is proof of that.