Editorial: High pitch
The Veer Gatha Project must not be allowed to go the way of other seemingly innocuous programmes that seek to surreptitiously indoctrinate young minds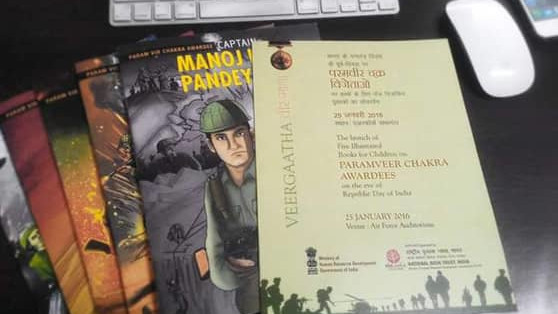 Representational image.
File picture
---
Published 29.10.21, 03:30 AM
|
---
Admiration for national heroes comes naturally to the citizenry. Problems are bound to arise when an elected government deems it necessary to impose a template of reverence. The ministry of education has asked students of central board schools as well as state authorities to prepare projects on the lives of the winners of Gallantry Awards under a month-long 'Veer Gatha Project'. According to an official circular, the initiative aims to "disseminate the details of acts of bravery and the life stories" of armed forces personnel, thereby raising awareness among schoolchildren about the magnitude of the sacrifices made by those who guard the nation. The initiative has been lauded by several educationists who opine that interactive projects — the defence ministry will organize hour-long programmes for schoolchildren — can help students learn about topics of importance in a more comprehensive manner than can be achieved through rote-learning. Recognizing valour is important. But the methodology of doing so merits examination in the light of the fact that the Bharatiya Janata Party-led government has not only been guilty of encroaching upon educational curriculum but also rolled out several programmes with a pronounced ideological tilt in the garb of celebrating 'Indian heritage'. Take, for instance, Yoga Day; it aims to instil a holistic approach to health but, curiously, coincides with the death anniversary of K.B. Hedgewar, the founder and first sarsanghchalak of the Rashtriya Swayamsevak Sangh. The celebration of Hindi Divas had also drawn attention after the Central Board of Secondary Education tweeted that Hindi is "our identity".
The Veer Gatha Project must, therefore, not be allowed to go the way of other seemingly innocuous programmes that seek to surreptitiously indoctrinate young minds in a particular ideological — militaristic? — mooring. Such a proclivity not only infringes upon the autonomy of educational institutions — they, not the government, should have the right to frame curricula — but also presupposes that citizens need to be tutored on the mores of reverence. There is also the question of developing independent, critical thinking as opposed to instilling passive admiration. Would students be allowed to appreciate not only valour but also the conditions — political, historical and strategic — that compel India's brave jawans to make the ultimate sacrifice?