Beauty of balderdash: #Nonsense_Modi
There is reason to believe that Narendra Modi's mounting failures on a number of fronts of governance earned the prime minister such opprobrium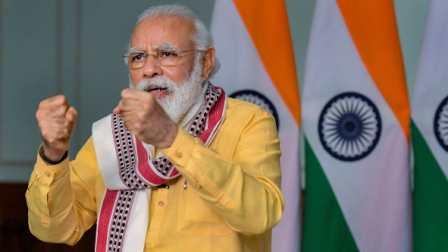 Narendra Modi addresses the foundation stone laying ceremony for Manipur Water Supply project, New Delhi on July 23, 2020.
PTI
---
Published 25.07.20, 02:04 AM
|
---
In the topsy-turvy world that is Alice's Wonderland, the Mad Hatter — a resident of this seemingly absurd kingdom — foxes the young heroine by asking her, "Why is a raven like a writing-desk?" The cheeky Hatter — he is far from mad — then goes on to confess that even he does not have an answer to his own query. For its defiance of the contours of logic, the Hatter's query is remembered and, indeed, cited as an enduring example of nonsense.
However, the commonly-held idea that nonsense is the very embodiment of all that challenges, or even mocks, reason seems to have come under a cloud. The Indian prime minister — are not his accomplishments truly formidable? — seems to have had a hand, albeit an oblique one, in this collective epiphany. A tempest had risen in the world of Twitter recently: it went by the name of #Nonsense_Modi. But this massive outpouring of public criticism against a prime minister who, according to his legion of admirers and large segments of the media, can do no wrong cannot be attributed to balderdash. This demonstration of disaffection was informed by the senses; there was a touch of cold logic to it, even though logic is considered to be the very antithesis of balderdash. There is reason to believe that Narendra Modi's mounting failures on a number of fronts of governance earned the prime minister such opprobrium. After all, it only takes a bit of sense to understand that New India is not quite shining. The economy, infected by a contagion as well as by an incompetent dispensation, is in tatters; the social fabric of the country, one of its enduring sources of strength, is riddled with similar holes; the border is suddenly porous, with chunks of territory vulnerable to encroachment; farmers, migrants, the poor, the minorities are in distress, as are institutions, groaning under the weight of authoritarian interference; dissent is under duress; foreign policy, mirroring the man at the top, is rudderless. It does all add up.
The tradition of using nonsense as the barometer of truth is novel. But it is not quite new. It goes back to an old, rich, stimulating history of intellectuals, scholars, court poets, balladeers making imaginative use of seemingly bizarre texts, songs, tales, satires, parodies and other such signposts of creativity to utter what could not be said openly. Nonsense in the hands of these luminous minds — Lewis Carroll is one example — was thus transformed into a cipher, a deceptive code, to pass on, from one generation to another, the flame of unrelenting enquiry. The duality of nonsense as a signifier of conflicting phenomena — a symbol of not only the absurd but also of truth concealed in absurdity — makes it truly enigmatic. The intellectual commitment should, therefore, be to hold the epithet, nonsense, to the light of enquiry. The results, as is the case with #Nonsense_Modi, can be illuminating.