Green goodness: Chelsea Flower Show
Eye on England: British Film Institute pays tribute to Satyajit Ray; Vivek Ramaswamy's 'Woke, Inc. — Inside Corporate America's Social Justice Scam'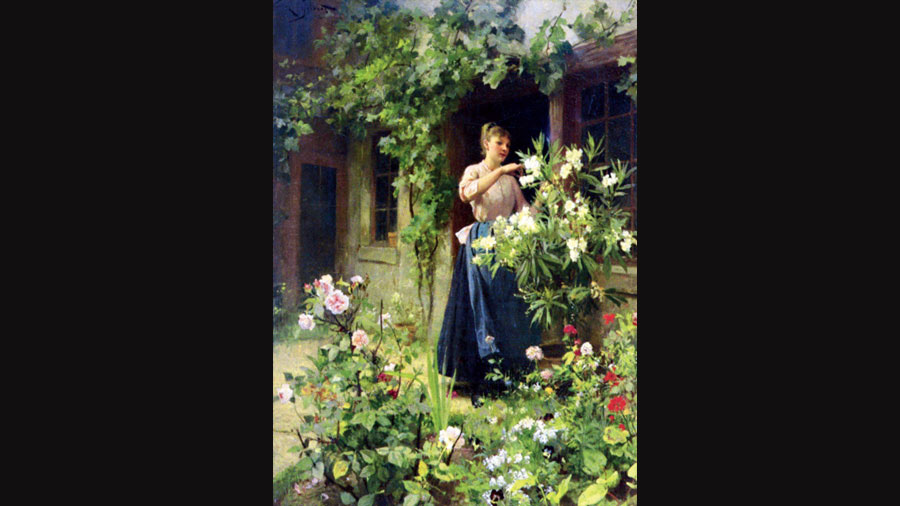 Gardening by Victor Gabriel Gilbert.
Wikimedia Commons
---
Published 02.10.21, 02:27 AM
|
---
Sitting opposite me at Chourangi, the new Bengali restaurant in London started by Anjan Chatterjee and Aditya Ghosh, was Sangeeta Datta's husband, Soumilya, who revealed that having retired from banking, he had taken up gardening as a hobby — "I don't know the names of all the flowers but everything in the garden is lovely". This will make the Royal Horticultural Society very happy because it is trying to encourage more Indians to take up gardening. The RHS, established in 1804, runs the Chelsea Flower Show, which was pushed to September instead of May for the first time in 108 years. There was a profusion of blooms to delight the eye — everything from Dahlias to Chrysanthemums, Fuchsias, Clematis and Alliums.
The RHS's chief horticulturist, Guy Barter, said: "The Chelsea Flower Show is the flagship of the British gardening industry and a huge amount of our interest revolves around new plants that are introduced. Garden designers show off the best concepts, nurseries show the best plants. It's the standard that everybody aims for." But he also told me how easy it was to grow coriander, fenugreek, basil and other herbs, as well as aubergine, tomatoes, courgettes, peppers, chillies, carrots, onions and garlic for the Indian kitchen. Plants, he said, "give comfort to everybody. There's lots of scientific research to prove that greenery and green space make people feel better. Gardening is a wonderful hobby, it's very rewarding." The British Film Institute is to pay a remarkable tribute to Satyajit Ray by showing all of his films, reveals author and film-maker, Sangeeta Datta, who will curate the season to mark the director's 101st birthday next summer. Datta comes fresh from receiving a "Shera Bangali" award for her cultural work at last weekend's UK Bengali Convention in the Cambridgeshire village of Cambourne. In fact, her documentary on Rituparno Ghosh, Bird of Dusk, closed the convention that united 55 Bengali organizations from across Britain in an inspiring celebration of "debate, music, adda, food".
Britain's solidly middle-class Bengali community is well-represented in most professions, especially medicine, academia and the arts. "We have so many good things we can be proud of," Anirban Mandal, one of the organizers, tells me. "Next year's UKBC will be held in Manchester. Our aim is to pass on Bengali culture to the next generation."
Sangeeta makes the same point: "We have to engage with schools and colleges to bring in younger students. They don't necessarily have to be film students because Ray's films have so much to do with the history and sociology of Bengal." The BFI's plan was to mark the centenary of Ray's birth on May 2, 2021 but this had to be pushed back because of the pandemic and also the delay in sourcing prints from the US film academy archives.
Sangeeta hopes to discuss what it was like to work with Ray with the likes of Sharmila Tagore, Shabana Azmi, Deepankar De, Dhritiman Chatterjee and Barun Chanda. She says: "What I'm trying to do is not just show the films chronologically but to arrange them thematically and look at more imaginative ways of bringing younger people..."
Artistic comeback
Exhibitions are coming back. To coincide with the Chelsea Flower Show, the RHS Botanical Art & Photography Show was held at the Saatchi Gallery near Sloane Square. During the raj, British women painted the fauna and flora of India, with many examples among the 30,000 items held at the RHS Lindley Library in Vincent Square in London.
I also visited the British Museum, which is holding an exhibition of 103 newly discovered drawings by Katsushika Hokusai, Japan's most famous artist, best known for the Great Wave off Kanagawa. Curator Alfred Haft estimated that a third of the drawings in the exhibition related to Buddhism in India. What was remarkable, added Haft, was that Hokusai never left Japan but "allowed his imagination to roam India".
This year's Summer Exhibition at the Royal Academy was pushed back to September from June for the first time in 253 years. This year it has been coordinated by the British-Nigerian artist, Yinka Shonibare, and, in the light of Black Lives Matter, was dominated by works from the African diaspora. But a few Indians, Shanti Panchal and Chila Burman among them, were included too.
Woke reality
Vivek Ramaswamy is an author whose book attacking big businesses, Woke, Inc. — Inside Corporate America's Social Justice Scam, has attracted favourable attention in both America and Britain. Ramaswamy was born in Ohio of parents who emigrated from India 40 years ago. A graduate of Harvard College and Yale Law School, he founded Roivant Sciences, a bio-pharmaceutical company, in 2014. His main thesis is that corporate America is hypocritical — post Black Lives Matter it is making big bucks by paying lip service to the "woke" agenda, that is progressive and liberal causes.
"Basically, being woke means obsessing about race, gender, and sexual orientation," claims Ramaswamy. "Maybe climate change too. That's the best definition I can give."
FOOTNOTE Incidentally, I noted two Indian touches at the Chelsea Flower Show this year. At one shop, Nehru jackets and waistcoats, tailored exquisitely from Italian wool and costing £350 and £250 respectively, were flying off the racks. Meanwhile, a Shropshire company called Wilstone, run by Christo McKinnon who has toured India for some 30 years, was displaying stone and wooden carvings fashioned for him by skilled artisans in Rajasthan and Gujarat.