Flames rising: Delhi R-Day chaos
Mayhem has no place in a democratic protest; Tuesday's violence thus has the potential of sullying the image of the protesting farmers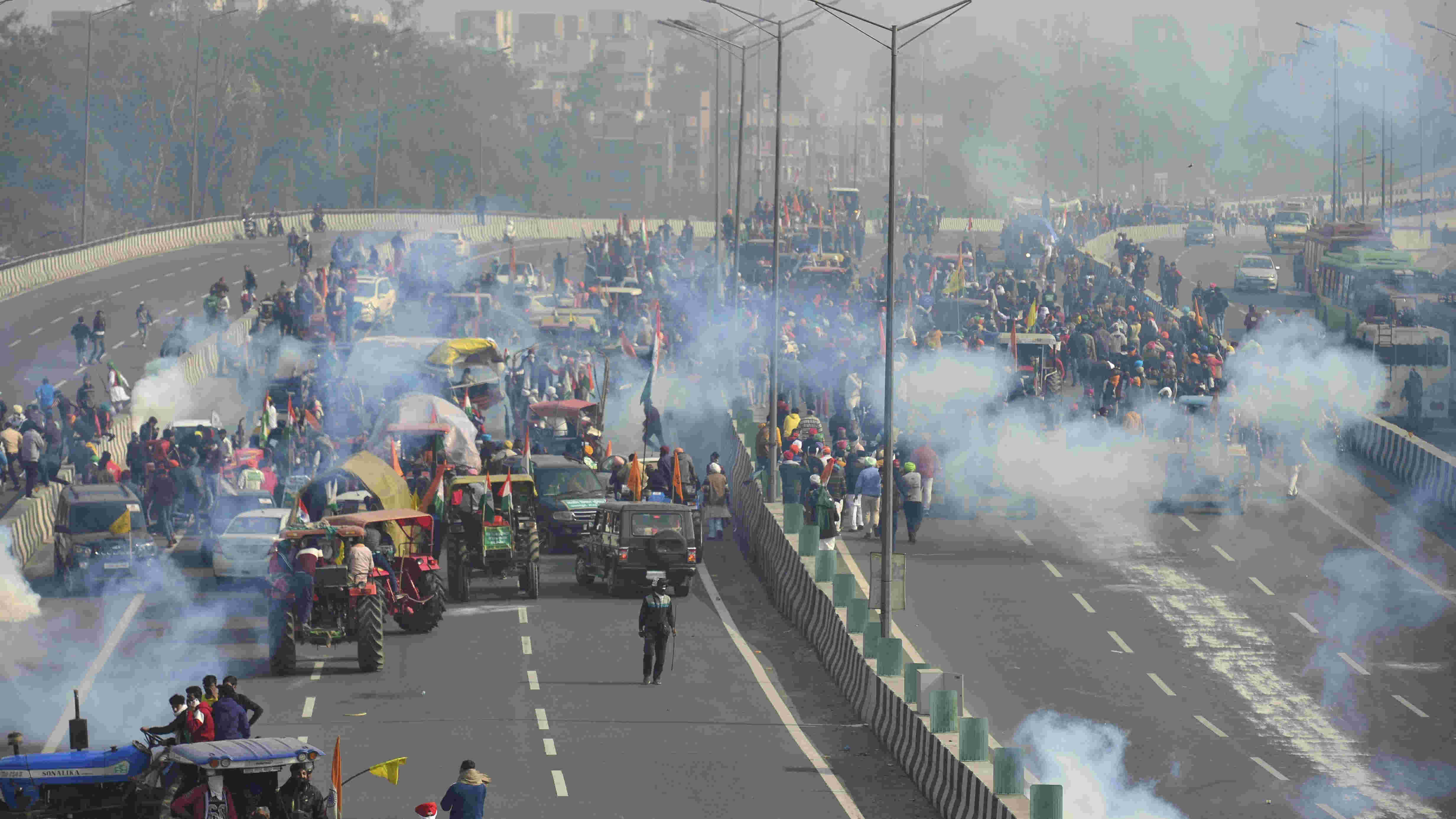 Police fire teargas shells to disperse protesting farmers who were attempting to break barricades at Ghazipur border during their tractor march on Republic Day, in New Delhi, Tuesday, Jan. 26, 2021.
PTI
---
Published 28.01.21, 01:42 AM
|
---
A nation that has, over the years, thundered with the echoes of the beloved slogan, 'Jai Jawan, Jai Kisan', witnessed, on Republic Day, disturbing images of the farmer and the security men turning against each other. Unprecedented clashes took place between farmers who, for months, have been protesting against three contentious agrarian laws and the police in parts of India's capital city on the occasion of a tractor rally that was meant to coincide with the Republic Day celebrations. Farmer unions must shoulder their part of the blame. Several protesters broke through checkposts and, most damagingly, deviated from pre-scheduled routes to lay siege on parts of Delhi, including the Red Fort, drawing an aggressive response from law-keepers. There was a clear lack of coordination among the unions and their failure to rein in or be aware of the presence of rogue elements must be condemned. But it also takes two matches to light a fire. The Union home ministry's preparation for the rally was far from adequate: policemen found themselves outnumbered by farmers at some spots. Of greater concern is the allegation by the Samyukta Kisan Morcha — it represents 41 farm unions — that vested interests are at work to discredit their movement. This claim, too, must be investigated impartially.
Mayhem has no place in a democratic protest. Tuesday's violence thus has the potential of sullying the image of the protesting farmers. There are even signs of fissures in their solidarity. It is possible that these developments would lessen the pressure on, and even please, the Narendra Modi government. After attempting to stonewall, defame and wear down the protesters, the Centre is now in a position to claim the moral high ground that it had lost. It is this battle of attrition between the government and the aggrieved farmers that constitutes the sorriest sights of Indian democracy today. There are well-established protocols of resolving a crisis in a democracy. The Centre, armed with a brutal electoral majority, did not pay heed to these codes of deliberation while enacting the set of laws in the first place. Its attempts at resolution, the farmers allege, have been insincere. The farmer unions, too, are on uncertain territory after the flare-up. The escalating bitterness on both sides means that the flames of the farm laws would continue to simmer in the near future.