Fitness findings: India walks less, and sleeps less
Should the politician on the yoga mat then give way to meaningful incentives in fitness?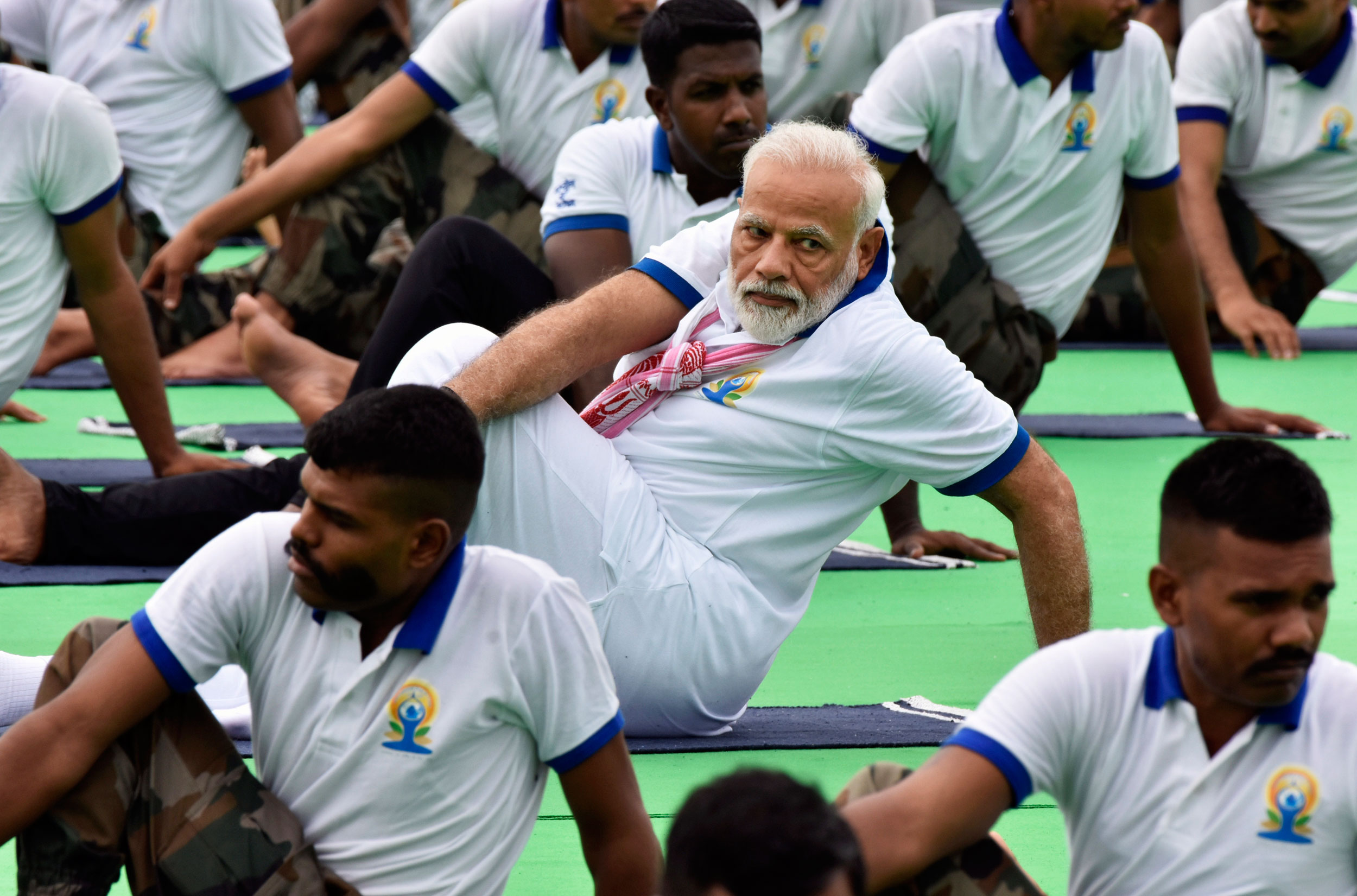 Does not the prime minister set time aside from his demanding schedule to strike impressive poses on International Yoga Day?
(AP)
---
Published 03.11.19, 12:24 AM
|
---
A few thousand steps a day — or a single apple — may not be enough to keep either disease or doctor away. Even a man as busy as the Indian prime minister is aware of this dictum. Narendra Modi may not quite have his eyes on a solution to Kashmir but one cannot accuse him of taking his eyes off fitness. Does not the prime minister set time aside from his demanding schedule to strike impressive poses on International Yoga Day? More fitting to the cause of a healthy India is the Fit India campaign that Mr Modi launched at the end of August. Yet, there is no love lost between New India and his New Fitness Mantra. Mr Modi's countrymen, even though this would appear astonishing, have for once turned a deaf ear to their beloved leader's instructions. A study undertaken by Fitbit, a firm dedicated, much like Mr Modi, to the cause of fitness, has found that among as many as 18 countries, including Japan, Singapore, the United States of America and the United Kingdom, it is sloth-like India that is the least active, walking, on an average, a little over 6,000 steps every day, almost 3,600 steps less than fit-as-a-fiddle Hong Kong. But Fitbit's findings get curiouser. An indolent lifestyle is usually associated with repose. Strikingly, Indians now have to their credit another worrying record. They, Fitbit has found out, are the second-most sleep deprived people in the world, coming behind the Japanese who have, on occasions, worked themselves to death, quite literally. Thus Indians, once again, have bamboozled the world with their contradictory inclinations, turning out in strength to create a nation that is sleepless and lethargic. What on earth is the Indian couch potato up to? Is the restless mind locked inside a body at rest thinking of Mr Modi's elusive achchhe din?
Dwelling on the impossible can have a deleterious impact on the mind. The Indian body, too, has had to bear the brunt of stillness. Two years ago, a report by the World Health Organization stated that 61 per cent of total mortalities in India can be attributed to non-communicable diseases, which, in turn, were found to have demonstrable links with such factors as the lack of exercise, long, desk-bound work hours, pollution as well as unhealthy diets. Greater access to automobiles and other forms of transport have made the long, arduous walk a thing of the past even in villages, while open playgrounds have become rare in cities, the den of land sharks. It is unlikely that in the days to come, Indians would volunteer to be pushed out of their beds or settees. Few can succeed where Mr Modi has failed.
Yet, change Indians must: for their longevity. A beginning must be made in schools and offices. Incentivizing physical activity and, consequently, health for the young and the not-so-young, through higher credit scores, awareness, awards and infrastructure, may kindle a durable interest in fitness. Such an investment may deliver what netas squatting on yoga mats cannot.