Editorial: Bark, not bite
India's tightrope walk on Myanmar with lectures on democracy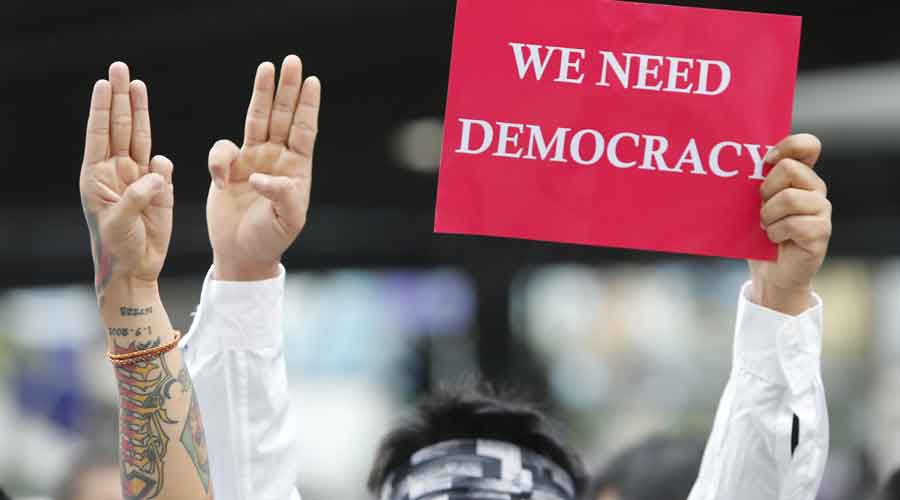 Pro-democracy activists with a placard in Myanmar.
File photo
---
Published 27.12.21, 01:34 AM
|
---
A tightrope walk is never easy. When the aim of the act is merely to cut losses, it is even tougher. During his visit to Myanmar last week, the Indian foreign secretary, Harsh Vardhan Shringla, made it clear that New Delhi would like to see its neighbour return to democratic ways soon. But that stern message was couched in a gift: the trip represented India's most public recognition yet of the Southeast Asian nation's military rulers who came to power following a coup in early February. Just three weeks ago, the ministry of external affairs had issued an unusually stern statement calling the conviction of the Nobel laureate, Aung San Suu Kyi, 'disturbing'. Ms Suu Kyi's party had won the re-election in November 2020, prompting the military coup by the generals who claimed electoral fraud. Some of India's closest friends, such as the United States
of America and the European Union, have imposed sanctions on Myanmar's military junta.Mr Shringla, too, told Myanmar's leaders that India was in favour of the early release of political prisoners such as Ms Suu Kyi.

Yet the visit reflects a bitter reality. Despite pressure from some of the world's most powerful democracies, Myanmar's uniformed rulers are quickly expanding their circle of friends. China and Russia are backing the regime diplomatically, financially and militarily. Japan is helping to train the Tatmadaw, Myanmar's army. Thailand, whose prime minister, Prayut Chan-o-cha, also came to power through a military coup, is engaged in quiet diplomacy with Myanmar. And Cambodia, the incoming chair of the Association of Southeast Asian Nations, wants greater dialogue with Myanmar, a break from the 10-member grouping's stance of not recognizing the junta up until now. Perhaps expecting this, New Delhi has taken its own steps to avoid rupturing ties with the generals. In March, it was among a handful of nations that participated in Myanmar's Armed Forces Day celebration. India has avoided open criticism of the coup's leaders at the United Nations. Last month, it appointed a new ambassador to Myanmar. For India, the single biggest source of concern is the porous 1,600-kilometre border between the two neighbours and attacks by militants who seek shelter in Myanmar. Since the coup, the border has become even more active and New Delhi needs the Tatmadaw's help to stop incursions. India is also uneasy about China's mounting influence in Myanmar. On adding up all of these factors, a clear equation emerges: India's lectures on democracy have more bark than bite.