Bigger Leaf: Editorial on AIADMK's dual leadership
Perhaps the best way forward is for political dynasties to usher in the democratisation of their parties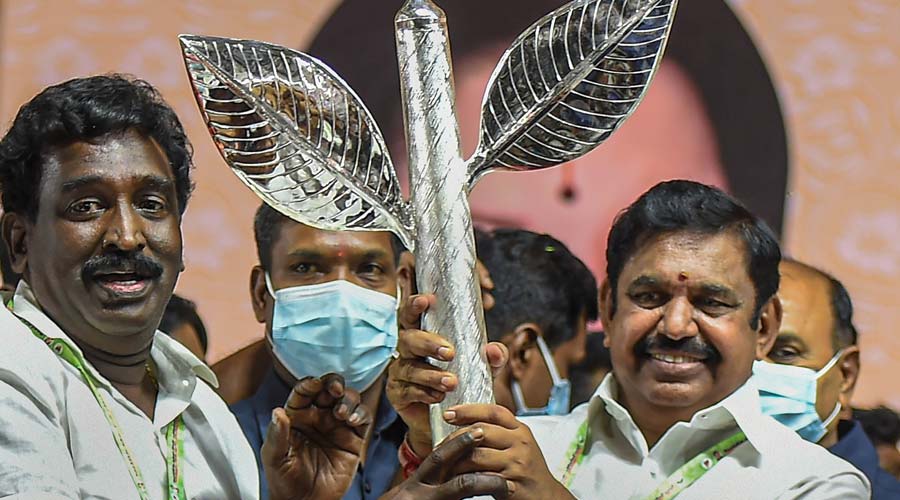 All India Anna Dravida Munnetra Kazhagam (AIADMK) leader Edappadi K. Palaniswami after being elected as interim General Secretary of the party, during the general council meeting of AIADMK, in Chennai.
PTI Photo
---
Published 13.07.22, 03:35 AM
|
---
One leaf of the two — the emblem of the All India Anna Dravida Munnetra Kazhagam — has fallen off with the experiment of a party run by two leaders getting derailed. Of the two leaders, it appears that E.K.Palaniswami has wrested the initiative, getting the party general council, whose session received a sanction from the Madras High Court, to expel O. Panneerselvam and establishing himself as the interim general-secretary. The numbers seem to be stacked in Mr Palaniswami''s favour: it has been reported that Mr Panneerselvam commands the support of around three of the AIADMK's 66legislators. Mr Panneerselvam's hopes of a resurrection would lie on his ability to exploit schisms and the caste card. He is a representative of the influentialThevar community: V.K. Sasikala, who was ousted from the reins of power after the death of J. Jayalalithaa, too, hails from this community. The two disgruntled leaders joining hands cannot be ruled out in the game of snakes and ladders thatis politics. Mr Palaniswami, therefore, has to keep an eye out for the churning within. A faction-riddenAIADMK would perfectly suit its principal rival, the ruling Dravida Munnetra Kazhagam.In a state where political fortunes have, in most parts, oscillated between the two Dravidian parties, a weakened AIADMK would strengthen the DMK's grip on the turf. The Bharatiya Janata Party may have to return to the drawing board. A twin power-sharing arrangement within the AIADMK had made it easier for the BJP to pull strings. Now with Mr Palaniswami seemingly in control and, reportedly, eager to plug the breach within his party, the BJP's mischievous agenda of weakening its allies may run into opposition.
The real question, however, pertains to the future of political parties that bank on charismatic families for their political survival. The ShivSena's humiliating splinter in Maharashtra has led to excited speculation that the hour to be held accountable for dynasts — the prime minister's favourite opprobrium for his adversaries — is nigh. But that need not be the case always. The AIADMK has effectively been neutered of dynasty: both Mr Palaniswami and Mr Panneerselvam rose from the rank and file of the AIADMK and, yet, have failed to keep the party together in the absence of the glue that is provided by a cementing figure from the First Family, as it were. Perhaps the best way forward is for political dynasties to usher in the democratisation of their parties. But that need not be a smooth transition.