B.S. Yediyurappa: the One BJP leader who has stayed silent on the hijab row
DELHI DIARIES: Nitish's Bihar using drones to enforce prohibition, will use satellites if needed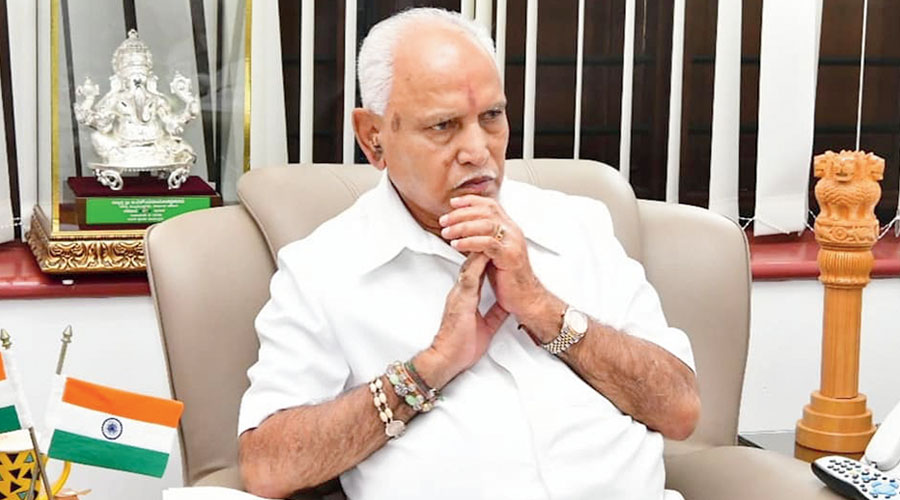 BS Yediyurappa
[Facebook]
---
Published 20.02.22, 12:26 AM
|
---
Measured silence
One Bharatiya Janata Party leader who has been silent on the hijab row is BS Yediyurappa. The former chief minister of Karnataka refused to comment even when reporters approached him. Neither did he utter a word when his party was getting battered by the Opposition in the state Assembly over the issue. He even received a backhanded compliment from the Congress spokesperson, M Lakshmana, who said that things wouldn't have come to such a pass had Yediyurappa helmed the government.
When two Muslim anti-Citizenship (Amendment) Act protesters died in police firing in Mangalore in December 2019, Yediyurappa, the then CM, reportedly apologized to Muslim religious leaders who met him the same evening. On each of the four occasions he became the CM, he had taken the oath of office wearing a green shawl and not saffron, indicating his closeness with farmers rather than with his party.
Guns blazing
The more the Supreme Court raps the Nitish Kumar-led Bihar government over liquor ban laws, the more it comes up with novel ideas to enforce prohibition. The latest tactic involves the use of drones to keep a tab on people indulging in brewing country liquor in riverine, hilly and forest areas that are difficult to access. External agencies are being hired to fly camera-fitted drones for the purpose and some small seizure operations have also been conducted.
While many pointed out that the endeavour is a waste of time, energy and public money when more serious issues need to be addressed in the state, a senior decision-maker said, "We will not hesitate in taking the help of Indian and foreign satellites if there is a need to do so." However, given the extent to which the liquor ban has been compromised by a nexus of enforcement agencies and the mafia, Bihar may need dedicated satellites, missiles, precision bombs, facial recognition systems, snipers and perhaps even the Pegasus software to snoop on those who are still drinking.
On the radar
A BJP minister in Bihar, who has been in charge of a few states — big and small — has suddenly become a topic of discussion among the members of legislative assembly for his rags-to-riches story. They eagerly discussed how he has bought huge stretches of land in Patna district, and has established a medical college and a pharmaceutical factory in a hill state. His wife and other family members are said to be running a non-government organization.
But many legislators remember that the minister comes from a humble financial background and would pedal an old bicycle to party offices and functions during his younger days. They whispered that the minister is now in the crosshairs of the Rashtriya Swayamsevak Sangh for all these extravagances. However, a senior BJP leader said, "Just talks won't do. Probe and prove the allegations then only we will accept that he is guilty. He is a powerful leader and well connected with our party's top brass in New Delhi." But he fell silent when another former minister asserted that he was procuring documents related to the minister's assets and vowed to expose him soon.
Still strong
Age is just a number for the Odisha Pradesh Congress Committee president, Niranjan Patnaik. At 74 years of age, he refuses to take rest. Mention the word "sanyas" before him and he flares up. "Why should I take sanyas from active politics," he counters. A die-hard Congressman, who has never changed sides, he claims that contesting elections or holding any party position is not his priority. Always in the good books of the central leadership, Patnaik says that he wants to continue to be in active politics in order to serve the people.
Patnaik's assertion comes at a time when the polling for the five-phase panchayat elections in Odisha are ongoing. There is speculation that the Congress leadership may go for a change of guard in the state after the panchayat polls. There has been constant demand from a section of party leaders for the replacement of Patnaik with a more dynamic leader. Patnaik had reportedly submitted his resignation after the Congress' defeat in the 2019 elections, but the resignation was not accepted by the Congress high command. Now he is determined to remain the state party boss for some more time to come.
Footnote
The former Communist Party of India (Marxist) minister, AK Balan, let out a little secret about the governor, Arif Mohammed Khan, who is frequently at loggerheads with the Left government. He once called on Khan at the behest of the CM, Pinarayi Vijayan, and carried a cake along with him. According to Balan, the governor has some childlike qualities and can be mollified by the CM. It remains to be seen if Balan's remarks spark the next round of sparring between Khan and the state government.