Sir — Power corrupts, unrestricted power even more so. Even though our democracies theoretically have checks and balances to keep the powerful restrained, it is a long-accepted truth that government-corporation ententes consistently transgress legal procedures to pursue their common interests. When inquiries are made into the matter, utmost effort is made to deny transparency, whatever the cost. We encountered an instance of this recently — the government of India was most eager to sweep the mess of the Rafale documents under the carpet and discredit evidence.

Context is important while looking at the arrest of Julian Assange after he was expelled from the Ecuadorian Embassy ("Assange arrested in London", April 12). First, the immediate charge against Assange is that he jumped bail on a charge of sexual assault levied against him in Sweden. However, one fears that the United States of America, which views Assange as a threat to its national security, will use this opportunity to renew attempts to extradite him for prosecution. Assange's organization, WikiLeaks, has been instrumental in releasing shocking classified documents all over the world, including secrets about atrocities in Guantanamo Bay and about US military fire killing civilians in Baghdad. Unsurprisingly, the US filed a indictment against Assange in 2010, amidst a global furore against it.
The US has a history of shirking accountability and bypassing legality with their rhetorics on national security and global stability — the allegations against it range from fomenting coups in foreign nations and plotting assassinations of political targets to silently tapping into personal data of citizens for security concerns. It will be ruthless now that Assange is finally in custody on allied soil. It will want to make an example out of him to intimidate future whistle-blowers. Assange's extradition could thus set a terrible precedent and cast a dark shadow on investigative journalism worldwide. A distinction needs to be made between prosecution for the charges of sexual assault and action that can jeopardize the freedom of the press. But if history is any testimony, the prospects look grim for Assange. One hopes that if he is indeed convicted eventually, the international community will galvanize against the unilateral use of power by the US, and organizations like WikiLeaks will continue their work unintimidated.
Jishnu Hore,
Calcutta
Sir — The arrest of Julian Assange is a double-edged sword. Not holding him accountable to the charges of sexual abuse against him would be wrong. No one should have that kind of power. At the same time, it cannot be denied that the US will try to arm-twist Britain into extraditing Assange and an indictment against him poses a threat to all journalists, potentially undermining press freedom. The United Kingdom must proceed carefully.
Niladri Banerjee,
Calcutta
Unethical games
Sir — It is interesting to note how Manini Chatterjee highlighted the shrewd and manipulative use of nationalism in electoral politics in her article, "Mr M and Mrs G" (April 15). In spite of strict instructions by the Election Commission and repeated requests by the retired members of the armed forces, the Bharatiya Janata Party has left no stone unturned in utilizing the Balakot air strike as a trump card for the 2019 Lok Sabha elections. Narendra Modi has been trying to humiliate the Opposition for demanding proof of the air strike, branding such an act as anti-national. Asking questions about the armed forces is a democratic privilege. There is nothing anti-national about it.
In fact, it is the utter disregard for the rational requests made by the armed forces and the intelligentsia to avoid politicizing the air strike that is anti-national. So is calling the Indian army, "Modiji ki sena" and dismissing widely held concerns regarding the nation as treasonous. It is also unethical of the BJP to demand votes in elections in the name of what the army has achieved. Under no circumstance can any party claim monopoly over the contributions of the armed forces.
In spite of the fact that the double game being played by the BJP is clear to most people, the Narendra Modi and Amit Shah-led party continues to brand rationalists and eminent personalities who dare to ask questions as anti-nationals. This brings to mind the arrest of anti-apartheid protesters under the Suppression of Communism Act in South Africa in the late 1900s. Instead of wasting their votes in favour of people who unethically capitalize nationalist emotions and try to monopolize nationalism for political gains, voters must choose wisely so as to preserve and steer our country out of the smog of the 56-inch false nationalism.
Antarleen Sinha,
Calcutta
Lost in translation
Sir — There is a sea of difference between translation and transliteration. This clearly eludes the data-guzzling artificial intelligence engine which powers Google Translate. Imagine my surprise when, on searching for the Bengali name of bottle gourd, Google Translate promptly informed me that it was "botol gorur mangsho (literally, bottle cow's meat)". This is not even a correct transliteration, let alone translation. Now consider this — a chef uses the application to translate a recipe and substitutes lau with cow or bottle gourd with beef. Will that get Google Translate banned in India on charges of being 'anti-national'?
Arko Ganguly,
Calcutta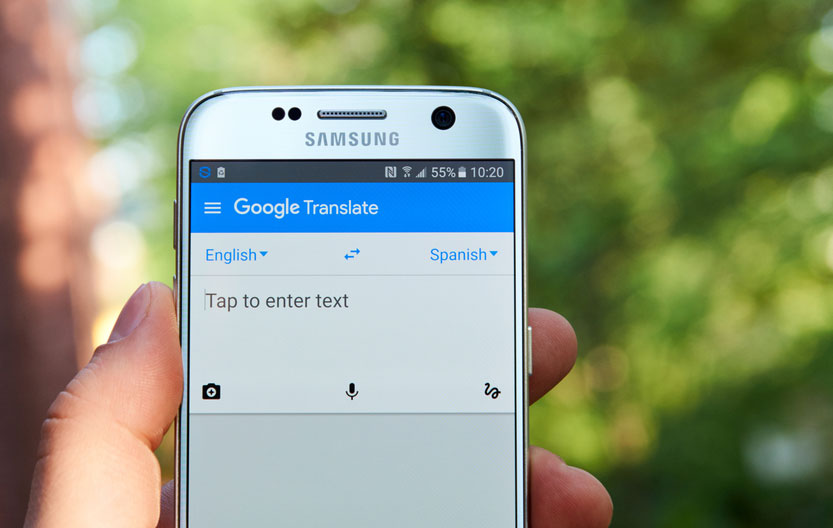 There is a sea of difference between translation and transliteration. This clearly eludes the data-guzzling artificial intelligence engine which powers Google Translate (Shutterstock)