Orissa High Court now has 14 judges
Justices Satrughana Pujahari and Akshaya Kumar Mishra were sworn in as judges on Monday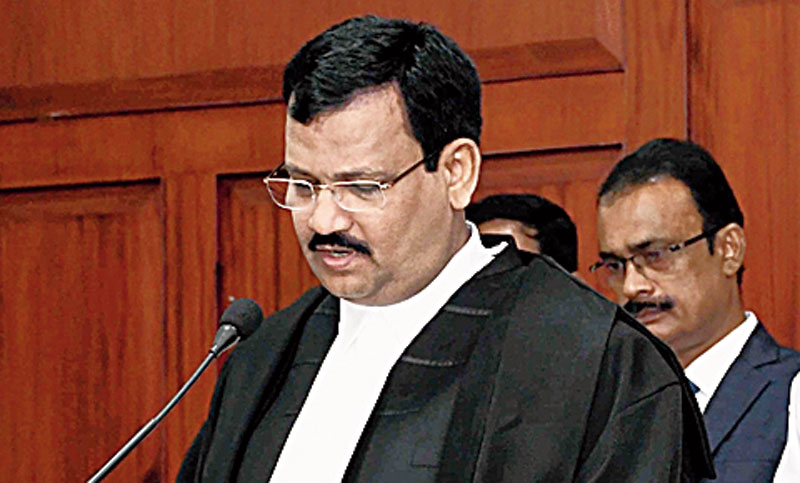 Justice Satrughana Pujahari being sworn in Orissa High Court on Monday.
Picture by Badrika Nath Das
---
Cuttack
|
Published 20.11.18, 09:40 AM
|
---
Justice Satrughana Pujahari and Justice Akshaya Kumar Mishra were sworn in as judges of Orissa High Court on Monday.
With their appointment, the number of Orissa High Court judges went up to 14. The number of judges had dropped to 12 after the transfer of Justice Indrajit Mahanty and Justice Sujit Narayan Prasad to Bombay High Court and Jharkhand High Court, respectively, earlier this month. The court has a sanctioned strength of 27.
Chief Justice K.S. Jhaveri administered the oath of office and secrecy to the judges on the high court premises.
Justice Pujahari, who was a member of the Orissa Superior Judicial Service (senior branch), had been elevated and sworn in as a judge of Orissa High Court on November 29, 2013. He was transferred to Madras High Court on November 23 last year. Mishra, whose name the Centre had cleared on November 17, was the sole candidate found suitable by the Supreme Court Collegium out of 12 names recommended by Orissa High Court Collegium.
Orissa High Court Collegium's recommendation had included four judicial officers and eight advocates. On October 31, the Supreme Court Collegium had recommended the name of Mishra, who was a judicial officer.
Mishra, who had served as director of Odisha Judicial Academy, had joined Odisha Judicial Service in 1988. Prior to his elevation, he was registrar general of Orissa High Court.
Absence of sanctioned judges for years is attributed to be the increasing number of pending cases before the high court as the number of cases instituted in a week exceeds the number of cases disposed of. The number of pending cases was recorded as 1,70,130 on November 15.