Winds worsen Dzukou valley wildfire
Nagaland and Manipur governments change strategies to effectively combat the blaze and check irreparable damage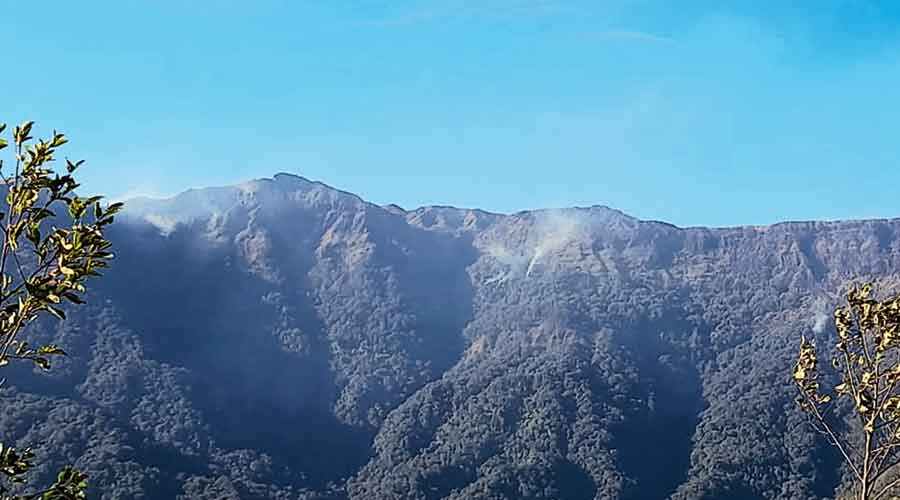 ---
|
Guwahati
|
Published 07.01.21, 12:39 AM
---
Strong winds worsened the Dzukou Valley wildfire on Wednesday forcing Nagaland and Manipur governments to change strategies to effectively combat the blaze and check irreparable damage to the popular trekking and tourist destination located along the inter-state border.
The fire started on December 29 on the Nagaland side before spreading to Manipur.
Officials from both sides, including National Disaster Response Force, Indian Air Force and government, told The Telegraph that fire-fighting teams are taking the help of volunteers familiar with the lay of the land to find alternative trekking routes to the affected areas bypassing the steep terrain. This has become imperative because some of the affected areas are inaccessible. If alternative routes are not found, the fire will keep spreading to newer areas.
Nagaland has also requested the IAF to deploy four more choppers for the fire-fighting operations in addition to the four already deployed. Its request for three additional NDRF teams has been accepted, taking the total number of teams deployed to 10 — four in Manipur and six in Nagaland.
"We need more choppers for ferrying men and equipment besides Bambi bucket (pouring water on affected areas) operations. The situation turned worse with the fire spreading towards the western range falling under Peren district on Wednesday," said Johnny Ruangmei, officer on special duty, Nagaland State Disaster Management Authority.
After Manipur, Nagaland too has deployed 300 personnel at the camp so that they cut down on trekking time to reach the affected areas. The IAF choppers on Wednesday dropped NDRF personnel, food and equipment to the base camps set up on the top to check the fire from spreading to the valley.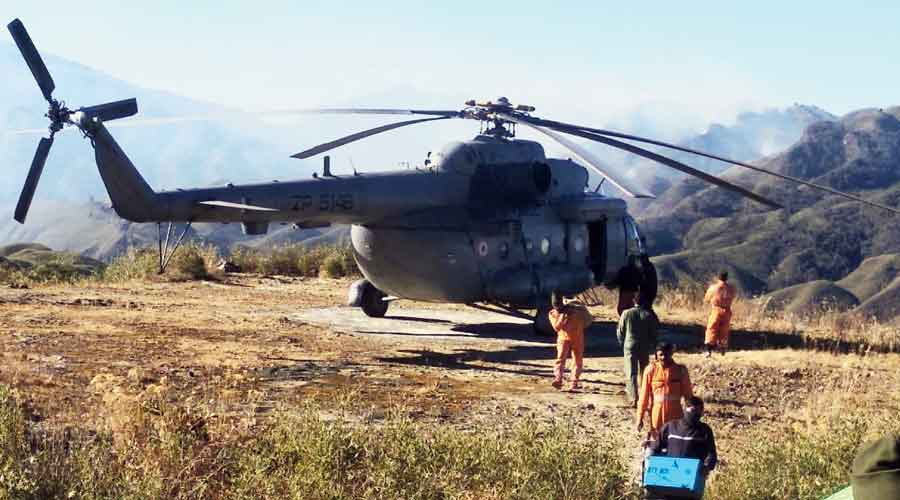 Kohima deputy commissioner Mohammed Ali Shihab A. on Wednesday deployed three officers to assist the Jakhama subdivisional officer (civil) for fighting the wildfire and shall be stationed at the base camp, Dzukou Valley, for coordinating with the various teams engaged in the fire-fighting process.
About 3,310kg of fire-fighting equipment and NDRF personnel were airlifted to Dzukou Valley from Jakhama on Wednesday by IAF helicopters. Operations to assist fire-fighting will continue on Thursday, IAF official Ratnakar Singh said.
An aerial survey along with a drone survey will be carried out on Thursday for rational deployment of fire-fighting teams in the affected areas to cut fire-lines to check the spread. "Rational deployment for effective results. Mapping of vulnerable and affected areas is a must for an effective outcome," Ruangmei said.
A senior Nagaland forest official said the operation will start at 5.30am on Thursday because as the day progresses the wind not only gets strong but also blows in different directions, hindering operations. "Since the fire has intensified, our efforts too have to be intensified," a senior Nagaland forest department official said.
Chief ministers of both states have already conducted aerial surveys, hailing the efforts of the fire-fighting teams.