When it's time to quit smoking, no ifs or butts
Film on cancer survivor, workshop organised to mark BBCI's foundation day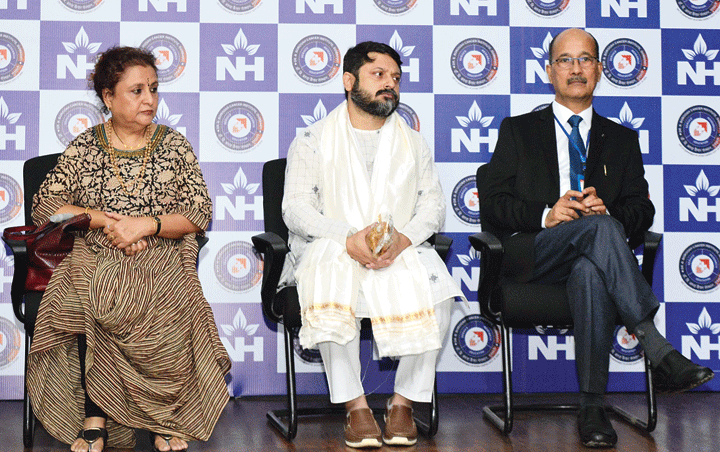 ---
|
Guwahati
|
Published 16.11.19, 06:52 PM
---
A film on the struggles and redemption of a laryngeal cancer survivor was screened as part of an awareness campaign against tobacco on Saturday, to mark B. Borooah Cancer Institute's 46th foundation day.
Shiboprasad Mukherjee and Nandita Roy's film, Konttho: Sound of Silence, was screened on Saturday in the presence of its makers.
The film revolves around the life of a successful radio jockey, Arjun Mallik, whose life takes a turn for the worse when he is diagnosed with laryngeal cancer. Depression takes over Arjun as his career comes crashing down. A speech therapist then trains him to speak with his esophageal voice and his life takes a positive turn.
"The film was inspired by the story of late Bibhuti Chakraborty, a cancer survivor, whose vocal cord was removed, but he fought against all odds and helped others to overcome their struggles. We are happy we were able to give a strong social message through our film and an insight into the journey of a cancer survivor and his/her family. We hope it spreads its benefits to all concerned," Mukherjee, who also played the protagonist, said.
"Assam has 50.5 per cent men and 32.7 per cent women smokeless tobacco users, with khaini (23.1 per cent) and betel quid (19 per cent) the commonly used products. Tobacco users include 25.3 per cent men and 0.8 per cent women. Other tobacco products include gutkha, chewing tobacco and paan masala with tobacco. We want to not only create awareness but also motivate the youth and adults to quit tobacco," said BBCI director Amal Chandra Kataki.
Earlier, specialists from Narayana Superspeciality Hospital, Calcutta, conducted a live workshop for doctors at BBCI on patients with thyroid cancer and other forms caused by tobacco use.
The foundation day programme will be held on Monday.