When Conrad K. Sangma slayed the guitar
Meghalaya CM strums up Saga band memories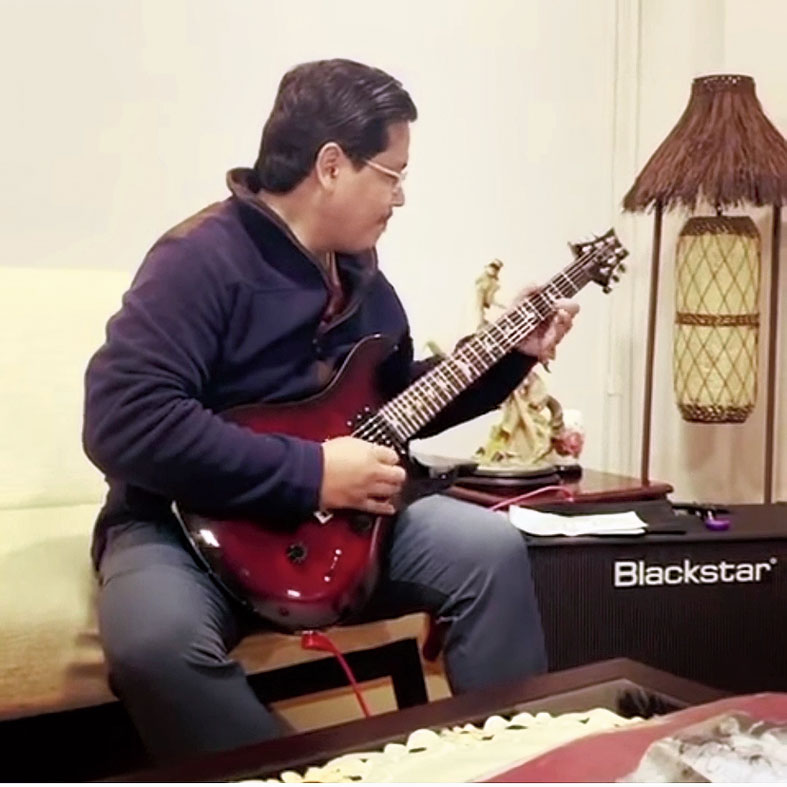 Conrad K. Sangma strums the guitar
Telegraph picture
---
Shillong
|
Published 23.05.20, 06:58 PM
|
---
…So understand, Don't waste your time always searching for those wasted years, Face up, make your stand, And realize you're living in the golden years… — Excerpts from Wasted Years by Iron Maiden
Ever came across a chief minister who strums the guitar like a pro, playing tunes from renowned bands like the Iron Maiden?
Well, we have one! Conrad K. Sangma.
Social media was abuzz after a video of Conrad strumming the guitar to an Iron Maiden number surfaced. On Friday night, Conrad posted on his Instagram handle a video of him playing the tune from Iron Maiden's Wasted Years.
With an electric guitar on his hands, Conrad slayed like a pro, reminding him of his years as part of a band named "Saga".
Strumming the guitar was like a getaway for the chief minister after three straight days of attending the Meghalaya Assembly's reassembled budget session, which ended on Friday.
Being the leader of the House, Conrad had to respond to various queries especially on issues relating to the Covid-19 pandemic.
"After a hectic three-day Assembly session, unwinding with some Iron Maiden stuff. It's been a long while I haven't played…so I guess a few mistakes…" Conrad wrote on Instagram.
Till the filing of this report, the video on Instagram has received nearly 50,000 views with more than 1,200 comments. It was shared by many on Facebook, Twitter and WhatsApp.
"The most talented CM of India," one Instagram user wrote. Another wrote: "Rockstar CM", while one commented: "Our CM listens to Iron Maiden. What could possibly be better than this?"
"Never seen before in such an avatar," a user wrote while another noted: "The K in the name is also for Kool (Cool)." Some even suggested that Conrad form a band! One made an observation by saying: "So, our CM is a mental head. That's why Shillong is called the Rock Capital of India."
"Awesome! Even in hard times, we should be positive. You're the best, that's what, you're an inspiration to many. Stay blessed and positive always, sir," one stated.
A few days back, Conrad had posted an old picture of him along with five other members of the band "Saga". He wrote: "Those were the times…"saga"…when we played the music. Well, now, we face the music. Times change, I guess. Team Saga thank you for those great times and memories."