Weather holds key to voter turnout
Meghalaya has been experiencing inclement weather for the past few days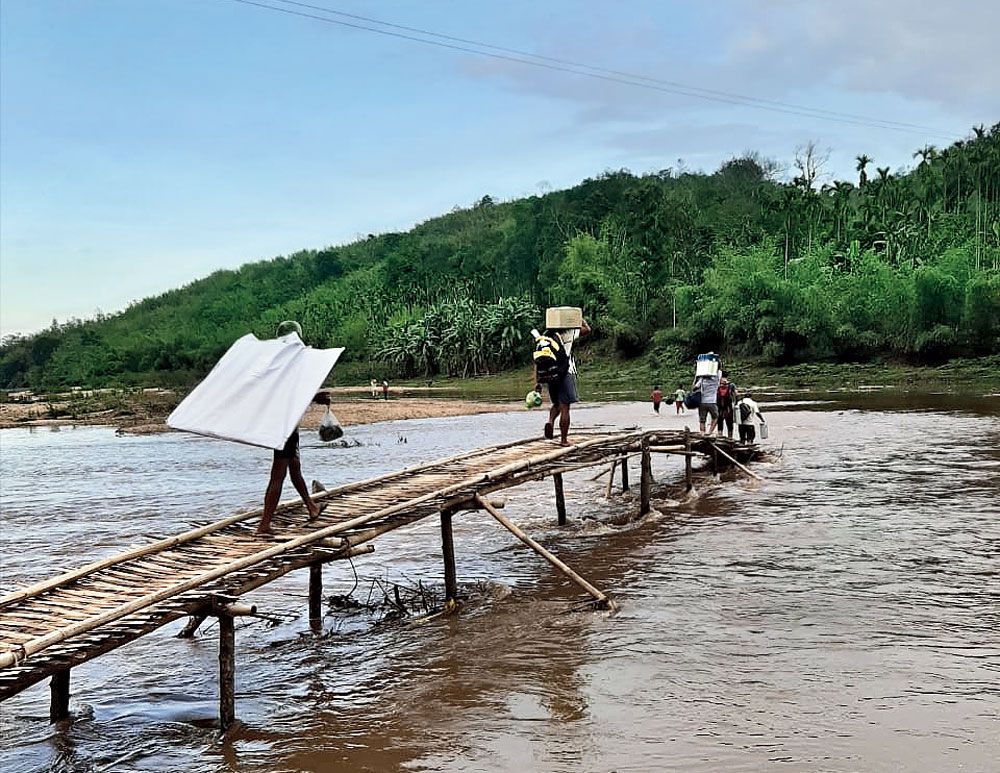 ---
|
Shillong
|
Published 10.04.19, 06:57 PM
---
The weather could be the biggest factor in determining the voter turnout on Thursday as Meghalaya has been experiencing inclement weather for the past few days.
Heavy rain accompanied with hail stones, in some areas, have been pounding various parts of the state. A warning has already been issued that intermittent showers are expected on polling day.
Voters in Shillong and Tura parliamentary constituencies will elect their MPs from 7am to 4pm on Thursday across 3,167 polling stations.
Meghalaya chief electoral officer F.R. Kharkongor said officials for all polling stations have left for their respective destinations.
There are as many as 106 polling stations, especially in South Garo Hills, where officials have to trek on foot for at least 5km to 8km.
The 31 Dalia polling station, under Shella Assembly segment in East Khasi Hills, is located on the international border right on the fence. The polling station has 950 voters, and during last year's Assembly polls, Bangladeshi citizens eagerly viewed India's democracy from across the fence, Kharkongor said.
The newly created 30-Kalatek polling station, also under Shella, is the state's only second polling station accessible solely by boat, the other being Kamsing polling station in Amlarem subdivision in West Jaintia Hills district.
The polling party after crossing by boat have to trudge another couple of kilometres over hot sand. The polling station has 756 voters.
For the parliamentary polls and the Selsella Assembly bypoll, around 12,768 officials will be involved while 9,000 state police personnel, 1,700 homeguard personnel and 40 companies of Central Armed Police Force are in place, Kharkongor said.
Of a total of 11,97,806 votes, 6,11,714 are women under the Shillong parliamentary constituency which covers 36 Assembly segments. There are 2,053 polling stations here.
In the Tura Lok Sabha seat, which has 24 Assembly segments, there are 7,16,989 voters, of whom, 3,53,460 are women. There are also two female non-resident Indians who have registered themselves.
Voters will cast their vote in 1,114 polling stations.
There are also 4,686 voters who are persons with disabilities, and special arrangements have been made to ensure that they do not face much hurdles on polling day.
From Braille ballots to wheelchairs, from training booth-level officers on sign language and appointing accessibility observers in both the constituencies, the chief electoral officer said transport allowance would be given to persons with disabilities in case the need arose on voting day.
A Queue Management System has also been launched for urban voters to get an update on queues at polling stations on voting day before they come out to exercise their franchise.
He also said in about 300 polling stations, webcasting would be carried out. There are 417 vulnerable and 117 critical polling stations.
Ever since the election dates were announced, officials have seized around Rs 71 lakh in cash, and liquor valued at around Rs 11 lakh, Kharkongor said.