VIP road in Cachar in a shambles
The road is one of the most important connectivity routes in the district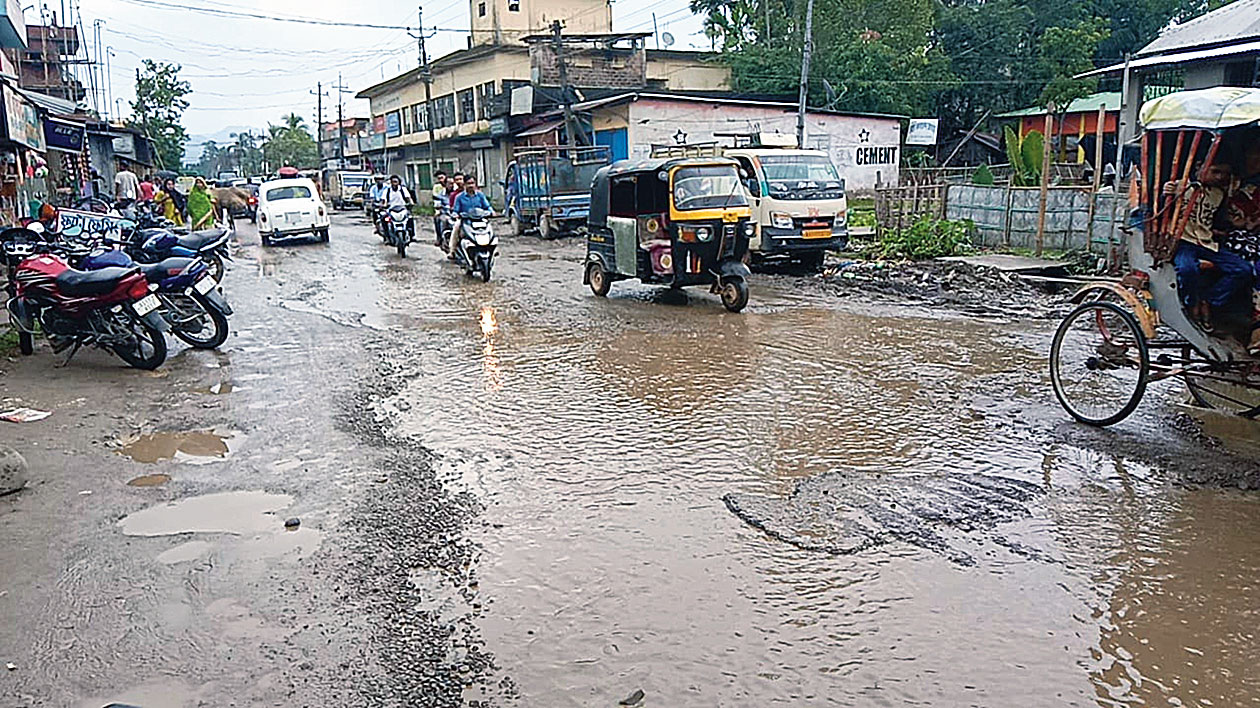 The pothole-filled VIP Road at Udharbond in Assam's Cachar district.
Picture by Swapnaneel Bhattacharjee
---
Silchar
|
Published 29.06.19, 06:43 PM
|
---
The pathetic condition of VIP Road under Udharbond constituency in south Assam's Cachar district has made life miserable for commuters.
The road, which connects this town with Silchar airport at Kumbhirgram, 20km from here, is one of the most important connectivity routes in the district.
Residents Bappa Choudhury, Amal Chakraborty and Pankaj Chakraborty, among others, said the road, especially the 2km stretch from Udharbond market to Dighirpar, is in a deplorable condition with a plethora of potholes on it. Rainfall in the past few days has added insult to injury. The big craters on the road along Udharbond market area have turned into "ponds", making it very risky for vehicles to ply, they said.
The residents rued that despite the road's abysmal condition for years, the authorities haven't come up with a long-term solution. Only temporary repair work is undertaken from time to time. Because of a poor drainage system, the road gets inundated after a few spells of showers. As a result, residents, especially elderly people, find it troublesome commuting on the road, they said. An eviction drive was carried out at Udharbond on June 10, apparently to repair the road but it hasn't been started till date, the residents said.
Another resident, Ranjit Deb, said though commuters face difficulties, including traffic snarls, because of the terrible condition of the road at Udharbond market, the authorities seem to be oblivious to the matter. He also criticised the local political leaders for being silent over the issue.
He demanded repair of the road at the earliest, saying that its present condition was a recipe for mishaps.
Udharbond legislator Mihir Kanti Shome told The Telegraph on Saturday that the road was being repaired in some areas. However, there are some problems in carrying out road work at Udharbond market area because of issues related to land encroachment, water-pipelines and poor drainage system, among others.
He said water pipelines beneath the road will have to be shifted and the existing drainage system dismantled or else the road will develop cracks like earlier. Plus, encroachment-related issues need to be resolved. This is a long process and it will take some time, he said. He hoped the route would be perfectly commutable within the next six months.