Two die, properties damaged in storm in Assam
An official source said so far no major damages were reported in Guwahati and adjoining areas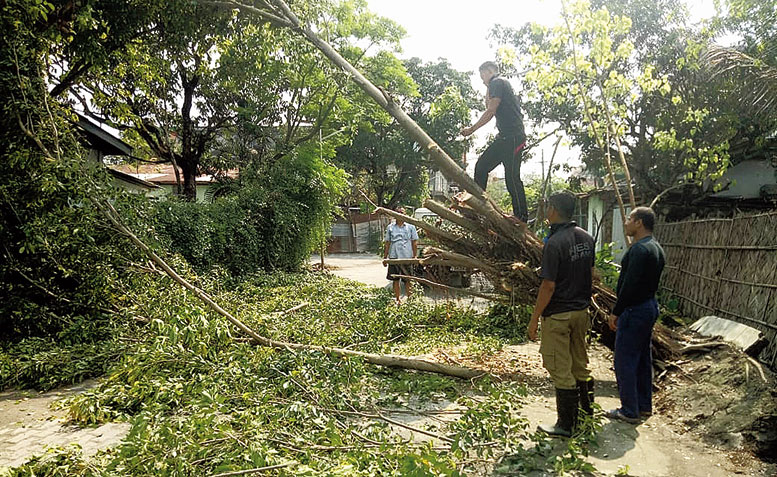 ---
|
Golaghat
|
Published 10.04.20, 07:36 PM
---
Two persons died and several properties were damaged as Assam was hit by heavy thunderstorm and wind, locally known as bordoisila, on Thursday night amid the nationwide lockdown.
An official source said so far no major damages were reported in Guwahati and adjoining areas.
But some places in lower Assam were severely affected.
So far, two deaths were reported — one in Baksa and another in Golaghat.
Sandhyarani Namo Sarma, 55, of Tamulpur in Baksa dies after a tree fell on her house. Apart from this, several persons as well as cattle were severely injured.
However, Baksa deputy commissioner Ranjan Sarma said the cause of death is not yet confirmed and an inquiry has been set for this. There are claims that the woman died of heart attack.
Measures to provide ex-gratia amounting to Rs 4 lakh have also been initiated.
Monorama Modi, 35, a resident of Rangamati Kaiborta Gaon Panchayat in Golaghat district died on her bed as a tree fell on the house crashing through the roof on her.
Dergaon police and Khumtai circle officer rushed to the spot and sent the body for post-mortem.
Khumtai revenue circle officer Jnanjyoti Dutta said the administration will give relief to the husband and the son.
"We have arranged to pay an ex-gratia of Rs 4 lakh," he added.
Kamrup (metro) deputy commissioner Biswajit Pegu said the district has not seen any major damages but a survey is being carried out to figure out the damages of houses and other property to the people. Once the survey is completed, the persons needing relief will be given accordingly.
Boko and Chaygaon in Kamrup district were also severely hit by the storm.
In Jorhat, 60 villages under five revenue circles were affected. Over 800 houses have been damaged in the district in the storm.
Additional reporting by Kulendu Kalita in Boko and Devajit Baruah in Jorhat