Trunk calls get jumbos food
Villagers supply whatever they can to feed the elephants following their 'incessant trumpeting'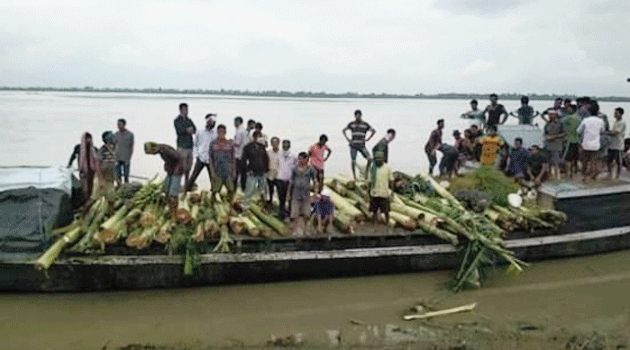 ---
|
Guwahati
|
Published 29.07.20, 02:23 AM
---
A flood-hit Assam village along the Brahmaputra is in the limelight for reasons other than the deluge and Covid-19: its residents have played benefactor to a herd of elephants stuck on a chapori (sandbar) over the past four days.
Since Saturday, the villagers of Salmara in Upper Assam's Majuli district, the seat of Vaishnavite culture vying for Unesco world heritage site status, have been supplying whatever they can to feed the elephants following their "incessant trumpeting" over the past fortnight.
"We couldn't turn a deaf ear to their call from the chapori, about 8km away. They seemed to be in distress, having run out of food. We then raised funds to supply to this herd of over 100 elephants with whatever was available and could be carried on boats," Saitainya Hazarika, 30, a small-time trader, told The Telegraph.
They have till now supplied over 300 banana plants, 10 bags of salt, besides bananas, elephant apples, pumpkins, sugarcane and jackfruit for the elephants. The trumpeting has decreased since Saturday.
Other villages are now following in Salmara's footsteps. On Tuesday, residents of two nearby villages — Jogigaon and Dhakinpat Kumargaon — visited the chapori with a boat laden with banana trees, fruits and salt.
"We are having a tough time since May 24 due to floods. Then came Covid. It is difficult to reach the nearest hospital because of the floods. After overcoming these odds, it is an indescribable feeling that we are doing something good. Elephants are like God to us," Hazarika said.
There are nearly 600 households in the village, most of them involved in boat-making and pottery. Some villagers have government jobs while others are contractors, traders and farmers.
The story of Salmara's magnanimity is drawing attention and praise. Ranjan Borah of Garmur, the district headquarters, 20km from the village which is still waterlogged, said: "The villagers are themselves badly affected by floods. Yet they thought of reaching out to the elephants, despite the fact that such herds often cause depredation in Majuli. Salmara's is a good story to share in these times of Covid-19 and floods."
An All Assam Students' Union (AASU) leader from the village, Ajit Hazarika, 33, said the elephants have been stuck in the middle of a Brahmaputra in spate for over 15 days and a chapori can support this herd only temporarily.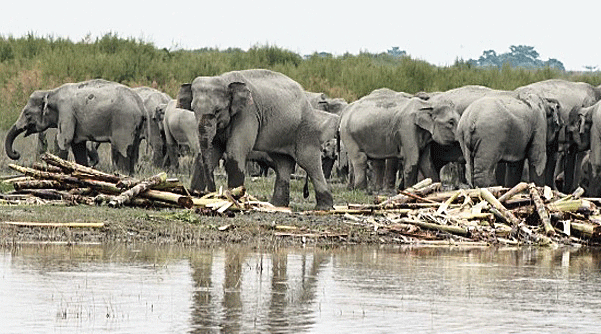 "Elephants are good swimmers but this herd can't forage for food because of their calves, which is why they are trumpeting so loudly. The food/fodder we supply will prevent the elephants from moving out and wreaking havoc in nearby villages and check human-elephant conflict," Ajit said.
According to him, the government need to build higher ground on the chapori and go for effective plantation in the reserve forests to check elephant depredation once the flood season is over.
The ongoing flood in Assam started on May 22 and has affected 30 of the 33 districts besides claiming 104 lives till Tuesday.
Majuli is one of the affected districts, grappling with both flood and erosion. One of the largest freshwater river islands in the world, Majuli has been reduced to 703.16 sq km from 1245.3 sq km in 1950. Official reports say nearly 16,600 bighas were eroded by the Brahmaputra between 2001 and 2018.
Majuli was the first river island in the country to be declared a district in 2016, fuelling hopes of better days, especially on the flood and erosion control front. Besides, chief minister Sarbananda Sonowal represents Majuli constituency. Its divisional forest officer (DFO) S.K. Thakuria appreciated the gesture of the villagers but said the jumbo calls are "not for food but concern over the baby elephants which may have strayed".
"This herd entered Majuli on May 21. During the rainy season they stay in Majuli and move to Jorhat, Sivasagar and Dibrugarh in winter. July has seen severe flooding. They trumpet a lot but that is for their little ones, not for food. There is enough vegetation on the chapori," Thakuria said.
A forest team went to the chapori to take stock of the situation on Tuesday, he said.
The forest department has not supplied any food/fodder because they "don't have the resources but are keeping a close watch on the herd."