Tripura tense but peaceful
A communal clash erupted on Tuesday following an anti-CAB protest in Kanchanpur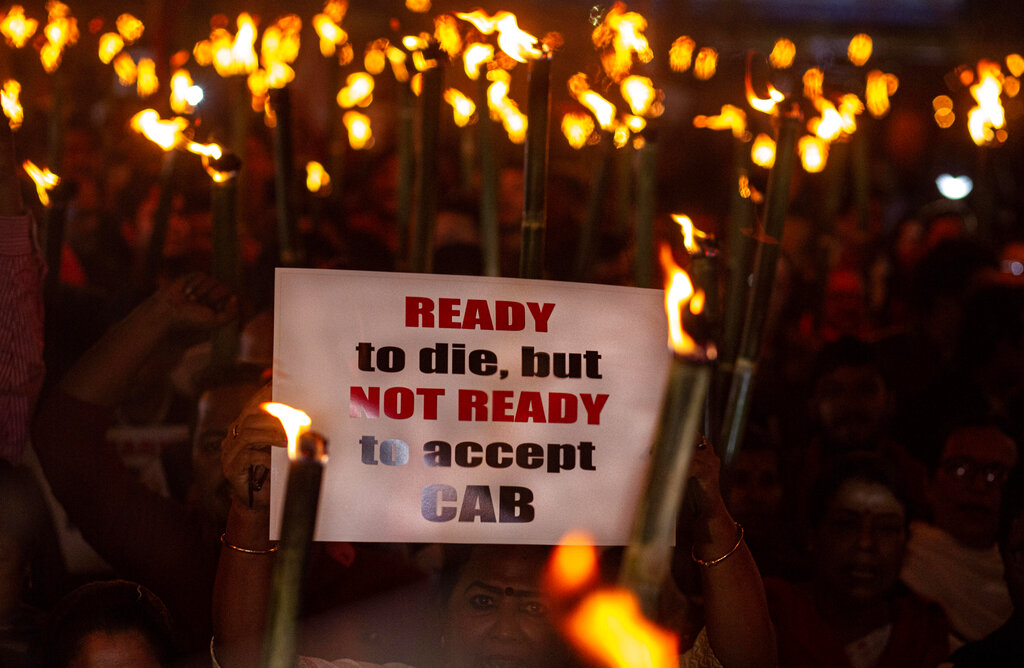 People participate in a torch light procession to protest against the Citizenship Amendment Bill (CAB) in Gauhati, on Saturday, Dec. 7, 2019.
AP
---
Agartala
|
Published 12.12.19, 10:57 PM
|
---
Over 90 families living in and around Kanchanpur sub-division of North Tripura district took shelter at Anandabazar police station and in different schools following a clash between two communities a day after the Citizenship (Amendment) Bill's passage on Tuesday.
Additional inspector-general of Police, law and order, Subrata Chakraborty on Thursday said a communal clash erupted on Tuesday following an anti-CAB protest in Kanchanpur.
"Police fired 18 rounds of tear gas and 10 rounds of blanks when the anti-CAB protestors vandalised shops and pelted stones on local traders. Section 144 was imposed in that area and more forces,were deployed."
Tripura remained tense but peaceful on Wednesday as the protests spread across, especially in areas with dense indigenous population.
"Clashes were reported in Dhalai district. Tension escalated in a village following a rally by the Bangali Mukta Mancha. We have deployed forces to bring the situation under control," he said.
The statewide 24-hour strike, called by the Tripura PCC and the Tripura
Pradesh Youth Congress, in protest against baton charge by police on Citizenship (Amendment) Bill agitators here on Wednesday had a partial impact across the city on Thursday.
In a related development, the Indigenous People's Front of Tripura (IPFT), the Joint Movement Against Citizenship Amendment Bill (JMACAB) and royal scion Pradyot Kishore Manikya Deb Burman separately met Union home minister Amit Shah in New Delhi on Thursday and urged him to scrap the Citizenship (Amendment) Bill in the state.
The JMACAB is a joint forum of different tribal political parties and civil society organisations.
Its leaders decided to call off their protest against the CAB for the time being on Wednesday after chief minister Biplab Kumar Deb had assured them that he would arrange a meeting with Shah.
The chief of the Indigenous Nationalist Party of Twipra (INPT), a part of the JMACAB, Bijoy Kumar Hrangkhawl, said: "We met Shah today and discussed the CAB which has already been passed in both Houses of Parliament. Voicing our concern, we told him that the bill could lead to loss of our identity and rights. He assured us of all possible help."
A delegation, led by the Indigenous People's Front of Tripura (IPFT), an ally of the ruling BJP in the state, also met Shah on Thursday and demanded implementation of 'Tipraland' — a separate state of indigenous people living in Tripura — and scraping of the CAB.
"The delegation of eight teams, led by us, met Shah. We raised the issues of CAB and 'Tipraland'. We told him that the CAB has already been implemented in the state and we will become minorities in Tripura. He said he would protect our culture and identity and told us not to worry. Most probably he will call us again after 15 days," forest minister and IPFT general secretary Mevar Kumar Jamatia told this correspondent.
Pradyot said during his meeting with Shah, he told him that the CAB cannot be implemented in Tripura as it violates the Instrument of Accession.
"We told him: 'If you do that we will move the Supreme Court.' I said a state like Tripura which shares border with Bangladesh, has not been exempted from the bill, but Mizoram, Manipur and other states who do not have international boundaries are out of the purview of the bill. However, Shah told me that he would look into the matter," Pradyot said.
On Thursday Shah tweeted: "Met with delegations of IPFT and Joint Movement Against CAB from Tripura and discussed their concerns over CAB. Modi government will try to solve their issues in a positive way. I thank them for their appeal to maintain peace and call off the strike."
He also wrote: "Had a meeting with Shri Kirit Pradyot Deb Burman, head of Manikya dynasty, the royal family of Tripura and Patal Kanya Jamatia, President of TPF (Tripura People's Front)."